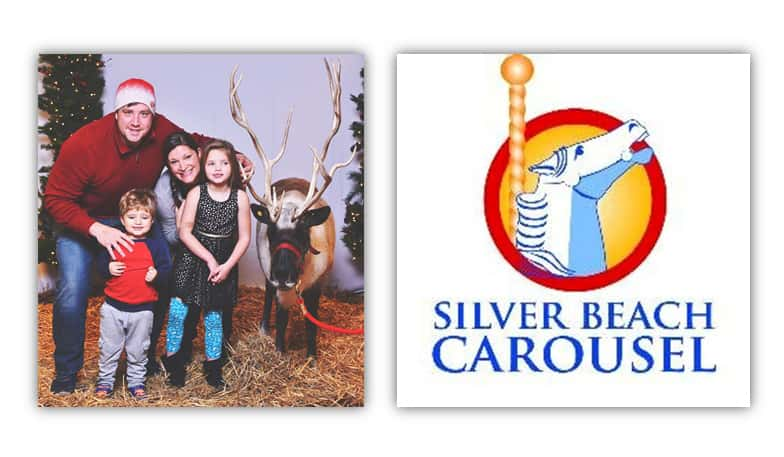 Parents, grandparents, aunts, uncles and other family members and friends who love to share the stories of Christmas with the kids in their lives will have an encore opportunity to bring at least one of those great stories to life soon thanks to the Silver Beach Carousel which will repeat the hosting of live reindeer at the center below the bluff in St. Joe, and the first is coming up this weekend.
The Silver Beach Carousel will sponsor live reindeer events this Friday, November 29th and again on Thursday, December 19th. Children can have the thrill of seeing a real reindeer up close and petting its warm, soft fur. Both reindeer events will take place in Santa's Christmas Corral at the Shadowland Ballroom, across the indoor boardwalk from the Carousel, at 333 Broad Street.
The reindeer will visit:
Friday, November 29th from noon to 4 pm
Thursday, December 19th, from 4 to 8 pm, during "Oh Deer, Rudolph!" Family Fun Night
Admission is just $1 for ages 3 and older and free for ages 2 and younger.
Keepsake photos will be available as a professional photographer will take photos of children or families with the reindeer beginning at $3. Family and group photos are limited to six people. Be advised, personal photos will not be permitted on any device.
Carousel rides during the events will run $3 each on November 29th, and just $1 each on December 19th.
Cash or credit cards (with a $5 minimum charge) will be accepted for admission and photos. A limited number of souvenir reindeer antler headbands will be available for purchase in the Brass Ring Gift Shop.
You are asked to please arrive at least an hour before closing time, due to crowd sizes. The Silver Beach Carousel reserves the right to close the photography and/or petting line based on the anticipated wait and the reindeer's needs.
Suz Schalon, President of the Silver Beach Carousel Society, says, "The Live Reindeer events are very popular. If you can, please bring an extra adult or teen along with you, that way one of you can hold your spot in the reindeer line while the other takes the kids to play in the Carousel House until it's your turn." She adds, "We'll also play holiday movies in the ballroom to help keep your spirits bright while you wait."
Schalon says there will be a sleigh-full of activities to enjoy in the Carousel House. Families can ride the festively decorated Carousel while listening to the band organ play holiday music. She said many choose "Noel the Christmas Horse" this time of year. Other activities include watching electric trains wind their way through miniature holiday scenes, exploring the Silver Beach Amusement Park memorabilia and interactive displays and visiting The Brass Ring Gift Shop filled with gift ideas for children and adults.
Santa and Mrs. Claus will join the reindeer for Family Fun Night on December 19th from 6:30 – 9 pm in the Activities Room. There is no charge to meet Santa.
For more information about the Live Reindeer events and the Carousel's special holiday hours, you can visit online at silverbeachcarousel.com/events or Facebook.com/silverbeachcarousel, or call (269) 932-1141.
Silver Beach Carousel (circa 2010) features 48 beautifully hand-carved and hand-painted, figures and two chariots (one of which is wheelchair accessible) whirling beneath 1,000 lights. Around the top of the Carousel are 18 rounding boards that tell the area's rich history with computer-colorized, vintage photographs. This is believed to be the first carousel in the world to use photographs instead of paintings on its rounding boards. The Silver Beach Carousel is a not-for-profit, 501(c)(3) organization and relies on the generosity of donors, sponsors and volunteers for its year-round operation.
Other family attractions within the Silver Beach Center are the Shadowland on Silver Beach Ballroom and the Curious Kids' Discovery Zone hands-on children's museum.