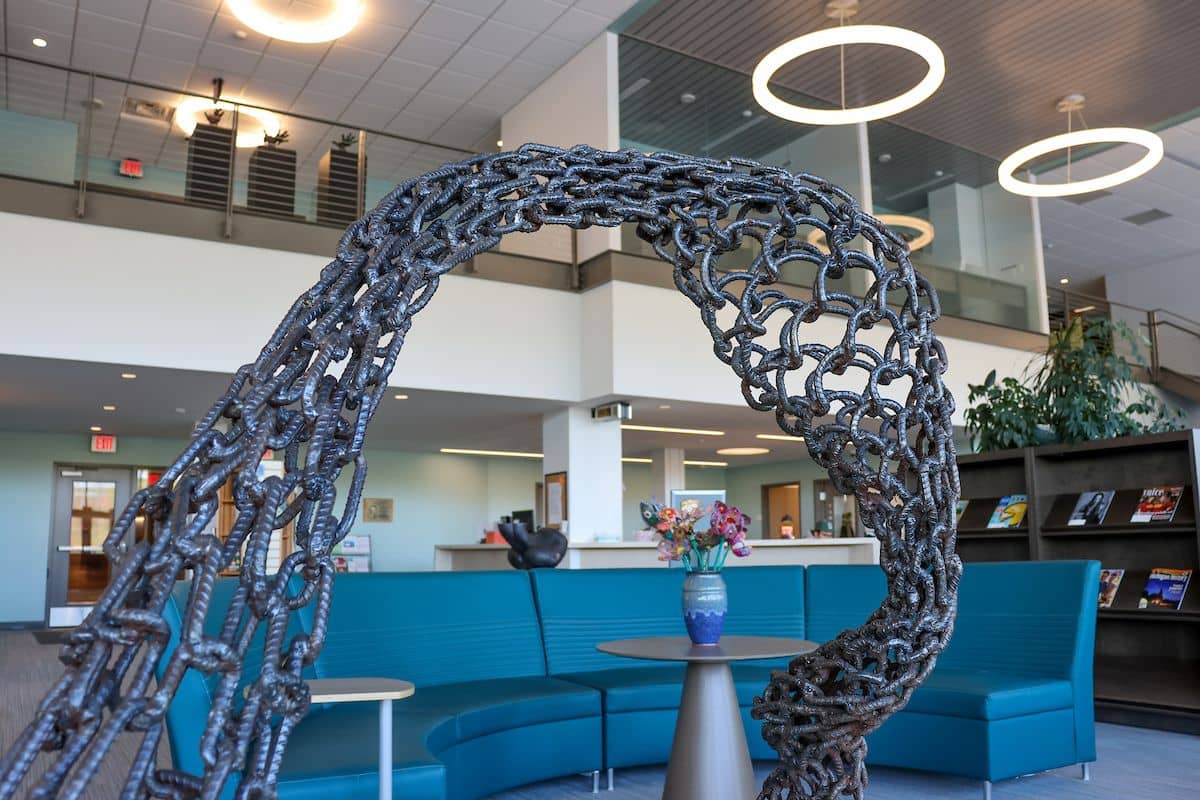 Six metal sculptures by acclaimed artist Albert LaVergne, on loan from the Krasl Art Center, are on display until January 2024 in the William Hessel Library on Lake Michigan College's Benton Harbor Campus.
The temporary exhibition is part of a new Art Initiative by LMC, which includes creating a public art master plan, helmed by LMC Art Lecturer Susan Wilczak.
"The goal of the Art Initiative is to continue community collaborations, grow exhibit offerings and our collection, and strengthen the focus of the arts on all three LMC campuses," Wilczak said. "Krasl Art Center is a natural partner and a valuable community resource. We are thrilled to display these works by Albert LaVergne on the Benton Harbor Campus."
LaVergne, who grew up in rural Louisiana, began sculpting metals as a graduate student at the University of California-Berkeley. He spent 23 years as a professor of sculpture at Western Michigan University, retiring in 2013 to pursue his art until he died in 2020.
The six sculptures, three abstract direct metal works on the main floor and three smaller cast bronze hands on the second floor were previously on display at Krasl as part of an exhibition of LaVergne's work from Oct. 8-Feb. 11 in The Lab Gallery.
Following the exhibition's run, Krasl accepted a gift of 12 sculptures from LaVergne's estate. Five outdoor sculptures remain on view through mid-May on Krasl's grounds, 707 Lake Blvd., St. Joseph.
"Albert LaVergne was a teaching artist who mentored many young artists," Krasl Art Center Executive Director & Chief Curator Tami Fauver said. "He was immensely talented, and his artwork is stunning. We are pleased to be able to share these sculptures with LMC's students, faculty, and staff, and we look forward to future opportunities to share artworks and celebrate the creative legacies of artists in our region."
Wilczak added that while this is not a new partnership, LMC would like to continue collaborations with Krasl Art Center and other institutions through its Art Initiative.
"There are sculptures on the Benton Harbor and South Haven campuses that have been on loan from Krasl for more than 20 years," said Wilczak, who served as Director of Exhibitions & Collections at Krasl Art Center from 1992-2007. "Our goal is to build on that history through collaboration."
LaVergne's sculptures are on view for free and open to the public until January 2024 in the William Hessel Library on Lake Michigan's Benton Harbor Campus.
For more information, email swilczak@lakemichigancollege.edu or call 269-927-8160.