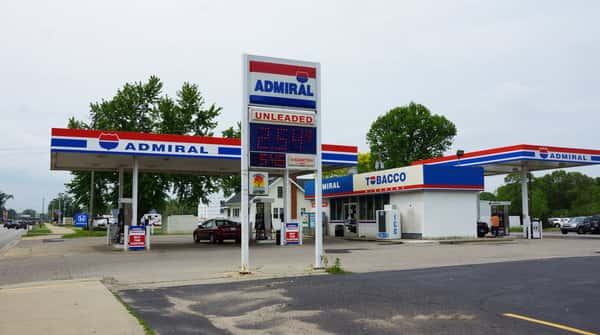 After owning 170 gasoline service stations acquired from Admiral Petroleum and Lemmen Oil Company for barely six months, Sun Capital Partners has flipped the stations, selling them in recent weeks to a subsidiary of GPM Investments LLC for an undisclosed amount of money. Several Admiral branded stations in our region have changed hands for the second time since Memorial Day as a result.
I first told you about the acquisition of the service station and convenience store chain by Sun Capital Partners, Inc. a couple of days before Memorial Day, on May 26th, and Sun Capital announced the sale on November 16th.
Sun Capital is a leading private investment firm specializing in leveraged buy-outs and investments in market-leading companies.
Headquartered in Coopersville, Michigan and founded in 1905, Admiral includes 161 Admiral-branded and nine Lemmen gas and convenience stores across Michigan and Indiana including the service station at 4318 Red Arrow Highway in Stevensville, the station at 640 Chicago Avenue in Niles, and others ranging from Marquette in the Upper Peninsula of Michigan to South Bend, Elkhart and Valparaiso, Indiana. Other Admiral service stations in Grand Haven, Kalamazoo and Hillsdale are part of the sale for an undisclosed amount.
The new acquisition will further develop GPM's existing portfolio of stores in the Midwest region. GPM will continue to operate the stores under the current Admiral and Admiral Discount Tobacco brand names.
Chris Giacobone is Chief Operating Officer of GPM. He says, "The Admiral store employees have served customers with dedication and enthusiasm. We are eager to remain on the same path of service with passion and commitment." He adds, "Bringing the Admiral employees into the GPM family was very important to our leadership team and we look forward to our continued growth with these new stores."
Admiral Petroleum started operating some of its first convenience stores in Greenville, Michigan in the 1950s; some of which are still open for business today. Admiral has a well-known reputation as being one of the first convenience store operations to sell milk, bread and eggs at their stores. That strategy established them as retail pioneers and their concept continues to be widely duplicated throughout the industry.
The major initiative of Admiral Petroleum has always been focused on "giving the customer a fair value for their dollar." Admiral was able to meet that objective by eliminating the middleman and buying in bulk, warehousing and distributing most of its products directly to the Admiral stores.
Based in Richmond, Virginia, GPM operates or supplies fuel to stores in Connecticut, Delaware, Illinois, Indiana, Iowa, Kentucky, Maryland, Michigan, Missouri, Nebraska, New Jersey, North Carolina, Ohio, Pennsylvania, Rhode Island, South Carolina, Tennessee and Virginia.
Marc Leder is Co-CEO of Sun Capital. He says, "Our past investment experiences in the convenience store sector helped us recognize significant potential in Admiral," adding, "We were able to quickly unlock enormous value by supporting the management team's focus on operational improvements, and are looking forward to seeing the company thrive under its new owners."
During its brief but successful ownership of Admiral, Sun Capital installed a seasoned management team with a track record of success within the industry. The team worked with Sun Capital to focus on operational improvement initiatives to streamline Admiral's core sales, distribution and merchandising strategies, expand service offerings, implement a fuel pricing program, and professionalize its cash management, finance, inventory management, and merchandising functions.
Once GPM completes the deal, they will have 950 gas stations in 16 U.S. states according to industry sources.