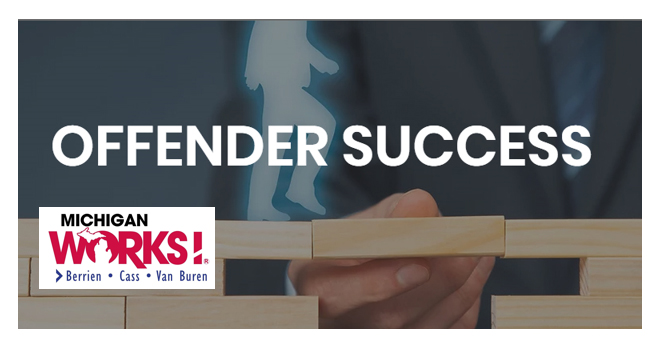 It might not be the most conventional route to finding talent for jobs that are going unmet across the region, but the team at Michigan Works! Berrien, Cass, and Van Buren strongly suggests employers give some thought to their increasingly popular Offender Success program and its strong track record.
As Michigan's prison population continues its downward trend, it means more people will be making their way back to local communities looking for employment opportunities, and the team at the Kinexus Group's Offender Success program under the auspices of Michigan Works! suggests if you're an employer in southwest Michigan, you don't want to miss the opportunity to start a new talent pipeline for your company's workforce needs.
Derek Knuth, Director of Offender Services at Michigan Works! Berrien, Cass, Van Buren, says, "We know that looking to the offender population for your hiring needs may be considered non-traditional, however, we have had great success placing individuals and have seen growth in positions that interest them."
In the last year, the local Offender Success program had the highest placement rate in the state of Michigan, placing 84-percent of those served in employment. Serving an area of seven counties in lower Michigan, Offender Success has provided more than 19,000 services to the returning population, helping individuals remove barriers and gain employment and stability in their lives.
On average, the program assists over 1,200 individuals a year in four different areas:
Employment
Mental health
Social support
Residential stability
The targeted interventions aim to reduce crime by having a seamless plan of services, supervision, and opportunities developed with each person with the goal of gaining employment and becoming self-sufficient.
Knuth says, "We have been successful in reducing recidivism and building great partnerships in Southwest Michigan and the state, but the hope is to get more employers engaged with the program."
Employers who are interested in getting involved with the program are encouraged to contact Derek Knuth at KnuthD@miworks.org.
For more information, you can also visit online at this link:
http://www.miworks.org/offender-success
Michigan Works! Berrien, Cass and Van Buren service centers are currently closed for walk-in services and are providing services remotely. To schedule a phone or virtual appointment with them, visit online at http://www.miworks.org or call 800-285-WORKS (9675).
Michigan Works! of Berrien, Cass, Van specializes in educating, training, and employing individuals of all ages. They work with local businesses to find out what keeps them up at night and help them tackle the most pressing challenges they may face, including attracting and retaining talent.