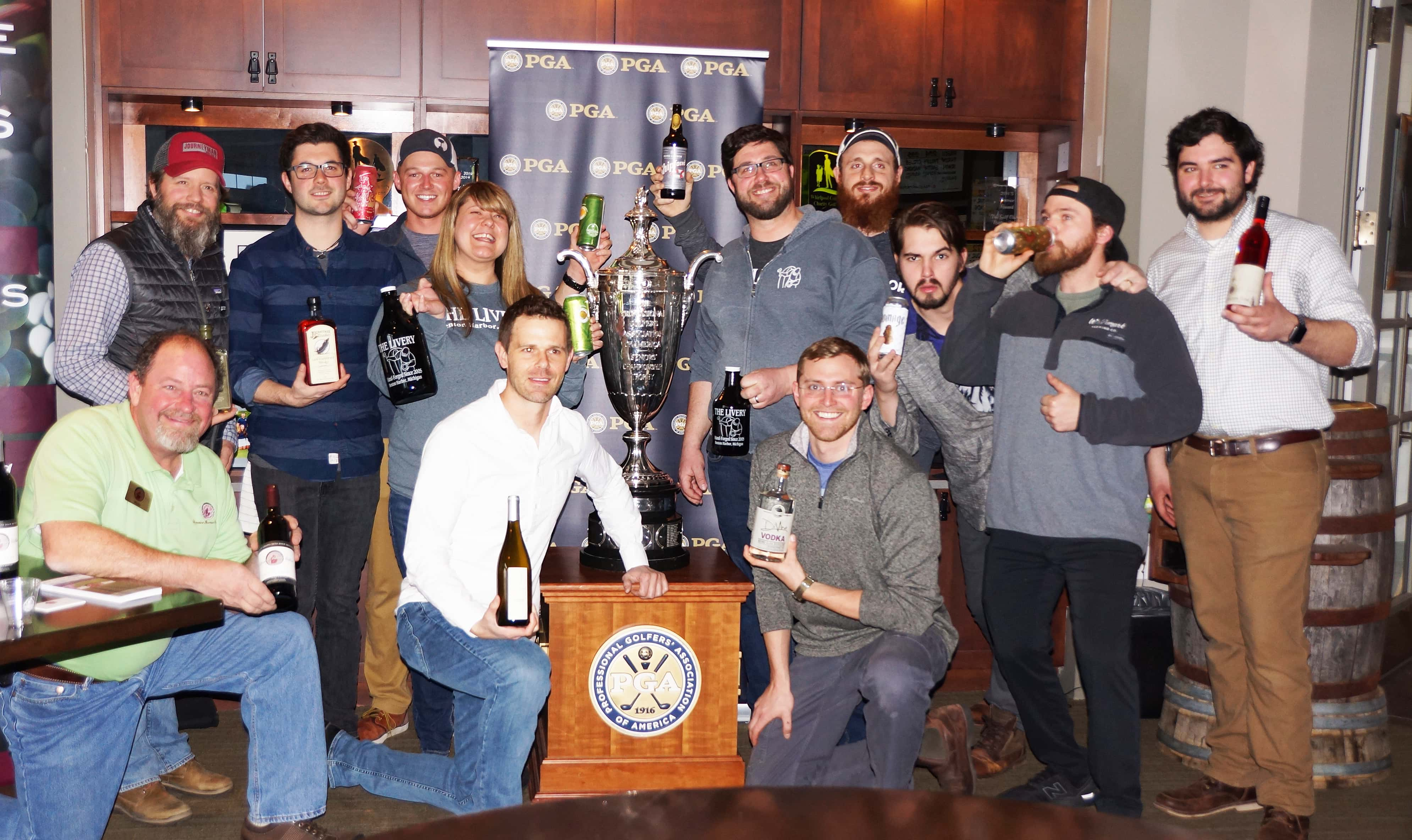 Visitors to the 2018 KitchenAid Senior PGA Championship this spring will have the unique opportunity to choose their favorite nine. You can choose from the front nine…the back nine…or the Makers nine. Those would be the nine great vendors who make up the totally unique inaugural run of the Championship's Makers Trail 19th Hole.
We shared that story with you earlier here on Moody on the Market, inviting you to line up your tickets for what will likely be a sell out situation. You can refresh your memory about that by clicking the link below:
https://www.moodyonthemarket.com/swm-makers-trail-signs-on-to-host-19th-hole-experience-at-kitchenaid-senior-pga-championship/
During a special sneak preview of those nine great makers today, the Grille at Harbor Shores hosted a "Tasting" event showcasing each of the nine Makers who will be found at the 19th Hole over Memorial Week at the Championship. We got the chance to visit with each of them today and talk about that opportunity.
Ryan Ogle, Championship Director for the PGA of America, says there really are two reasons for the Makers Trail 19th Hole experience, "We need to continue to raise the bar for the championship and create something new – a new experience – that hopefully will attract a different audience. So, even if you're not a golfer we've got so many good things to do here, the YMCA Kids Zone, the KitchenAid cooking showcase, the music concert, and the Makers Trail 19th Hole. They are all important. The other side that's equally important is the community impact. We have all these guests that come in, and we need to give them a reason to come back. We know that the craft industry, the breweries, the wineries, the distilleries, are landmark destination attractions here. There's a reason why people come and visit so let's tell that story, let's tell them about these establishments, and let's get their products in the hands of our guests and hopefully they'll come back."
I had the chance to work the circuit today talking with each of the vendors who will be represented at the Makers Trail 19th Hole. Here's what each had to say:
Domaine Berrien Cellars with Wally Maurer – "I think this is a great opportunity to highlight what Southwest Michigan is known for, and that is its makers. Whether it be distilled spirits or some of the fabulous breweries we have in our backyard, the many wineries…we have something for everybody and it's a great opportunity to come out and really see what's happening here in Southwest Michigan, and enjoy the Championship."
Hickory Creek Winery with Adam McBride – "I think this is just a phenomenal opportunity for a tiny little winery like Hickory Creek, we only make a thousand cases a year, so for us to be featured out here with some of these big names in the area — distilleries, breweries and some of these great wine makers — is just a great opportunity. As a brand new winemaker, at least professionally, it's really nerve-wracking and exciting at the same time to release my first wine that I made to the public, so our new Unplugged Chardonnay will be featured. I hope it's received well, but it's just really an honor to be a part of this thing, it's really cool."
Journeyman Distillery with founder Bill Welter – "The 19th Hole is awesome. I think people coming to this golf championship are looking for local products, local wine, local beer, local spirits, and I think it's incredible the Makers Trail has brought this all together to give people an opportunity to try what southwest Michigan has to offer. At the same time, it will get companies like Journeyman and all the other companies that are here today exposure to a new audience that maybe hasn't had our rye or our gin, or some of these great beers and wines that are here today, so it's a great opportunity for us and I think it's also giving the consumer what they want to see when they come from out of state or out of the area, to this event."
Lemon Creek Winery with Scott Soethe – "We will have our dry Rose at the 19th Hole, it's called Compass Rose. It's a Bordeaux-style blend Rose made with three grapes, the Cabernet Sauvignon, Cabernet Franc and Merlot. Those are all 100-percent estate grown on our vineyards here in Southwest Michigan. It's a great dry wine, very refreshing, especially for a warm summer's day, savory and carries some great fresh strawberry aromas, currant flavored berry, very nice.  We will feature our annual Wine Festival that same weekend and encourage folks to sample both the 19th Hole and the festival that weekend."
The Livery with Simon Rusk – "It's amazing. What a great opportunity to showcase the community. It's really awesome, we couldn't be happier than to be a participant in the 19th Hole, and in the Makers Trail in general. That's just a great thing. It's very true that we're literally a chip shot away from the course, and you can walk right over to the Livery from the clubhouse here, which is really cool and hopefully we'll see a lot of folks from the event over at our place. We're always looking for new customers and old customers alike to stop in, and we're lucky to be that close to the action. Every year it has built and built and this is the fourth year for the PGA and we expect it will be the best one ever for the Benton Harbor Arts District and for Benton Harbor in general. We're really excited and just couldn't be happier to be a part of it."
North Pier Brewing with Zach Rose – "It's a huge opportunity for us along with the other vendors here, obviously it's great exposure and we're excited to offer both Happy Guy and Buckrider. In fact Happy Guy became the official beer of the Senior PGA, which is super exciting for us, it's being distributed course-wide as well as at our taproom. We're super excited for the opportunity to be out there on the 19th Hole and throughout the PGA." (North Pier Brewing is also at the epicenter of the 13th and 14th holes where their taproom is located and across the street at the North Shore Inn.) "Hey, more exposure never hurts! We'll take it all. It's a super unique situation, you don't see a brewpub in the middle of a course very often. That corner is gonna be the place to be. We're excited to showcase our beers and see how the event goes. We opened two years ago on Memorial Weekend, so it's our second anniversary in business, along with the Senior PGA so we'll have a little better handle on what to expect and create an environment where people want to come and have fun, and enjoy the championship."
Round Barn Winery John Dibkey – "We're honored and very pleased to be invited and showcase our DiVine Vodka. That will be our primary pour, a grape-based vodka, estate-produced. The grapes are grown, fermented, and ultimately distilled on our estate. When this was originally released, Chicago magazine did a blind taste test with Belvedere, Ketel One and Grey Goose, and DiVine won outright. We're very proud of that. We'll be showcasing our DiVine Vodka with our Farmer Cranberry Wine creating a Crantini. That will be offered at the 19th Hole, as one of our flagship cocktails."
Silver Harbor Brewing Company with Christian Cook – "It's exciting. I mean, anytime you can bring the community together, whether it's for beer, a restaurant, whatever, I think it's good. It's great to get our faces and our name out there in essentially a national audience, so we're excited for it, we're excited to bring our beer there, and be able to tell our story and let people try what we do every day."
Watermark Brewing Company with Chris Mason – "I think the 19th Hole is going to be great. I think it'll be a fun getaway from the macro-breweries, to try some great craft beer, something to actually go to at the Senior PGA this year. We're really fortunate to be a part of it, and kind of showcase Stevensville as well as Watermark Brewing Company. The Southwest Michigan Makers Trail is phenomenal, as these brewpubs do an amazing job of promoting all the wineries of this area as well as the breweries, and this entire winter we saw a huge increase of traffic coming up from Chicago and Northwest Indiana. Buses, vans, limos, tons of new faces that we've seen at our place. It's all great."
It will be a venue like none other before at the KitchenAid Senior PGA Championship…so make plans to line up your tickets now before it's too late. You can do it now through this link: http://srpga.com/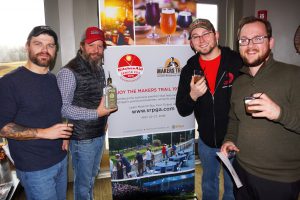 (Left to Right) Brock Havens of Rock 107 – WIRX, Bill Welter from Journeyman Distillery, Matt Malone from 97.5 Y-Country Radio and Jonny Reinhardt from 98.3 The Coast sample the Makers Trail 19th Hole today.