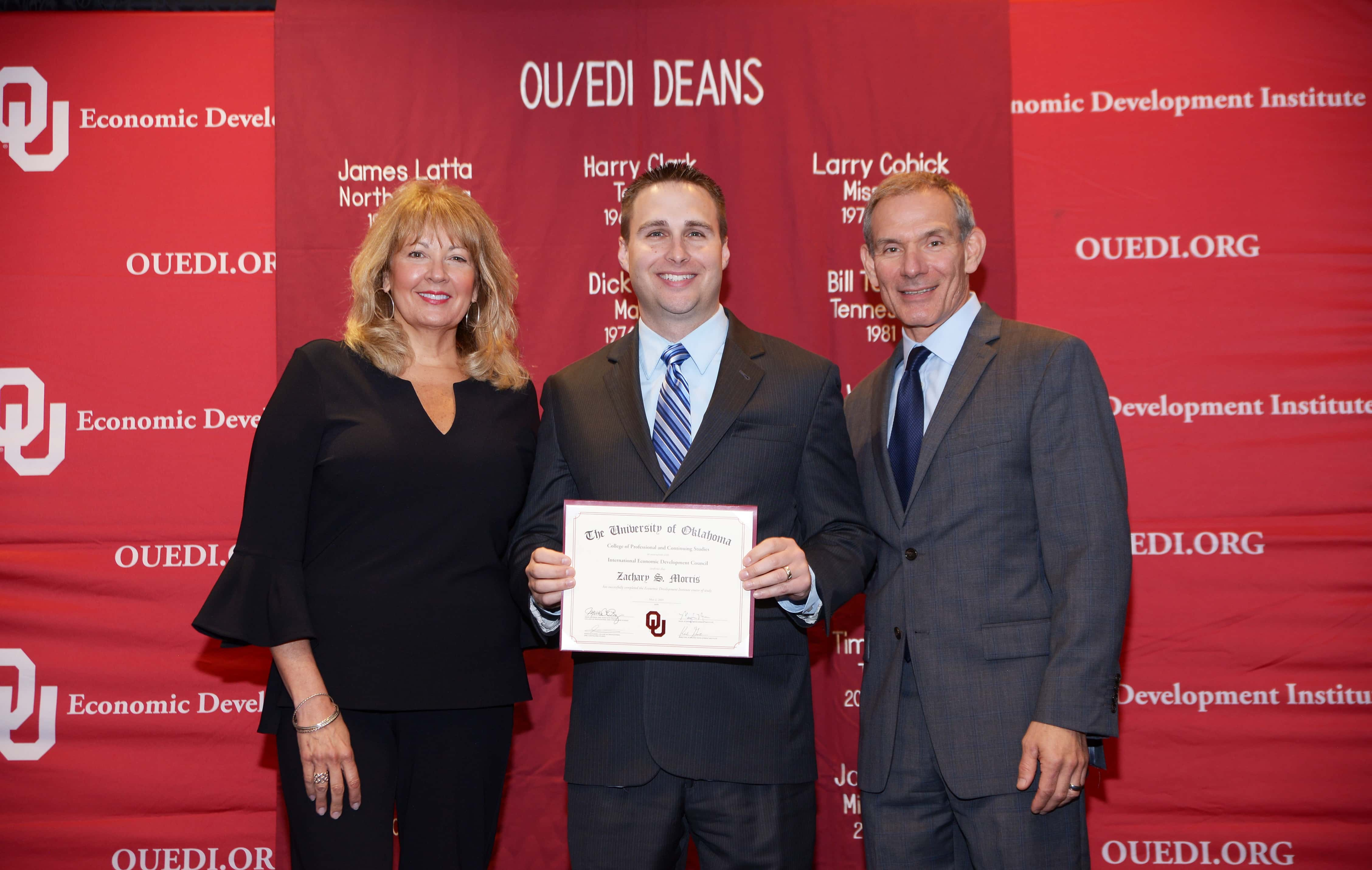 The man recently named to head up Market Van Buren has earned new chops as he gears up to his major new role in economic development for all of Van Buren County.
Zachary Morris, Executive Director of Market Van Buren, graduated from the University of Oklahoma Economic Development Institute (OU EDI) on May 2, 2019 at the OU EDI Spring session held in Indianapolis, Indiana.
OU EDI is an intensive 117-hour certificate program which provides a broad spectrum of advanced education for the economic development professional.
Dean of the program Mary Ann Moon says, "OU EDI is the premier organization dedicated to training economic development professionals. These graduates represent some of the finest economic development practitioners in the U.S. working to support their local communities. My congratulations to them."
Morris also competed for a nation-wide scholarship and was one of two students to earn the National Scholarship for Advanced Economic Development Professional Education.  The other was Victoria Herring, Director of Business Development and Operations for the Grant County Economic Growth Council in Marion, Indiana.
OU EDI classes focus on three major core areas including: Business Retention and Expansion, Real Estate, and Credit Analysis, as well as areas of concentration in Marketing, Strategic Planning, Entrepreneurship, and Managing Economic Development Organizations. Students typically take 1-2 years to complete the program through a series of in-person seminars, workshops and discussion groups.
Tom Stanek, Board Chair for Market Van Buren says, "We are very excited to have Zach complete this prestigious program. The education and network he is building will pay dividends for Van Buren County."
OU EDI began in 1962 and is celebrating its 57th year of service to the economic development community. Fully accredited by the International Economic Development Council (IEDC), the program has trained over 5,500 graduates and remains the world's leading economic development teacher.
Market Van Buren has principal responsibilities for economic and community development throughout Van Buren County. The organization connects people, investments, and organizations with strategies and services that improve the quality of life and economic conditions in the region, specifically Van Buren County. For more information, visit www.MarketVanBuren.org, or "like" them on Facebook @MarketVanBuren.