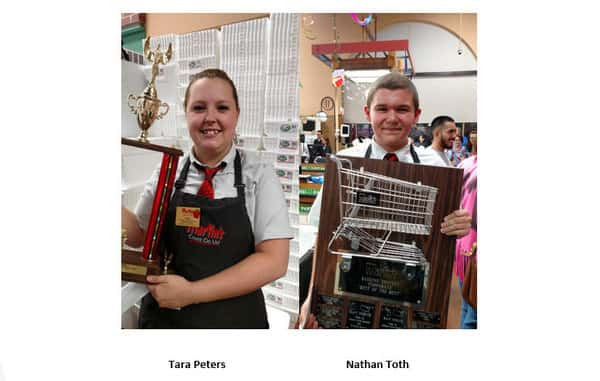 In this crazy, mixed-up world of instant gratification and the need for speed at every turn, the last thing we want to do is stand in line at the grocery store waiting to be checked out. For shoppers at Martin's Super Markets, that wait may very well be among the shortest for miles around thanks to a couple of speedy, award-winning baggers who really have a handle on getting you in, out, and on with your life.
In fact, Martin's Super Markets will be sponsoring both the Michigan State and Indiana State entrants into the National Grocers Association-sponsored Best Bagger Championship competition coming at the end of the month in Las Vegas. That championship challenge will take place at the Mirage Hotel on the Las Vegas Strip on February 29, 2016 and will feature two Martin's employees.
Martin's Super Market star, Tara Peters, who is 23, will represent the state of Michigan in the competition. She works at the Stevensville Martin's, located at 5637 Cleveland Avenue. Peters qualified for the Michigan State Bag Off by besting 2 other contestants in the Michigan State Bag Off, held in October of 2015. Peters has seven years of experience at Martin's.
Martin's employee Nathan Toth will represent the state of Indiana. The 18-year old Toth has been employed by Martin's for a year, and is currently assigned to the Granger store located at 12850 State Road 23. This will be Toth's first opportunity to compete for the national title. He qualified to represent the state of Indiana by defeating 17 other contestants in the Indiana State Bag Off, which was also held in October of 2015.

The National Grocers Association sanctions nationwide state Best Bagger contests on behalf of its membership, with a national championship awarded each year at its annual convention in Las Vegas. Baggers, or Courtesy Clerks as they are titled at Martin's, are supermarket employees whose primary responsibility is to efficiently, safely and accurately bag grocery items for customers at the checkout.

The winner of each state final is eligible to compete at the national Best Bagger Bag Off during the NGA's annual national convention. America's top baggers are eligible to win up to a $10,000 cash award and numerous prizes.

Paulette Collins is Martin's Training Coordinator. She tells us, "Bagging groceries is an art." She adds, "At Martin's, we emphasize to both beginning and seasoned Courtesy Clerks that a stable, categorized and safely organized bag is one way our customers experience our superior commitment to service. And by training for and competing in Bag Off contests, we're highlighting to our shoppers and employees alike that attention to detail is an ongoing process at Martin's."

The NGA is the national trade association representing the retail and wholesale grocers that comprise the independent sector of the food distribution industry.

Martin's Super Markets was founded in 1947 and currently has 22 stores in South Bend, Mishawaka, Granger, Elkhart, Goshen, Plymouth, Nappanee, Logansport and Warsaw, Indiana, and Niles, Stevensville and St. Joseph, Michigan.