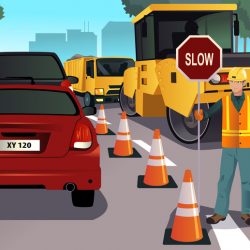 People conducting business in and out of places like Whirlpool, Midwest Timer, North Shore Manufacturing and others, as well as residents north of St. Joe, might see a few traffic cones and flag operators over the coming week as the Michigan Department of Transportation rolls out repair teams during the business week on southbound M-63.
MDOT authorities say that there will be some single-lane closures on southbound M-63 between Golf Road and Klock Road beginning next Monday, July 16th and continuing through Friday, July 20th. Contractors will be effecting some concrete repairs on that stretch of the road running alongside whole's six and ten of the Jack Nicklaus Signature Golf Course at Harbor Shores. The repairs will be in the lanes farthest from the fairways and will not affect golfers in any way other than if they hit a brief bottleneck on their way to a tee-time, or sunbathers headed Jean Klock Park from the north side of town.
The maintenance issues are routine as MDOT works to get as many issues taken care of in the summer construction season as possible.
For project details and a map, visit Mi Drive.