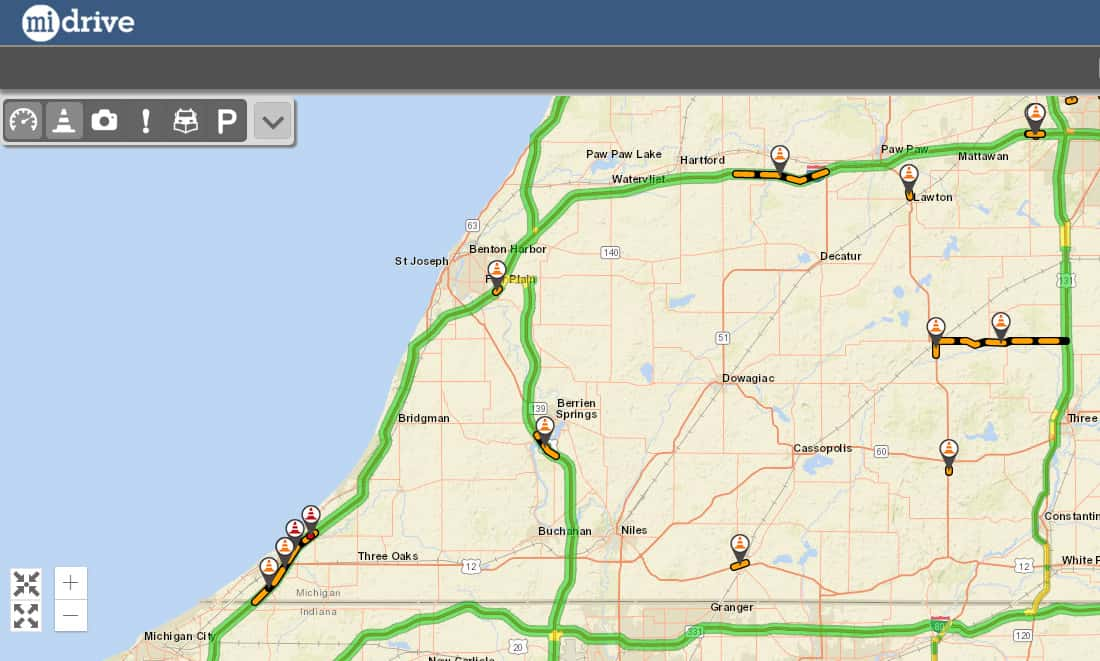 When severe weather strikes, authorities get buried in an avalanche of requests for information. Phone call after phone call flows to police dispatchers and anyone with a position of authority in search of current road conditions. Is it safe to head to Kalamazoo? How are road conditions on the bypass near Berrien Springs? What's with the backups on I-94? If you are one of those in the eternal search for knowledge on road conditions the Michigan Department of Transportation is making it easier than ever to take things into your own hands thanks to Mi Drive.
The team at MDOT has just launched its newly designed Mi Drive construction and traffic information website. With motorists in mind, the streamlined Mi Drive website makes it even easier to view traffic cameras and speeds, locate incidents, and search construction projects - helping you to know before you go.
Inside the new Mi Drive website, you will be able to turn on layers on the map that show speeds, construction zones, cameras, incidents involving crashes, snowplow/maintenance vehicles, and even truck parking locations and information on the state's highways.
You can also create a list of favorites among your most-used cameras for easy viewing retrieval. New traffic lists make it simple for you to search and sort construction zones, camera and truck parking information, as well as having the option to go to that information directly on the map. Resource links allow you to sign up to receive MDOT traffic alerts by way of e-mail or text messaging, or to report potholes on state trunklines, and even locate carpool lots, rest areas and roadside parks.
As with the previous version of Mi Drive, Facebook, Twitter and e-mail buttons are available so that you can easily share the information that you are viewing on social media sites, personal websites, or with other motorists. For those crossing into Canada, the bridge and tunnel icons provide a direct link to each site where up-to-date border wait times and toll information can be found.
Kirk Steudle is the State Transportation Director at the department. He says, "MDOT's Mi Drive site continues to do a great job of providing the information that commuters want and need as they make daily travel decisions." Steudle adds, "We've modernized the site and improved performance but our goal is still the same - to keep Michigan's motorists safe, informed and mobile. We want to remind everyone to check their route before leaving because the safety of motorists, pedestrians, and workers is a top priority for all of us."
You can access Mi Drive on your computer, laptop, smartphone, or other mobile devices by going to www.michigan.gov/drive. Shortcutting Mi Drive on a smartphone provides quick access to the site and eliminates the need for an app. There's a live link below.
As always, MDOT encourages everyone to check Mi Drive before they leave for home or work. Safety is always a top priority as MDOT continues the Toward Zero Deaths statewide safety campaign.
Originally introduced 11 years ago in 2007, the Mi Drive site has been revamped several times and has proved to be popular with motorists. There have been, on average, 1.5 million individual page views of the Mi Drive site so far in 2018.
The Mi Drive site is maintained by MDOT, the Department of Technology, Management and Budget (DTMB), and MDOT's Intelligent Transportation Systems (ITS) program. The latest improvements to the site were funded with $175,000 from MDOT's general Information Technology fund and $135,000 from ITS funds.
Here's the link directly to the site: http://www.michigan.gov/drive