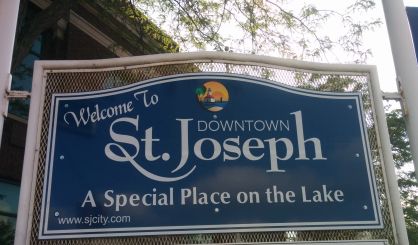 Getting in the holiday spirit is easy when you visit downtown St. Joseph during November and December. Festive events invite the Southwest Michigan community to celebrate the season.
Light up the Bluff kicks off Merry & Bright Weekend on Friday, December 2. At 6:00p, the St. Joseph High School Choir begins with Christmas carols followed by the tree lighting at 6:30p. The one million holiday lights will transform Lake Bluff Park into a winter wonderland and will be viewable daily between 5:30a-8:30a and 5:30p-midnight through February 15. This display is sponsored by the St. Joseph Improvement Association in partnership with the City of St. Joseph. For more information, call (269) 983 5541.
Immediately following the tree lighting, visitors can stroll downtown and enjoy Window Wonderland. Downtown storefronts will participate in this holiday window decorating contest from 7:00p-8:30p. Attendees can vote for their favorite windows at stjoetoday.com/vote beginning at 7:00p Friday, December 2 until 11:59p Sunday, December 4.
On Saturday, December 3 the annual Fanny Mae Memorial Reindog Parade returns to downtown St. Joseph at 3:00p. Sponsored by Edward J. Todd, Maytag and FuzzyButz, this event features dressed-up pets and their owners in a variety of holiday garb. Be prepared to see all kinds of costumes from "Santa Bernards" to "Reindeer Rottweilers" – definitely a must-see event! Parade participants may get registration forms at FuzzyButz or the Welcome Center, both located in downtown St. Joseph, or register at stjoetoday.com/reindog. Cost: $5 per dog; each additional pet is $3. A portion of the net proceeds will be donated to a local animal rescue organization.
After the parade, children can share their wish lists with Santa until 7:00p. Santa's House, part of the Santa Series sponsored by The Herald-Palladium, is moved from the North Pole each year to the corner of State & Pleasant Streets in downtown St. Joseph. Santa will be available for wish list conversations and holiday photo ops weekends in December. Hours are Thursdays and Fridays 4:00p-6:00p, Saturdays 12:00p-5:00p and Sundays 1:00p-5:00p. Special hours will also be offered on December 21, 22 and 23 from 12:00p-5:00p. Don't forget to bring a camera to capture this magical visit!
Additional Santa Series fun can be had with Letters to Santa and Storytime with Mrs. Claus. Attendees can grab a postcard from the Welcome Center to write a letter to Santa, hand it to the big man in red himself or use the drop box at Santa's House! Mrs. Claus has offered to read some of her favorite holiday books during Storytime with Mrs. Claus. St. Joe Today will be releasing weekly videos at stjoetoday.com/santa – December 6, 13 and 20.
On Sunday, St. Joe Today wraps up the Merry & Bright Weekend with a new event, an indoor Holiday Artisan Fair featuring local artisans. This event will be held from 12:00p-4:00p on Sunday, December 4 at Union + Social in downtown St. Joseph, behind Silver Harbor Brewing. Cost $5/person. Visit stjoetoday.com/artisanfair for more information.
To make the most of the giving season, St. Joe Today and SWMI businesses and restaurants host Countdown to New Year, a daily giveaway event throughout the month of December! Shoppers earn one entry per $25 purchase (one time or cumulative) at a St. Joe Today (SJT) member business. Qualifying purchases must be made between November 18 and December 18 – earn double points for shopping on Small Business Saturday (November 26), Window Wonderland (December 2) and the Fanny Mae Memorial Reindog Parade (December 3). Additional qualifying purchases include St. Joe Today Gift Certificates and St. Joe Winter Beer Fest tickets (on sale at 10:00a December 1). Receipts for purchases must be presented to an SJT staff member at the Welcome Center by December 18. Participants will be entered for a chance to win a $50 gift card to a local SWMI business. Visit stjoetoday.com/countdown for more information.
Additionally, shoppers and diners alike will enjoy a magical experience this winter season while downtown. Beautiful winter lights and festive holiday music throughout downtown St. Joseph will enhance the holiday atmosphere. The lights will remain up through February in conjunction with Light up the Bluff (December 3 through February 15).
For more information on the Merry & Bright Weekend visit stjoetoday.com/merryandbright.
Catch these upcoming St. Joseph Today winter events:
Window Wonderland: December 2 (7:00p-8:30p)
Fanny Mae Memorial Reindog Parade: December 3 (3:00p)
Santa Series: December 3-23 (select dates)
Holiday Artisan Fair: December 4 (12:00p-4:00p)
Chili Tour: January 27 (5:00p-8:00p)
St. Joe Winter Beer Fest: January 28 (12:00p-4:00p)
March Mannequins: March 10 (7:00p-8:30p)
Spring Artisan Fair: March 11 (12:00p-4:00p)
St. Joe Today is a 501(c)(3) membership-based organization dedicated to developing and promoting events and businesses in St. Joseph, Mich. and its surrounding communities. For more information about upcoming events and details call St. Joe Today at (269) 985 1111 or visit stjoetoday.com.