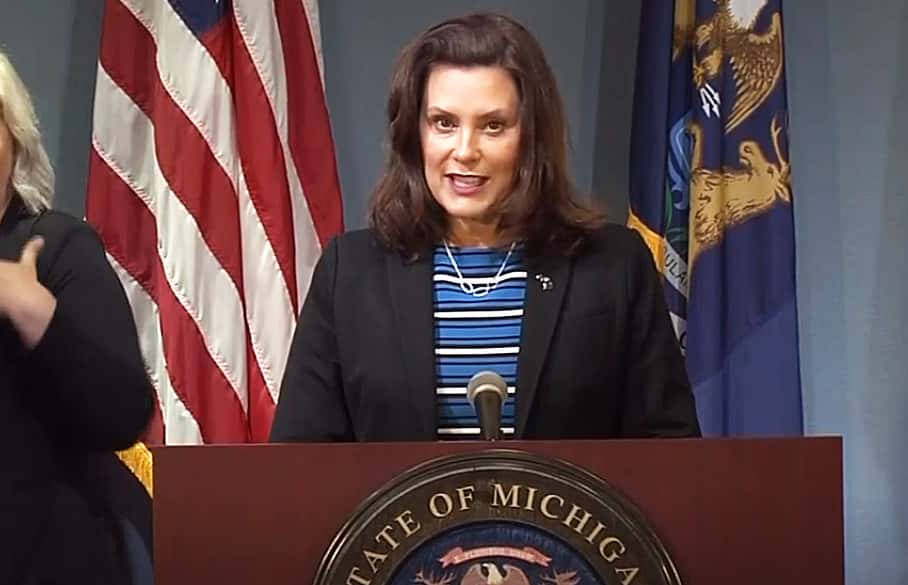 Declaring flatly that "we cannot do it alone," Michigan Gov. Gretchen Whitmer has appealed to President Donald Trump, Senate Majority Leader Mitch McConnell, and the entire U.S. Congress to step up and help Michigan and virtually every other state in the union to recover financially from the impact of the coronavirus pandemic across the nation.
Saying, "President Trump called this a war, and we need him and others to respond in that way to beat the enemy of the virus called COVID-19," Gov. Whitmer and her State Budget Director today pointed to a massive reduction of more than $6.2-billion facing the state. Whitmer adds that "the unprecedented challenges presented by the pandemic create serious budget implications" for the state of Michigan going forward.
The governor says that all of the nation's governors "have worked tirelessly to protect our people," and now the federal government needs to do the same by offering help to every state in the nation facing a budget crisis like the one facing Michigan.
Whitmer is calling for flexibility and support from the federal government to not only Michigan, but every state like ours that is facing a budget crisis.
Budget Director Chris Kolb, citing the state's current $1.2-B balance in the rainy day reserve fund, says, "Even if we use every penny of that money," we can't come close to filling the gap created by the pandemic crisis.
To show the impact, Gov. Whitmer cited a litany of costs over the past 10 to 12 weeks put out by Michigan to keep people safe including:
$25-million to hospitals across the state…
$22.8-million for Direct Care Workers…
$3.4-million for Nursing Homes…
$5-million for federally qualified health centers…
$5-million for community mental health grants…
$251-million for the purchase of PPE including hospital gowns,ventilators, sanitizer, N95 masks, hospital beds and more…
$101-million for support to working families in the form of child care…
$8.5-billion paid out to Michigan workers in unemployment benefits…
Uncounted Work Share costs…
$1-million for small business retooling…
$10-million for small business relief grants…
$3.3-million to bars and restaurants through the MLCC liquor repurchase program…
Turning to budget priorities ahead, the governor cited several broad categories going forward, including:
Prioritization of funding for school classrooms and literacy…
Protection of police, fire and local communities…
Worker protections in the form of hazard pay for first responders…
Worker protections through extension of unemployment benefits…
Worker protections through the COVID-19 Office of Worker Safety…
Funding of vaccine research at Michigan research universities…
Rebuilding of the Michigan bonding program to start fixing state roads right now to keep drivers safe…
Paid sick and family leave…
Whitmer cited $80-million in gross savings the state was able to garner from the cumulative effect of such things as:
Her own 10-percent pay cut
Her executive team's 5-percent pay cut
Her cabinet's 5-percent pay cut
Two rounds of state government employee layoffs
Neverthless, the governor admits that $80-million in savings against a $3-billion problem is little comfort and that is why the state clearly needs help from beyond our borders, especially from the federal government.
Realizing that budgets are about more than just dollar priorities, the governor also addressed policy priorities to help Michigan families including:
Access to health care…
High quality childcare…
Worker retraining through the Future for Frontliners programming…
A comprehensive return to school plan for the education community…
Support for small businesses…
Enhanced consumer protections…
Strengthening her pitch for federal assistance through dollars and resources, she is calling for Community Development Block Grants, "needed now more than ever before," because the federal CARES Act precludes states from using relief dollars for regular budget assistance. That language of the bill does not allow that, and Whitmer insists that Congress needs to come together and remedy that.
Regarding any further opening of the state's economy at this time, Whitmer would only say, "If we all keep doing our part, we'll be able to announce more in the coming days." Asked about the 8-pillar safety pitch from the barber, beauty salon and spa industry, she was appreciative, but refused to address a timeline for their return to work, insisting "we need to continue to follow the science" of healthcare ramifications from the virus and keep staying safe.