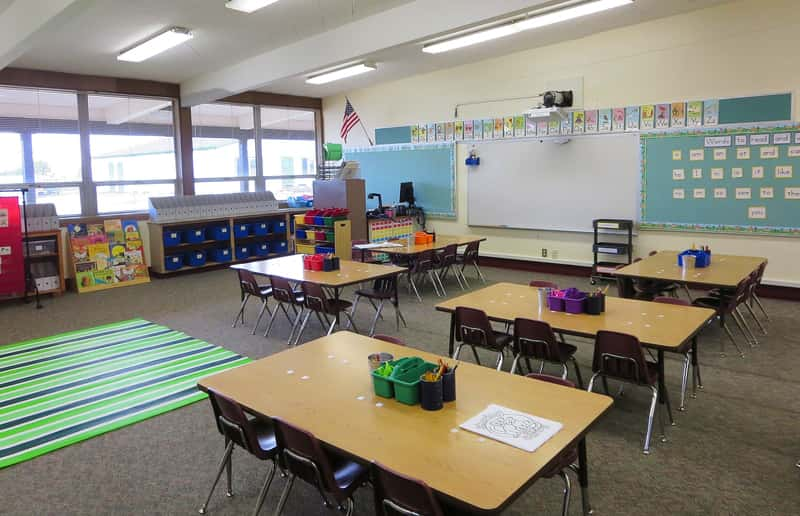 As Michigan braces for the return of schools in the fall, a new Return to Learn plan rolled out this morning by the Michigan Legislature is drawing critical assessments on both sides of the fence for its requirement that local school districts and health departments work together to develop health and safety standards best for each unique area of the state.
State Representative Pauline Wendzel was one of the first to showcase the $1.3-billion plan which also implements robust distance learning and safety measure with a prioritization on student safety.
Wendzel this morning unveiled the plan to ensure the safety of Michigan students as learning resumes in the fall.
The House-Senate plan was announced this morning during a Capitol press conference, and, looking at the scope of the plan, Wendzel says, "We're a large and diverse state, and we can recognize that returning to school may not look the same in Southeast Michigan as it does in Northern Michigan or right here in Berrien County." She adds, "Experts from local health departments, not politicians, are best suited to determine these standards."
Rep. Wendzel also says schools should have the flexibility to begin instruction as quickly and safely as possible. Under the plan, school districts could start whenever is best for them without obtaining a waiver to bypass Michigan's Labor Day start requirement.
The Return to Learn plan also:
Provides a $800 per pupil payment to K-12 schools to implement a robust distance learning plan and health and safety measures to return students safely to the classroom.
Includes a $500 per teacher payment as hazard and overtime pay and to help cover costs incurred due to transitioning to distance learning teaching plans.
Delivers $80 million to intermediate school districts to assist schools in coordinating and implementing distance learning plans and safety measures.
Redefines the word "attendance" to mean "engaged in instruction" rather than "physically present," allowing schools to be innovative and give students the opportunity to learn outside the classroom.
Limits the use of snow days to encourage the use of remote instruction when in-person instruction is unsafe or unsuitable. Moving forward, schools would be granted just two forgiven days of instruction per year.
Utilizes benchmark assessments to provide detailed information to parents and teachers about where a student needs additional help, ensuring kids do not fall behind in the wake of the public health crisis.
Requires school districts to work with local health departments to establish safety requirements for extracurricular activities and sports in addition to regular school safety measures.
Rep. Wendzel says, "If there's one thing we've learned from this crisis, it's that a one-size-fits-all policy isn't what's best for Michiganders," adding, "Health and safety decisions should be made at the local level, with input from local medical experts who know their communities. We all want what's best for our kids' education and more importantly, their health. This plan will deliver for our students, parents, and educators."
The plan will be referred to the House Education Committee for consideration later this week.
Coming on the heels of the Lansing announcement, the Mackinac Center called the plan, "A positive step toward ensuring schools have the necessary flexibility to meet increasingly diverse student needs in the coming year and beyond."  Ben DeGrow, Director of Education Policy at the Mackinac Center think tank says, "The rules and structure of our current public education system are too rigid, as witnessed by the initial responses to this spring's school building closures. The time has come to give schools more room to maneuver in order to help ensure students continue to learn and grow, whether in a school building, online or some combination of the two."
Later in the day, Democrats responding by saying, "Today, Republicans announced their Return to Learn plan for Michigan schools this fall. Unfortunately, the plan is more of the same, unoriginal GOP agenda. The plan has language ripped straight from the Great Lakes Education Project, an 'advocacy group' founded and funded by Betsy Devos and her family. Even the name is stolen, from Governor Whitmer's 'Return to Learn Advisory Council', established back in May."
Tim Carroll, Michigan Democratic Party spokesman, says, "Michiganders know Betsy Devos is the worst Secretary of Education we've seen, and we know that her agenda is dangerous," and adds, "We're not going to let Betsy Devos dictate the rules in Michigan, especially during a crisis that GOP leaders don't take seriously."
The party statement adds, "While the MI GOP does Betsy Devos' bidding, the Governor's Return to Learn Advisory Council has been working, without the influence of Betsy Devos, to ensure children return to school safely, equitably, and efficiently this fall."
Meanwhile, The Great Lakes Education Project referred to by Carroll, today joined the response, thanking members of the state Legislature for "stepping up to bat for Michigan students, and putting forth the first tangible reform package aimed at getting students safely back to school this fall."
Project officials say that students, parents and teachers continue waiting for direction from Governor Gretchen Whitmer on the rules and reforms she proposes before opening school buildings in the upcoming school year.
Beth DeShone, Executive Director of GLEP, notes, "Kids deserve healthy schools and open doors this fall, and leaders in Lansing willing to do the tough work to deliver for them," and adds, "The Legislature today took the first important steps to get our kids and our teachers back in the classroom safely. Families can only hope that Governor Whitmer eventually follows their lead."
As a reminder, GLEP is encouraging the Governor's Advisory Council and policymakers to embrace reforms that put students first this fall, including:
Shifting state education models away from seat time requirements to mastery-based learning. Mastery-based education empowers students by ensuring they comprehend the subject matter before moving forward, creating a solid foundation for future learning and allowing individual students to excel at their own pace.
Empowering school leaders with broad calendar flexibility to begin instruction as quickly and safely as possible without being delayed having to ask for permission from state bureaucracies.
Ensuring that every student takes a benchmark assessment when in-person learning begins so all teachers understand what extra help some students might be need.
Embracing effective distance learning and celebrating schools and districts that use it well by learning from their success.
Eliminating any additional burdens on students or teachers that would prohibit engaged remote learning, if they are receiving remote instruction due to COVID-19 health and safety concerns while their classmates receive instruction inside the school building. These changes should still allow schools to receive their full per-pupil funding, even when students are away due to health concerns.
Editor's note: An earlier version of this story was posted before the Democratic Party's response and had indicated in the headline that the Republican plan had been "Well Received." In light of additional information and feedback, that has been changed to reflect comments from both sides of the issue.