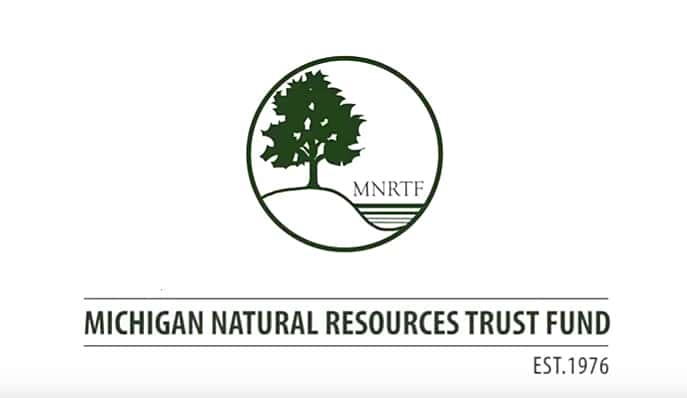 Turns out there's even more good news for Michigan's Great Southwest from the Michigan Natural Resources Trust Fund this week beyond the approval of a grant to the Cherry Beach Project in Harbor Country. We told you that story yesterday, but the full list of projects was made public this morning as we find that the Trust Fund board is recommending $25-million to enhance public outdoor recreation in Michigan and nearly a quarter of that money is destined for the Tri-County region of Berrien, Cass and Van Buren Counties.
This week the Michigan Natural Resources Trust Fund board recommended $25 million in grant awards for outdoor recreation development and land acquisition projects to the state Legislature.
This funding will support a diverse range of projects, some of which include land acquisition for wildlife and fishery habitat conservation and access, community pathway connections, development of urban parks and playscapes, sports field enhancements and river access.
Berrien County has garnered approval for three major acquisition grants and one development project, while Van Buren has been cleared for one major acquisition grant and Cass County has been approved for two development projects.
Gov. Gretchen Whitmer says, "The Michigan Natural Resources Trust Fund is critical in providing people of all ages and abilities with more and better opportunities to experience our state's woods, water and outdoor heritage," and adds, "Every year, millions of residents and visitors swim our lakes, hike our forests, bike our trails and connect with the outdoors in dozens of other ways. Trust Fund support, this year and every year, ensures that those experiences are here for current and future generations."
The board this year recommended $25.6 million in grant funding, including $11.5 million for 60 recreation development projects and $14.1 million for 18 land acquisition projects. Grant recipients have committed to providing matching funds of $17 million, bringing the total investment in outdoor recreation and conservation to nearly $43 million for this funding cycle.
Of the $14.1 million recommended to fund acquisition projects, $10.3 million would be awarded to local units of government and $3.8 million would support five DNR projects. Of the $11.5 million recommended to fund development grants, $9.6 million would support 51 local government projects and $1.9 million would support 9 DNR projects.
The board considered a total of 160 applications seeking nearly $54 million in funding. In a competitive process, all eligible applications were evaluated on scoring criteria developed by the board.
These are the major land acquisition grants authorized, (including the Cherry Beach Project shared yesterday) in our region:
Berrien County – Paw Paw River County Park Expansion – $80,000 Acquisition of 63 acres of property as an addition to Paw Paw River County Park. The land has 7,000′ of river frontage and is primarily wooded. The Berrien County Parks Commission would like to keep the land as a natural area and offer passive recreation such as fishing, wildlife viewing, hiking, cross-country skiing and bike trails. Managed hunting opportunities are also being considered.
Berrien County – Chikaming Township, Lake Michigan Forest and Public Beach Expansion – $2,475,000 Acquisition of approximately 2.6 acres to conserve a pristine woodland parcel adjacent to existing 1.9-acre Cherry Beach Park on Lake Michigan in Berrien County. The purchase would increase the length of Cherry Beach by 400 feet and enlarge the park for residents and visitors alike. For decades, beach visitors assumed the parcel was part of the public beach and have enjoyed it as such. The property remains in a pristine, undeveloped state with an ecologically significant critical sand dune, old-growth forest and tributary stream to Lake Michigan. The site is a rare habitat harboring diverse species and offers a resting stop on the Lake Michigan Water Trail and US Bike Route 35.
Berrien County – DNR, Pipestone Creek/St. Joseph River Public Water Access Site – $94,000 Acquisition of 1.26 acres to provide a public water access site at the confluence of Pipestone Creek and the St. Joseph River, filling a 9-mile long gap on this stretch of the St. Joseph River. The property includes frontage on Pipestone Creek, the St. Joseph River, and River Road. Acquisition of this parcel will provide carry-down watercraft access and assist with local plans of further developing the St. Joseph River water trail. The site also would provide shorefishing opportunities for many gamefish species including steelhead, Chinook and coho salmon, brown trout, and smallmouth bass. If acquired, the new public access site will be leased to Sodus Township which will handle all maintenance.
Van Buren County – South Haven Area Recreation Authority, Pilgrim Haven Natural Area Addition – $2,262,000 Acquisition of a 47-acre property adjacent to Pilgrim Haven Natural Area with approximately 1,000 feet of frontage on Lake Michigan, critical dune, imperiled backdune forest, and a stream which flows out of Van Buren State Park and into Lake Michigan. The property has been relatively untouched by human development, and its natural communities remain largely pristine. Acquisition of the land will create 75 contiguous acres of preserved Pilgrim Haven Natural Area and be a critical piece of a larger regional conservation vision to preserve over 10 shoreline miles of DEQ-designated critical dune.
These are the approved development projects in our region:
Berrien County – Berrien Township, Range Line Trailhead Development Project – $300,000 Development of a trailhead site for the existing Backroad Bikeway and for the proposed multiuse trail that will connect Berrien Springs to the IN-MI River Valley Trail (Niles to Mishawaka, IN). Range Line Park provides access to Townsend Creek and views of the St Joseph River. These improvements will provide the amenities for an accessible trailhead and offer unique wildlife viewing opportunities. Improvements include renovating an existing shelter and ADA bathroom with an accessible path from the parking lot. The project includes added bike parking, new playground equipment, an accessible nature trail and overlook of the St. Joseph River.
Cass County – Village of Cassopolis, Cassopolis Connector Development Project – $300,000 Development of the Cassopolis Connector Project, an approximately 1,450-foot pathway and boardwalk along the west side of Broadway St. along Stone Lake. The boardwalk will provide Stone Lake overlook with informational signage that will depict historical and natural species information. The Village lacks pedestrian connections to both Stone Lake and to downtown and this project will fill the void as well as provide a non-motorized option and a focus on health and fitness for the community. Site amenities will also include LED lighting along the path and benches.
Cass County – Village of Vandalia, Milo Barnes Park Improvements – $36,900 Development at an existing 4-acre park that includes play structures, pavilion with picnic tables, basketball court, benches and parking. The proposed park improvements include installation of new grills, an ADA pathway leading down to and along Christiana Creek with benches along the path and parking.
The Michigan Natural Resources Trust Fund – a restricted fund established in 1976 to support land conservation and outdoor recreation – is financed through interest earned on funds derived from the development of publicly owned minerals such as oil and natural gas. Throughout its history, the Trust Fund has granted more than $1.1 billion to state and local units of government to develop and improve public outdoor recreation opportunities in all 83 counties.
Dan Eichinger is Director of the Department of Natural Resources. He says, "Over the past 40-plus years, the Trust Fund has improved the quality of life for people in every county of Michigan," and adds, "Trust Fund grants have leveraged additional dollars from local government partners to expand outdoor recreation opportunities, ensure the conservation and protection of our natural resources and fuel Michigan's economic growth."
The board's recommendations will go to the state Legislature for review as part of the appropriations process. Upon approval, the Legislature will forward a bill for the governor's signature.
More information about the final 2019 Michigan Natural Resources Trust Fund board recommendations is available at the link below:
You can also learn more about the Trust Fund through a short video at this link:
https://www.youtube.com/watch?time_continue=5&v=QIMwnUnEPiY&feature=emb_logo