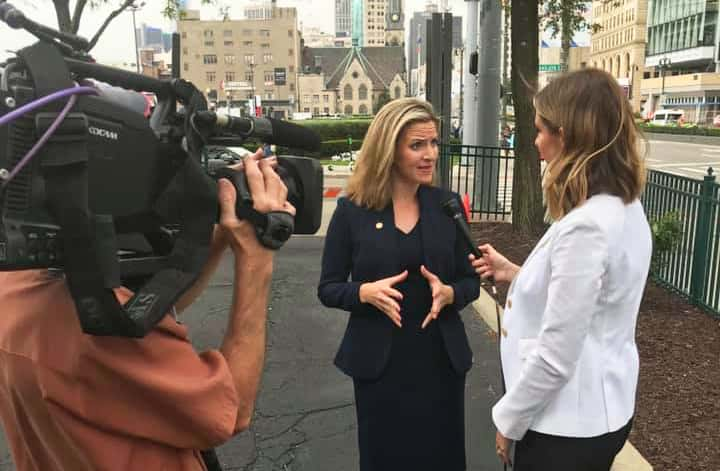 Your Secretary of State is laser-focused on boosting voters turnouts in Michigan elections, especially among college students. As a result, she is crafting a new, non-partisan, task force to help get that job done.
Secretary of State Jocelyn Benson has today announced the formation of a Collegiate Student Advisory Task Force and is requesting that students apply to serve as members of that team. The task force will make recommendations for improving voter engagement among college students.
Any Michigan student attending a two- or four-year higher education institution is encouraged to apply to the nonpartisan task force. Participants will advise on the unique challenges encountered by voters between the ages of 18 and 24, and recommend a series of programmatic, administrative or policy changes to address those barriers. Through the task force, young voters and diverse perspectives will be at the table as the Michigan Department of State works to implement the Promote the Vote constitutional amendment passed by voters last November.
Benson says, "Young people are the future of our democracy, and this task force is an important step toward ensuring their voices are heard on Election Day and beyond." Benson adds, "I look forward to working with students, faculty and administrators in the months ahead to empower the next generation of voters."
The task force will meet three times this fall between September and November in locations throughout the state, with final recommendations submitted to Benson in November. Travel expenses will be reimbursed. In 2020, students will work with the Secretary of State's Office as civic engagement liaisons to their respective campuses.
About 20 to 25 students will be selected from colleges, community colleges and universities around the state. Applicants must fill out an online application and submit their resumes, demonstrating a commitment to voting, enthusiasm for the work and the ability to engage with the Secretary of State's Office and their communities through the November 2020 election.
Applications are due by 3 pm Tuesday, September 3rd, and can be completed at Michigan.gov/SOSStudentTaskForce, which is linked below. Task force members will be selected by members of the Department of State's Election Modernization Advisory Committee and Secretary of State staff leadership.
Here's the direct link to the application process for those interested in applying:
https://www.michigan.gov/sos/0,4670,7-127-1633_94611—,00.html
The photo of Secretary of State Jocelyn Benson engaged in a TV interview regarding the 2020 Presidential election is courtesy of the Secretary of State's office in Lansing.