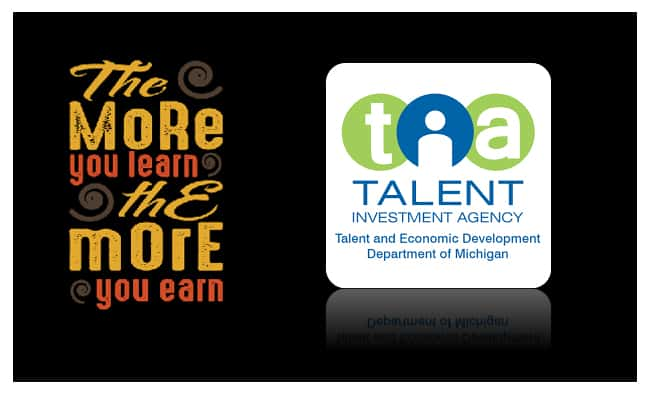 As Michigan draws closer to nearly a million people without a high school diploma or the equivalent and a less than stellar command of the English language, the state's top talent leaders have launched a new campaign that essentially tells those folks, "the more you learn, the more you will earn."
The Talent Investment Agency tells us that more than 900,000 individuals in Michigan lack a high school diploma or equivalent and/or have troubles with the English language. They also remind everyone that on average, individuals with a high school diploma or equivalent earn more than $6,000 more per year than those without one.
Thus, the new "Learn More, Earn More" outreach campaign introduced by the agency's Adult Services section. It's designed to inform Michiganders about available Adult Education programs and services which help individuals improve their reading, writing, English, and math skills, and earn a high school diploma or equivalent.
A report by the Georgetown University Center on Education and Workforce found that 70-percent of the jobs in Michigan will require some level of post-secondary education by 2020, but, just 45-percent of Michigan workers in 2017 had a college degree or high-quality credential, according to the Lumina Foundation.
Adult Education is integral to ensuring workers are prepared for, and succeed in, the occupational training and post-secondary credential programs they need in order to fill the additional 15,000 high-wage, high-skill jobs that Michigan needs to fill every year until 2024.
Michigan is one of only nine states in the country, and the only state in the Midwest, that hasn't established a formal goal for post-secondary attainment. Governor Gretchen Whitmer, in her State of the State address, announced a new statewide goal of increasing the number of Michiganders between the ages of 16 and 64 with a post-secondary credential to 60-percent by the year 2030.
Stephanie Beckhorn is acting Director of the Talent & Economic Development Department in Michigan. she says, "Adult Education lays the foundation for workers to acquire a secondary credential and improve their basic skills in order to be successful in post-secondary education opportunities where they will learn the skills that are currently in demand, which benefits not only the workers and their families but also the state as a whole." Beckhorn adds, "A skilled workforce encourages businesses to stay, move into, or expand in Michigan."
Approximately 50-percent of immigrants that come to the U.S. each year lack a high school education and English language proficiency to find good jobs and education opportunities. Additionally, immigrants who come here with professional degrees from their own country lack the language skills and face challenges in obtaining an equivalent certification that would enable them to work within their specialized field. In Michigan, 23-percent of adults 25 years and over, who speak a language other than English at home, do not have a high school diploma, compared with 10-percent who speak only English at home.
Adult Education provides the more than 230,000 adults in the state, with limited English proficiency, with the opportunity to improve their reading, writing, and math skills; learn about citizenship and their community; and improve communication with school staff, community members, and neighbors.
For decades, obtaining a General Educational Development, or GED, certificate was the only nationally recognized, and widely available, high school equivalency (HSE) option for Michigan residents, but now there are three different options to choose from.
In addition to the GED, the state is now offering the High School Equivalency Test (HiSET) and the Test Assessing Secondary Completion (TASC). Like the GED, both the HiSET and TASC are aligned to national college and career readiness standards and are also available in a computer-based format.
Beckhorn points out, "Earning a high school equivalency certificate is critical to obtaining employment, or accessing further education and training," and notes, "Adding these other options ensures that Michigan residents have as much choice and flexibility as possible when pursuing their high school equivalency credential."
More information, as well as a comparison of all three options, is available via a fact sheet on the Talent Investment Agency website.
There are over 100 Adult Education programs statewide that provide a range of free or low-cost services and instruction may be available one-on-one, in a classroom setting, or online. To explore which options are available near you, please contact your local Adult Education program. A comprehensive list of local programs is available on the Talent Investment Agency website. Click the link below for those in Michigan's Great Southwest:
TIA is the agency that combines Michigan Unemployment Insurance and Workforce Development, and is responsible for their activities. Businesses need a talented workforce. Workers need the right skills to compete for available jobs. TIA programs are focused on job preparedness, career-based education, worker training, employment assistance and unemployment insurance.