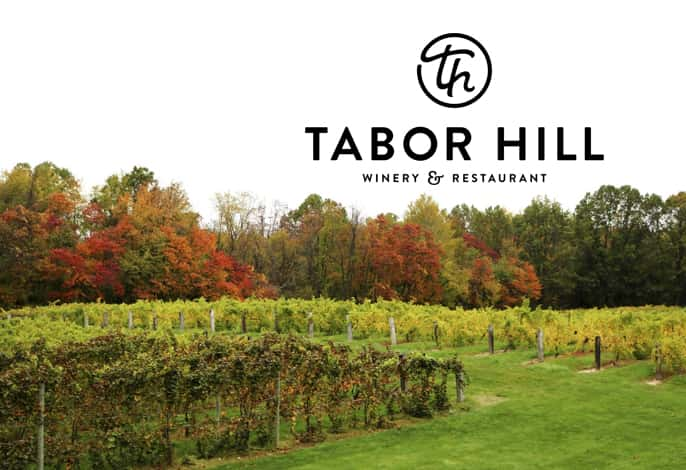 They've been producing award winning Michigan wines for nearly 50 years, but under the new ownership of the Moersch Hospitality Group, Tabor Hill Winery & Restaurant is getting a fresh new face and brand identity to welcome the 2018 season.
The new and contemporary logo was designed for Tabor Hill by Las Vegas-based VIRGEN, Inc and it graphically captures the winery's sophisticated and welcoming spirit. Coming early next month, in tandem with the new logo, Tabor Hill will launch a fully-refreshed new website.
Under its new ownership by Moersch Hospitality Group, Tabor Hill Executive Chef Ryan Thornburg has also introduced a new restaurant menu featuring both small plates and entrees. Made with fresh, locally-sourced ingredients, the menu will change seasonally, allowing guests to try new flavors throughout the year.
Tabor Hill Restaurant, with newly updated modern décor, is open for lunch and dinner Thursdays from 4pm-to-9pm and Fridays through Sundays from 11:30am-to-9pm. A special brunch menu is now available Sundays from 11am-to-4pm. Beginning in May, the restaurant will offer extended hours and be open Wednesdays through Saturdays from 11am-to-9pm and Sundays from 11am-to-8pm.
To pair with its new restaurant menu, Tabor Hill has created two new original wine products: Sparkling Demi-Sec and Sparkling Demi-Red. Joining the long-standing Tabor Hill Demi-Sec family, the new Sparkling Demi-Sec and Sparkling Demi-Red will offer both sweet and dry wine drinkers just enough fruit flavors to inspire their pallet and pair with any celebration. Beginning April 26th, the new wines will be available on-site at Tabor Hill's Buchanan tasting room and retail shop as well as online and in Tabor Hill's tasting rooms in Bridgman and Saugatuck.
Later this summer, in August of 2018, Tabor Hill Winery will welcome a 4,000-square-foot glass enclosed luxury outdoor tent that will be known as "The Estate Tent." Accommodating up to 250 guests and situated amongst Tabor Hill's 50 acres of vineyards, the tent will offer an ideal backdrop for weddings, corporate gatherings and private events.
Known as one of Michigan's most renowned wineries, Tabor Hill is home to 50 acres of vineyards as well as a premier full-service restaurant, winery and tasting room. Located in the rolling hills of Buchanan, Tabor Hill has been producing award-winning wines for nearly 50 years.
Since founding their business in 1992, Rick and Sherrie Moersch have established their family as the visionary pioneers behind some of Southwest Michigan's premier wineries, breweries and distilleries including Free Run Cellars, Round Barn Winery, Entente Spirits, Round Barn Brewery and Public House and Tabor Hill Winery & Restaurant. Beginning with a family's passion for winemaking and an iconic Amish Round Barn, Moersch Hospitality Group continues to grow with new offerings and products under the leadership of second generation Matt Moersch, current CEO and Partner at Moersch Hospitality Group. The Moersch properties are all located within the rolling hills of Michigan's Great Southwest and are top destinations for Chicagoland, Indiana and Michigan travelers.
The photo accompanying this story on Moody on the Market.com is courtesy of Christina Allis from the Moersch Hospitality Group team.