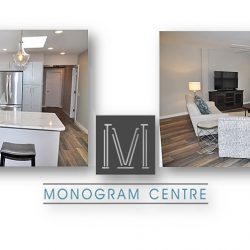 Staying "at the beach" takes a nice twist June 1st when the MTM Centre Project Group debuts the long-awaited, much anticipated Monogram Inn & Suites at the crossroads of downtown Bridgman, a stone's throw from Weko Beach, and at the center of a whole host of destination attractions from the soaring dunes of Lake Michigan to the increasingly colorful stops along the Southwest Michigan Makers Trail.
Coming June 1st, the MTM team unveils the Monogram Inn & Suites, a new hotel at the crossroads corner of Red Arrow Highway and Lake Street. Situated at 9729 Red Arrow Highway in vibrant downtown Bridgman, the Monogram will welcome guests to make their choice of four custom-designed and smartly decorated two-bedroom suites that comfortably sleep two to six people. Each suite includes a full and half bathroom, a washer and dryer, full-size kitchen stocked with dishes, cutlery, a microwave, a dishwasher, refrigerator, a gas range, and oven.
The Monogram Inn & Suites is in one of Berrien County's most coveted venues. Visitors are steps away from downtown Bridgman's shopping district, and less than a mile from the dunes of Weko Beach on the shores of Lake Michigan, and a short drive to locally-owned restaurants serving dishes for every taste. The charming layout and decor of the Monogram is perfect for families, couples and anyone seeking the perfect retreat to relax, unwind and enjoy the splendor of Michigan's Great Southwest in any season.
This 11,000 square foot space is part of the MTM Group's Monogram Centre project that broke ground in September of 2016. The space, previously home to the original Monogram Hotel built in the 1930s, has been completely renovated and refurbished as part of MTM's overall plan shepherded by local developer Marty Mason and Mitchell Construction. Both companies are committed to preserving the integrity of the art-deco era structure dating back to the early 1900s which includes the former Dave and Ruth Telephone Building.
Additionally, The Early Bird Eatery, a new restaurant serving breakfast and lunch is slated to open at the beginning of June, and there is available retail space on the lower level of the building for interested parties.
Elizabeth Stevens is MTM Operations Manager. She tells us this new hotel is the first of its kind in the area, and is designed to attract visitors to Bridgman, "Where they can discover the many activities in Lake Township, and throughout Berrien County." She adds, "The suites offer everything you need to enjoy a weekend away, a special event, or an extended vacation." She notes, "Each suite has a unique style that offers guests an inviting, all-inclusive option."
Bridgman is a key part of The Southwest Michigan Makers Trail, showcasing local craft beers, wines and hand-crafted spirits. The trail includes more than 30 breweries, wineries and distilleries along Lake Michigan, and offers something for everyone including local festivals, locally made cheeses, some of the freshest produce in the Midwest, and a lot more.
The Monogram Inn & Suites is offering a unique and special offer to guests who reserve a two-night stay the weekend of June 8 through June 10, 2018. Guests of the new boutique hotel will receive free admission to the inaugural Makers Trail Festival from Southwest Michigan at Weko Beach on Saturday, June 9, from 1 pm to 10 pm. The local winemakers, brewers and distillers will all gather at one venue to uncork wines, tap kegs, and pour your favorite libations. You can click here to book your weekend stay.
In addition to the four suites, seven extended, corporate stay rooms will be available for long-term booking at the Monogram beginning on August 1, 2018.
For more information on the Monogram Inn & Suites, you can call 269.930.3634 or visit their website by clicking this link: http://monograminnandsuites.com