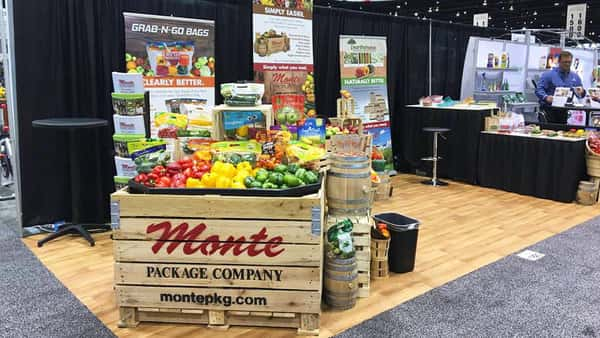 Since 1925, the Monte family has been dedicated to manufacturing and supplying the finest produce containers in the nation. Through their Monte Package Company in Riverside outside of Coloma, they know that quality packaging and the profitability of farmers, growers and processors go hand-in-hand. That's why they offer the largest selection of containers possible, and now they have garnered a major certification from Primus Labs — the gold standard of the food safety industry.
While Monte Package Company is keeping busy supplying North American growers, shippers, and marketers during the heart of the growing season, they already have that major accomplishment under their belt. Monte team members engaged in a detail oriented food safety protocol, pursuant to their initiative to become certified in food safety as an agricultural packaging and supply distributor for the produce industry.
Engaging with Primus Labs, Monte Package now has their nationwide distribution network 100-percent Primus Certified for packaging and supply storage and distribution. Tony Monte is President of the company in Riverside. He says, "It is an exciting accomplishment for our company and our employees. Food safety and facility security is o the upmost importance in today's business arena — our team has done a great job preparing and maintaining so we can provide confidence and quality to our customers."
Monte Package had each of its three facilities certified through Primus' 14.09 Packaging Audit, which is tailored specifically for companies that warehouse and distribute packaging materials. The audit focuses on key factors in food safety such as building security, employee best practices, and inventory traceability. Monte Package invested heavily in infrastructure and employee development to meet and exceed the standards set out by Primus.
Sam Monte is Director of Operations for the firm. He says, "We are thrilled to acknowledge the certification for our company's facilities in both Michigan and Florida. With the recent developments of the FSMA and regulations tighter than ever in the agricultural industry, it was vital for us to be able to provide the facilities and documentation required of us by our customer base. These projects all have one end goal, which is to be able to better serve our customers."
With Monte headquarters in the heart of Michigan's diversified fruit belt, the company is constantly aware of grower's specific packaging needs as well as industry trends in general. They are a family owned and operate business with America's largest line of produce containers from wire bound crates to corrugated masters, wet service cartons, roadside containers, orchard bins and picking accessories.
The company has distribution locations in Riverside, in Benton Harbor and in Boynton Beach, Florida.
Shown in the photo accompanying this story at Moody on the Market.com is a Monte Package trade show booth at the United Fresh Convention of the United Fresh Produce Association earlier this summer at McCormick Place in Chicago.