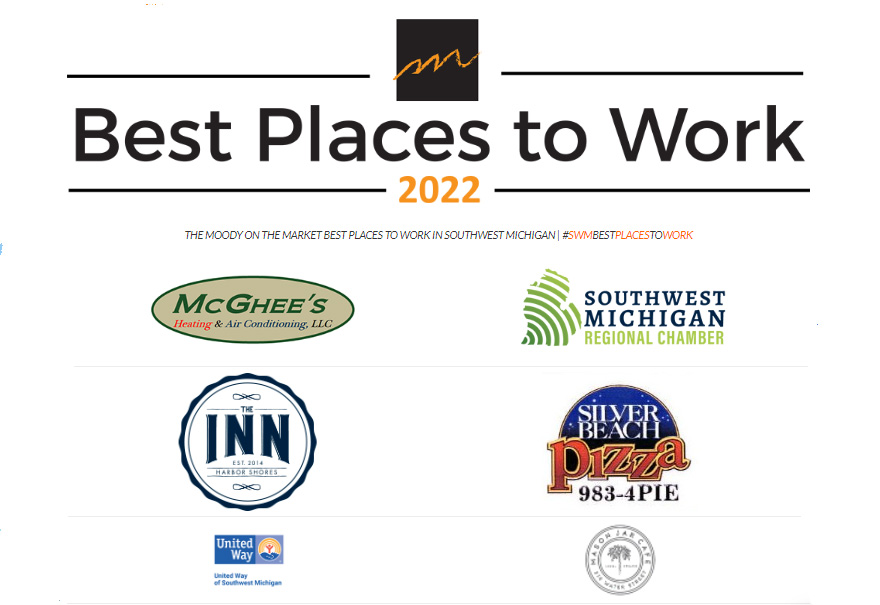 After racking up more than three dozen nominations for the prestige of being named among the 20 Best Places to Work in Michigan's Great Southwest for 2022, the selection committee recently completed the work of finalizing the list for this year and the winners have been announced on the radio. Now, you can read their stories for yourself and see who made the list.
Thanks to our presenting sponsors McGhee's Heating & Air Conditioning, the Southwest Michigan Regional Chamber, the Inn at Harbor Shores, and Silver Beach Pizza with support from United Way of Southwest Michigan and the Mason Jar Cafe in the Benton Harbor Arts District, the Moody on the Market 20 Best Places to Work in SW Michigan for 2022 are now posted and ready to be shared.
Recent Bold Women of Business Award winner Lanie Schrubba from the Renaissance Athletic Center in Benton Harbor selected Britney Magley of Stevensville from Deckers Brands and Scott Crawford from United Federal Credit Union in winnowing down the winner's list from the nomination list and they gave me one vote as well as the final list was created.
The winners represent a broad spectrum of businesses from hospitality to agriculture, from manufacturing to recreation, from government and non-profit sectors to the professional ranks and are geographically diverse coming from nine different communities across the tri-county region with winners in Bridgman, St. Joseph, Berrien Springs, Stevensville, Buchanan, Three Oaks, Sister Lakes, New Troy and Niles.
The combined workforce population of all the companies and organizations that earned the honor checks in at nearly 1,000 workers with an average team of just shy of 50 employees at each business on the list.
Take a look at what the companies provide as best practices for their individual teams, the accomplishments they continue to achieve and the remarkable things they do in and for the community of Michigan's Great Southwest when you click through to see each of their stories.
Keep an eye out for the upcoming launch of the 2022 Class of the Moody on the Market 40 Under 40 Young Professionals in our region, which goes live with the nomination process beginning on Monday, July 18th.
Here's the link for the 20 Best Places to Work in Southwest Michigan for 2022: