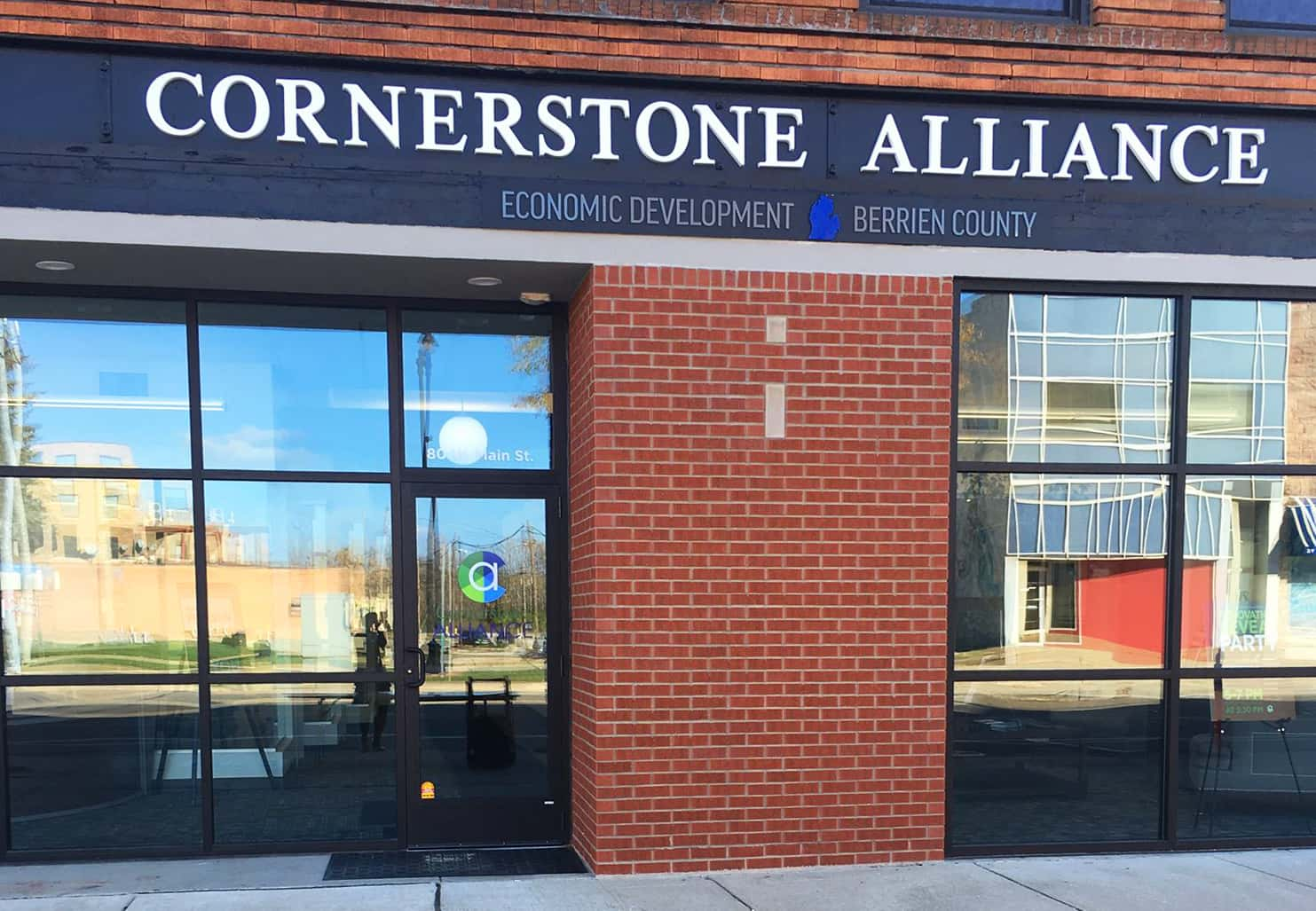 A notable contingent of people who have accepted the responsibility of preserving the history of the community of Benton Harbor took time out tonight to recognize others who have worked side by side to preserve that history as well, including Berrien County's lead economic development agency, Cornerstone Alliance.
Cornerstone Alliance was joined by the Sheffield Building project at City Center and the North Shore Inn and North Pier Brewing Company in being recognized by the Morton House Museum through their bi-annual Preservation Awards process.
The team at Cornerstone was recognized for redeveloping a Main Street building and preserving an important piece of Benton Harbor history in the process. When Cornerstone Alliance relocated its headquarters to Main Street in November 2017,  the organization invested nearly $1-Million and created a modern, collaborative work environment for the team responsible for attracting new jobs, new business and new investment to Berrien County.
Greg Vaughn is Chief Operating Officer and Vice President of Business Development at Cornerstone. He says, "This is a tremendous honor and on behalf of the Cornerstone Alliance Board of Directors and our more than 300 investors, we're proud to receive this recognition." Vaughn notes, "Morton House Museum plays a key role in preserving the rich history of Benton Harbor. Our building has stood for nearly 150 years and we invested in the redevelopment of the building in the hopes that it will stand for 150 more."
The Morton House Museum presents its Preservation Awards every-other-year, and for 2018 the Cornerstone Alliance building was one of three buildings recognized by Morton House, along with Ken Ankli's Sheffield Building project across from Dwight P. Mitchell City Center Park and Jay Fettig's North Shore Inn and North Pier Brewing Company.
Greg Vaughn, Cornerstone Alliance CEO Rob Cleveland and Cornerstone Alliance Business Development Manager Shane Kissack were all on hand to accept the award at a celebration held tonight, Tuesday, September 18th in Benton Harbor.
The Cornerstone Alliance headquarters building is located at 80 W. Main Street in the heart of downtown Benton Harbor. The renovation, design and construction of the office and conference space was completed on time and on budget by Pearson Construction and Tera Architects, also headquartered in Benton Harbor.
Chuck Jager is a Morton House Board Member. He says, "These Preservation Awards recognize the outstanding efforts of these winners in their efforts to preserve historic buildings in Benton Harbor," and adds, "All across the country, downtowns are seeing a resurgence. It's clear that people love cities with old, historic buildings. These 2018 Award winners have helped to make Benton Harbor more enticing to residents, businesses and tourists by maintaining these buildings."
In addition to the Economic Development services that Cornerstone Alliance has provided the community for 30 years, the building also houses the Women's Business Center at Cornerstone Alliance, one of only four certified Women's Business Centers in the entire State of Michigan.
Cornerstone Alliance is the non-profit, investor-governed economic development organization primarily focused on increasing employment opportunities, private sector capital investments and the local tax base in Michigan's Great Southwest; with specialized business services offered in economically distressed areas.