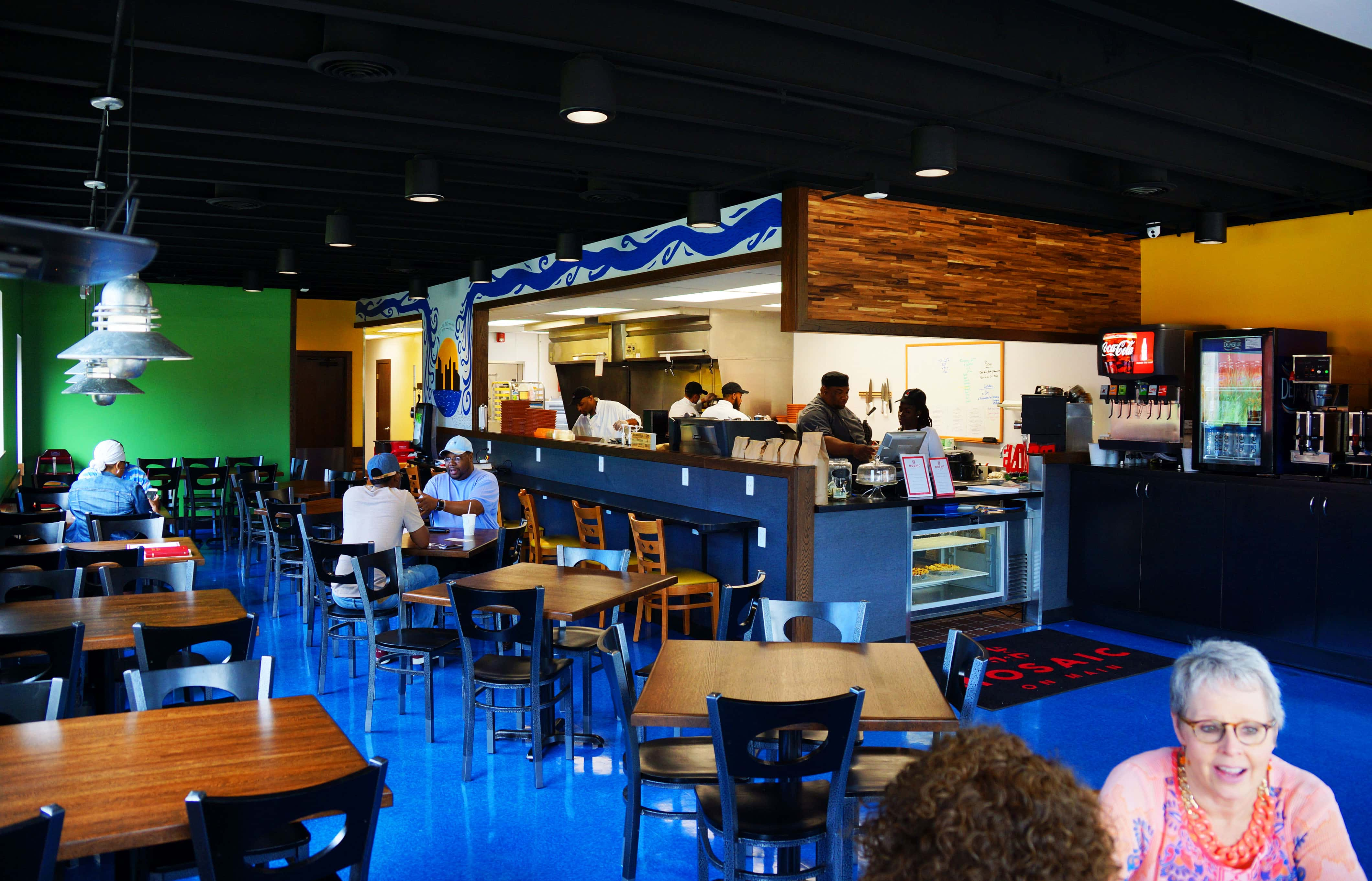 There's a dynamic new place to dine in downtown Benton Harbor and, just as its name implies, it is a veritable mosaic in multiple ways. Mosaic on Main officially cut the ribbon at noon today on their eclectic new diner replacing the space formerly known as the Mosaic Cafe. The bright, shiny, colorful new space is dramatically upbeat with lots of light shining through, and best of all — the mission is solidly in place to continue to change lives through the Mosaic CCDA's Jobs for Life program.
The nimble staff of just under 10 people, including two managers and two chefs, had their mettle tested today in a brand new location a couple of blocks from their old digs, but according to Executive Director Ric Palowski, they came through with flying colors.
Some 40 to 50 people packed the sidewalk out front for a Cornerstone Chamber of Commerce Ribbon Cutting ceremony at noon and then raced for the counter to place orders with the team of workers who are getting a new lease on life through the outstanding seven-year old program that takes people with barriers to employment because of a criminal record and putting them through a process that includes training classes for practical things like resume writing, interview skills and employment training and then places them on the front line to learn more on the job and turn their lives around.
Besides all of that, they make some great food and the newly renamed Mosaic on Main is now up and running after virtually gutting the diner at 325 W. Main with the iconic towering "FOOD" sign out front and converting it in a great new space for breakfast and lunch offerings of all sorts.
Palowski excitedly points out that they have "completely redone the space, bringing online a full kitchen facility, all new furniture, sizable new windows to let in the light, upgraded new menus, and most importantly — key job opportunities going forward in the Jobs for Life program."
During the first, inaugural, week at Mosaic on Main you can choose from options like "Build Your Own Breakfast" with ala carte offerings from eggs and bacon to toast, pancakes and fruit, to skillet omelettes, strawberry waffles, and lattes, cappuccinos, espressos and Americanos. For lunch in this opening week you can choose from salads to grilled cheese, from pizza to burgers, and even a coney dog.
As the staff settles into their new groove, the new Mosaic on Main community table will expand to more than two dozen menu offerings added in some signature sandwiches, more enhanced salads, and other options. Prices are very affordable, and if you've ever had any food offering from this amazing team at the old place, you know that you're in for a solid treat of good food every time.
The entire Mosaic family of enterprises took flight under the guidance of the Rev. Brian Bennett seven years ago with first year revenues of roughly $23,000 and the latest budget for the multi-faceted organization now tops $2-million. As Ric Palowski is quick to point out, "That doesn't mean we're flush with cash," they just do a lot of things with limited resources and work diligently to keep the mission focused.
In addition to the Cafe Mosaic's renaming and relocation, the Mosaic Resale Shop is also in the process of relocating to 38 W. Wall Street where they'll have more room for their burgeoning business. Additionally, the former Harbor Shine Lawn Care & Snow Plowing business has been renamed Mosaic Property Services and will relocate as well.
The new Mosaic on Main features indoor seating for 50 as well as a new broadwalk dining area outside with picnic tables, umbrella tables and even a small, quiet coffee garden at the rear of the property where a serene space has been carved from overgrown trees and bushes to enhance the space downtown.
Mosaic on Main, in addition to being a full-service restaurant, also offers catering services for groups, meetings and other events. The diner is open Monday through Friday from 7am until 3pm and on Saturdays from 9am until 2pm.
The whole Mosaic enterprise is truly a mosaic of life, of services, of training, of second chances, and of jobs for life, and they continue to do great things both in and for the people they serve and the entire community at large.