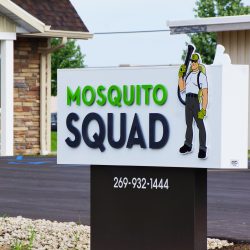 Seven straight years of exponential growth and high customer volume have resulted in need for new larger quarters for Mosquito Squad of Southwest Michigan and they are now taking up residence in that new space, prepping not only for their busy season, but also for a ribbon cutting ceremony to mark the occasion.
Mosquito Squad is the largest and most trusted mosquito and tick control franchise in North America. They are enhancing operations by launching the brand new upgraded facility behind the Fairplain Plaza to handle the increased demand for service across the region.
The territory will be using this building to better serve and protect residents across Michigan's Great Southwest from the danger and nuisance of mosquitoes and ticks. Located at 1966 Plaza Drive in Benton Harbor, the forthcoming ribbon cutting ceremony will take place on June 19th at 4 pm to celebrate the grand opening.
Mosquito Squad of Southwest Michigan is owned and operated by long-time franchisee Julie Wuerfel. With more than a dozen years of business experience across the retail and service sectors, Julie is well equipped to manage, maintain and develop businesses to serve customer needs. Her Mosquito Squad territory has now experienced seven consecutive years of positive growth and as a result of high customer volume, has enhanced its operational base. By moving into this new 6,000 square foot facility, service trucks will have the capability to utilize drive-through bays, which will increase efficiency and allow for easy maintenance. The new building will also serve as an upgraded training facility for all technicians and office personnel.
Julie Wuerfel says, "I am proud to be launching a new facility that will help us continue making an impact in our community." She adds, "Residents know they can count on us to protect their families from mosquitoes and ticks and this will always remain our number one priority. Opening this site will allow us to better serve families for countless seasons to come and I couldn't be more excited."
Founded in 2005 and proud supporter of Malaria No More, Mosquito Squad specializes in eliminating mosquitoes and ticks from outdoor living spaces so homeowners can enjoy their yards, and outdoor living and dining spaces. Since Mosquito Squad's partnership with Malaria No More, a nonprofit global health organization with the goal of ending malaria deaths, they have raised more than $400,000 to help fuel the fight against malaria.
For additional information on the services available through Mosquito Squad of Southwest Michigan, you can email swmich@mosquitosquad.com.
With nearly 250 franchise locations nationwide, Mosquito Squad specializes in eliminating mosquitoes and ticks from outdoor living spaces, allowing Americans to enjoy their yards, outdoor living spaces, special events and green spaces. For more information, you can visit http://www.MosquitoSquad.com,   http://MosquitoSquadFranchise.com/ and http://www.OutdoorLivingBrands.com