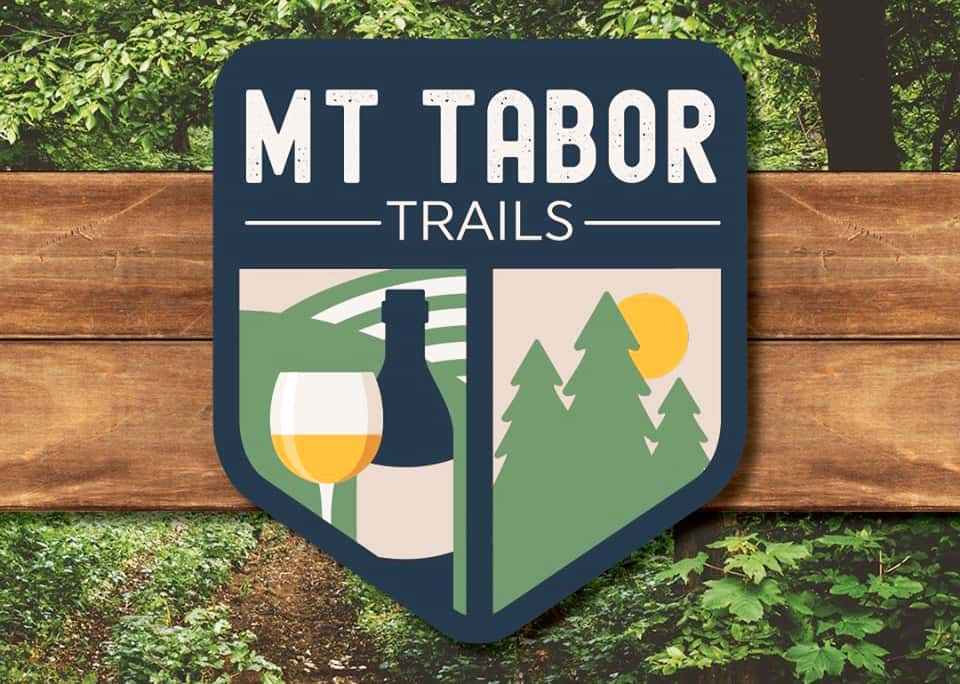 Even in the shadows of a pandemic there's little rest for the creative innovations that continue to emerge onto the scene from the Moersch Hospitality Group leader Matt Moersch and his team. In fact, while working to get things reopened across the board at their Round Barn and Tabor Hill Wineries, they have also crafted the newest Harbor Country attraction in the form of their new Mt. Tabor Trail System which connects the two popular wineries.
As a result, those who have been looking for a new way to wine and dine their way through Harbor Country are hitting the new trail system offered up by the sister wineries at Round Barn and Tabor Hill. Saying it's "Just the ticket, for those looking for something new," nearly four miles of new hiking trails connecting the two properties are now providing open access. Wine, beer, spirits and food selections from both establishments are available at either trailhead, making it possible to take a scenic stroll while simultaneously enjoying some of Southwest Michigan's signature refreshments.
The just-opened Mt. Tabor Trail system, sponsored by Honor Credit Union, offers three levels of difficulty — easiest, moderate, and hardest — through picturesque terrain that includes vineyards, fields and woods. The trails can be accessed from either the Round Barn Winery, Distillery and Brewery in Baroda or the Tabor Hill Winery & Restaurant in Buchanan, with optional stops at one or both wineries to enjoy the full experience.
At the Round Barn Estate, that includes first-come-first-served outside table seating, private wine tastings by reservation in four new cabanas accommodating up to eight wine enthusiasts, and the Round Barn food truck every Saturday and Sunday…
At Tabor Hill, the choices span table-service wine tastings, liquid libations in the outdoor Vineyard Lounge from Friday-Sunday along with a grill on Saturdays and Sundays, and fine dining in Tabor Hill's full-service restaurant as well as pre-selected wine flights in the lower-level Barrel Room from Thursday-Sunday…
Admittance to Mt. Tabor Trails costs just $5 for a day pass or $15 for a full season pass.
Matt Moersch, CEO of Moersch Hospitality, says, "We are constantly creating new experiences for our guests, and the fact that we own all the land between our Round Barn and Tabor Hill properties gave us a unique opportunity to add a nature walk to our wining and dining offerings."
Tabor Hill, Round Barn and Free Run Cellars collectively represent Michigan's fourth largest winery. Matt adds, "At the same time, our new trail system will allow us to accommodate more people while meeting social distancing requirements during the COVID-19 outbreak. The timing is perfect for launching this latest enhancement to our family of properties."
At Honor Credit Union, new Vice President of Marketing Stacey Martin says, "As a proud sponsor of the Mt. Tabor Trails, the team at Honor Credit Union couldn't be more thrilled to stand beside our partners and friends at Round Barn as they once again welcome our communities to celebrate summer in the vineyards." She adds, "During a time when our communities are seeking reconnection with others, Moersch Hospitality Group's new Mt. Tabor Trails offer the perfect opportunity to get together with friends and family while exploring the beautiful property between Round Barn's Estate and Tabor Hill. Cheers to the team at Moersch Hospitality Group for offering this new experience to Michigan's Great Southwest."