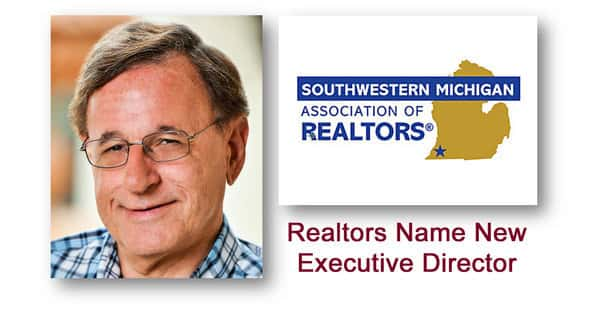 After more than three decades of guidance at the top of the housing chain in Michigan's Great Southwest, Gary Walter is packing it in, headed to retirement, while his colleagues have selected a new boss with a pretty lengthy track record and pedigree of his own to lead the way going forward.
Paul Dumke, President of the Southwestern Michigan Association of Realtors, has announced that at the association's recent membership meeting Philip Amodeo from Arlington, Texas was identified as the next leader to take the helm as the new Association Executive when their current leader steps away. Gary Walter, the current Executive Vice President will retire in November after serving as the association leader for 32 years.
Dumke says, "While we are welcoming Philip Amodeo to our leadership team, we are going to miss Gary Walter's unparalleled commitment to our association and community. He has excelled in leading our association and helped to educate and mentor member Realtors. His dedication to members and his profession lead to his induction by the National Association of Realtors Association Executives Committee into the prestigious Dr. Almon R. "Bud" Smith RCE, Association Executives Leadership Society." Dumke says induction into the Smith Society by your peers is one of the highest honors bestowed upon an Association Executive.

Dumke says that additionally, "Gary has served as President and Chief Operating Officer of the Michigan Regional Information Center (MichRIC) since its inception 20 years ago." That center trail blazed the concept of bringing local associations into a regional group to create an effective operation system and increase purchasing efficiencies for members. The regional group includes eleven associations across the state with over 6,400 members."
Amodeo, himself, brings more than 25 years as an Association CEO with Realtors, home builders, and specialty contractors. He holds a Realtor Broker license in Indiana, a Realtor license in Texas, and formerly was licensed in Nevada. Amodeo has obtained many Realtors distinctions including Certified Association Executive, Certified Residential Specialist, and Accredited Buyer Representative.
Amodeo says, "As a northern Indiana native and second generation Realtor, I have a sense of returning 'home' as I look forward to leading the dynamic Southwestern Michigan Association of Realtors." He adds, "I am impressed with the dedication and commitment expressed by its leadership and staff. I am eager to apply my experience and expertise to lead the Southwestern Michigan Association of Realtors to new heights. The real estate industry and its practitioners face many hurdles and challenges. It's the duty of the Realtor association to anticipate, identify and address these obstacles, utilizing its collective resources and resolve to meet them head-on."
Amodeo graduated from the Kelly School of Business at Indiana University, where he was recruited to become the Executive Director of the regional Northwest Indiana Home Builders Association. After 6 years there and a year in real estate brokerage, he moved to the Indiana Association of Plumbing-Heating-Cooling Contractors (PHCC) in Indianapolis to assume the CEO position of a much larger, statewide association, where he remained for 18 years. He also spent time as the EVP of the 3,500 member Montana Association of Realtors, sold real estate in the Las Vegas real estate market, and recently served over 3 years as the CEO of the South Central Wall, Ceiling & Plaster Association.
For the past seven years, Phil has been working full time as a residential real estate practitioner in the Dallas – Fort Worth area.
During his association CEO tenure, Amodeo was effective in building and expanding the organizations which he led. While at the Home Builders Association, he was instrumental in planning and implementing the first area Parade of Homes. Under his leadership, the Indiana PHCC membership tripled and the number of locally-affiliated chapters doubled.
Over the years, Amodeo has taken an active role in giving back to, and investing in, his profession and the community at large. Earning his Certified Association Executive (CAE) certification in 1987, he has also served as President, Chairman, officer, director and committee member of various local, state and national organizations. This includes serving as President of Indiana Society of Association Executives, and Chairman of the National Plumbing-Heating-Cooling Association Executives Council.
He has been President of his neighborhood homeowners association, and has served in leadership capacities on his church council and in school and scouting organizations, just to name a few.
The Southwestern Michigan Association of Realtors, Inc. is a professional trade association for real estate licensees and ancillary service providers for the real estate industry in Berrien, Cass and Van Buren Counties. The Association is located at 3123 Lake Shore Drive St. Joseph, MI 49085, and can be reached by phone at (269) 983-6375. They can also be contacted through their web site, www.swmar.com.