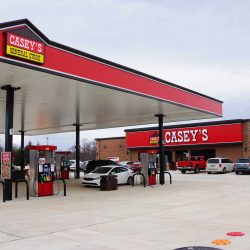 Friday nights are often reserved for fish fries, but the more universal Friday night staple is pizza, and now that there's a new place in town for that ubiquitous favorite, the folks of Watervliet could be found stepping out big time to discover their newest alternative for Friday night fun.
From humble beginnings 59 years ago to a regular highway staple in many communities across the Midwest, the first ever Casey's General Store to arrive in the state of Michigan is now open in the community of Watervliet. The store is open 24/7 year round.
Last fall Watervliet Township authorities gave the green light to site plans submitted for a nearly four acre parcel along M-140 just off of I-94, which shared plans for the new pizza parlor, gasoline service station and convenience store next door to Mill Creek Charlie's restaurant.
Casey's General Stores dot the highway landscape throughout the Midwest after founder Don Lamberti leased a store from his father in Des Moines, Iowa back in 1959. He operated that old country store for some nine years after remodeling it into a convenience store. He later bought out the Square Deal Oil Company on advice from his gas vendor, and bought a service station with a three-bay garage in Boone, Iowa. Banking on the intelligence gathered from his first operation in Des Moines, Lamberti converted those three bays into a convenience store and called it Casey's.
A third store was built in a small community of just 1,500 people, Waukee, Iowa, the first Casey's to be built entirely from the ground up and it became the most popular by far. Realizing that he was on to something, Lamberti set out to find other communities of less than 5,000 people to establish more stores.
It didn't take long for Casey's reputation of clean stores, clean restrooms and friendly clerks who pride themselves in customer service to capture increasingly larger crowds and now, with nearly 2,000 locations, Casey's General Stores are a part of the landscape in mid-America.
The new Casey's of Watervliet opened for business Friday at the corner of M-140 and Arnt Boulevard, which is the street that goes to the Fairfield Inn & Suites and Surfari Joe's. The actual address for the new general store is 3781 M-140 in Watervliet.
The Casey's General Store corporate website says, "From the beginning, Casey's mission has always been to provide quality products at competitive prices with courteous service in clean stores at convenient locations." That's what Watervliet residents now have with the arrival of the new convenience store just off of I-94 at the Watervliet exit.
Company officials have slated a formal ribbon cutting ceremony for the new Casey's next Friday according to Chana Kniebes from the Coloma-Watervliet Area Chamber of Commerce.