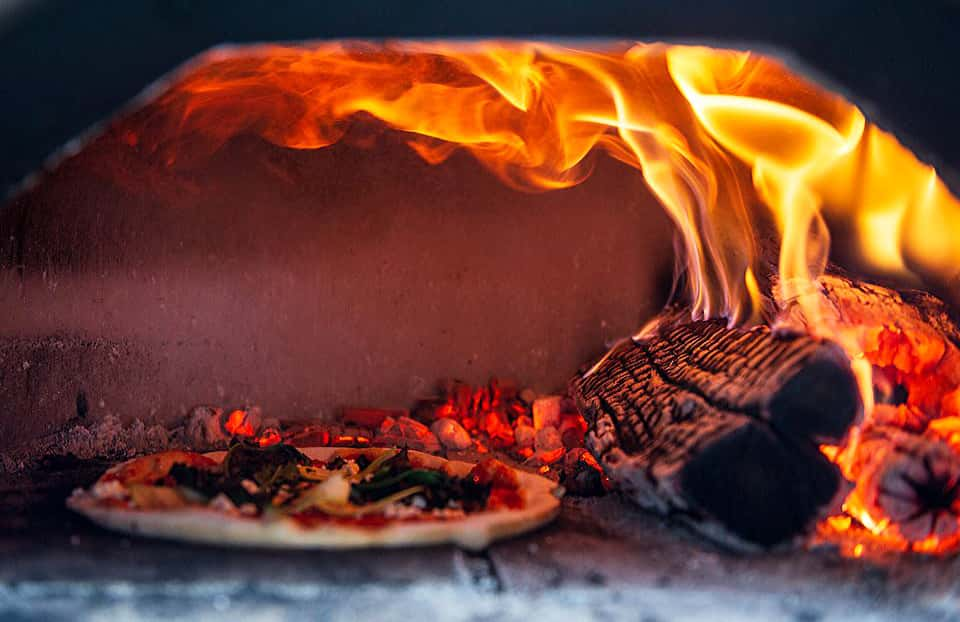 The cultural enrichment of the food scene in the Benton Harbor Arts District will take a quantum leap this summer and fall thanks to a couple that owns both an organic farm in Coloma and a mobile wood-fired pizza food truck that has been roaming the Midwest for the last several years but now will establish a presence on Main Street across from Dwight P. Mitchell City Center Park.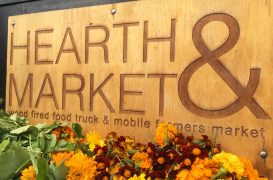 You may well have crossed paths with Wendy Uhlman and her husband Steve Zieverink at places like North Pier Brewing or even in South Bend, Chicago and beyond, but this summer they are establishing a new space at 225 E. Main Street in the middle of the central business district as part of the Arts District where they will maintain the food truck and transition to part of the building there that has already been rehabbed, while they build out the rest of the space to be an Italian style Farm Market for the fall.
Wendy tells me that they established their organic farm half a dozen years ago, while the mobile food truck and market has been their vehicle for getting their products into the hands of fans. They also see the enterprise as a value-added way to express Steve's Italian heritage, lessons from his Nonna and past chef experience.
The new place will be named Emma Hearth & Market in honor of his Nonna, and plans are to have art and music be an integral part of the entire experience. Their organic farm is called Live Station Farm.
Wendy is an industrial designer, so she get's to work on the design and product development aspect of things which she tells me is, "A welcome respite from the Chicago consulting life I'm still living!"
Emma Hearth & Market will take a bow this Friday by setting up shop with the food truck during the Summer Solstice Art Hop from the New Territory Arts Association. They will also feature a neon art piece called "SEEP, Benton Harbor" by Chicago Artist Erik Peterson. It's a 13-foot wide neon sculpture that hangs in the entrance to Emma Hearth & Market's new space. Dripping slowly down the cinderblock wall, Seep counters the darkness of the former garage with dazzling pink glow, playing with your perceptions. The shape of the work — an oozing curtain for the urban stage — was developed through a meticulous editing process combining and reordering the shapes of real spills and seepages. In Benton Harbor, founded by the meeting of two rivers meeting at the lake both the liquid and the land transgress their boundaries. The sculpture is simultaneously molten and solid, light and form, a living body and a ghost.
Hearth & Market bridges the farm with the city, to increase access to exceptional, healthy and good tasting food, produce and products.
Their wood fired menu is a fusion of several influences including Italian heritage, the Chicago culinary scene and the organic farm in Coloma.  Wendy says, "From our wood fired pizza, desserts and bread, to salads and soups, you'll taste the freshness and richness of local, seasonal food." She adds, "Our low dome wood fired oven, built in the Neapolitan style, is maintained at 1000 degrees to beautifully cook a pizza in 90 seconds."
The couple says, "With the taste of the wood fire and warmth of the hearth, we look to combine the old with the new to make the best tasting food possible!"
In Coloma, Live Station Farm is an organic, specialty producer with the goal of growing the best tasting, most nutrient-dense food possible. Wendy says, "We apply permaculture techniques and practice bio-diversity by working with native fauna, fenn prairie restoration and bees for pollination."
At Hearth & Market, the menu changes literally every week, based on seasonal availability at Live Station Farm and other local farms.  Their Neapolitan style, rustic wood fired pizzas and salads are made with organic produce from the farm, in addition to other locally sourced organic ingredients or are imported from Italy.
The Hearth & Market pizzas are served featuring a unique 'leopard' crust with charred edges, the combination of wood fire, traditional Italian recipes and seasonal farm offerings which coalesce in "an amazing taste experience."
Wendy says, "We'll be opening for the season at our new location in the Benton Harbor Arts District, starting with a simple menu featuring our Roman style wood fired pizza for pick up and limited outdoor seating." Starting this Friday, June 21st Hearth & Market's open hours will run Thursday-through-Sunday from 11am-until-8 pm.
The husband and wife team say, "This pursuit of the good life is what we want to share with you!  We sell the products we make at our farm, everything from fresh organic produce to shelf stable products, to kitchen tools and accessories." They add, "Good taste and nutrient dense foods are our main concerns. Our 'Seed To Savor' mentality is all about helping you at every step in the healthy food process from organic seeds and seedlings, to chef curated meal boxes, wood fired food truck offerings and even composting education to achieve the best soil quality."
They actually offer supplies, education and workshops to help teach you how to 'do it yourself', and share important issues of current times such as bringing more young people to farming and the importance of responsible land practices.
As Wendy says, "Our goal is to educate people about current food issues to create a dialogue towards better health and happiness, as well as make it easy to access the best organic food possible! There's so many amazing possibilities for the quality of our food  in the future and we look forward to the exploration and problem solving we'll do with you, our customers!"
You can purchase some of their products online under the "Store" tab by clicking the link below:
You will find that they offer fresh organic produce from the farm, and shelf stable products like preserves and ferments that were traditionally made on farms to extend the harvest throughout the year, but also have amazing taste and health benefits. They also sell kitchen and lifestyle accessories to take the farm experience home with you, such as Italian heritage kitchen tools which they make and use on the food truck from cutting boards and pizza peels, to dough bowls and aprons.
The photos accompanying this story on Moody on the Market are courtesy of Hearth & Market Food Truck.