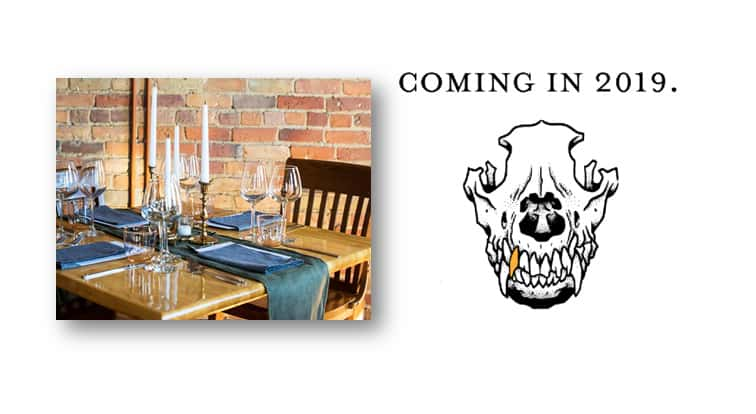 One could venture to guess that over the course of culinary history on more than one occasion a potluck dinner actually became prelude to a future diner, restaurant or at the very least a legendary menu item. When I told you earlier this fall about the latest adventure of Chef Cheyenne Galbraith, and a bit of her back-story, even I had no clue that her PotLuck Truck adventure would be prelude to a promising new venture in one of the most exciting projects in all of downtown Benton Harbor.
Cheyenne and her equally talented culinary artist brother, James Galbraith, are teasing the world with news of their forthcoming new Houndstooth Restaurant in the historic Sheffield Building owned by Ken Ankli.
They're playing their cards close to the vest, acknowledging only that it will feature "New American" cuisine at 132 Pipestone Street in downtown Benton Harbor across from the Dwight P. Mitchell City Center Park, and is "Coming in 2019."
Both Cheyenne and James were most recently anchored at The Bistro on the Boulevard, she as Executive Chef and he as Sous Chef, but as reported here on Moody on the Market in September, Cheyenne had created a pop-up venue and catering venture the PotLuck Truck late in the summer and has been spinning all sorts of good things for hungry fans, including her work for the 4th Annual Taste Sensation benefiting the Hanson Hospice Center this fall.
Tonight she's hand-crafting a 4-course food & wine pairing extravaganza for White Pine Winery's Annual Hunter's Widow Night Out at their downtown St. Joseph tasting room.
The Houndstooth Restaurant Facebook fan page, launched Monday evening, already has more than 460 followers, and they've established a formal website at www.eathoundstooth.com, which has nothing more than the graphic saying Coming 2019. On Facebook, Cheyenne and James have delivered this message:
"If you are here we just want to say HELLO! We (James Galbraith and Cheyenne Galbraith) can't wait to fill you in on what's to come (a restaurant)! But until then, you are here for the ride! Thank you all for your messages and support!" 
Cheyenne grew up in Berrien Springs, but one of her earliest culinary experiences came in Albuquerque, New Mexico where she gained great appreciation and affinity for Southwestern U.S. cuisine while working for five years alongside seven-times James Beard Nominee for Best Chef in the Southwest, Jennifer James. In fact, she has been quoted as saying, "Jennifer James has created restaurants that are travel destinations for people who truly appreciate excellent cuisine, and my hope is the replicate that experience here." That dream may be poised to come true as she establishes the first restaurant of her own with brother James.
Cheyenne also performed as a Celebrity Chef at the KitchenAid Fairway Club last Memorial Day weekend during the KitchenAid Senior PGA Championship at Harbor Shores. You can read more of her background in my story from September about her PotLuck venture at the link below:
https://www.moodyonthemarket.com/local-culinary-artist-launches-new-potluck-business-venture-in-sw-michigan/?fbclid=IwAR2P4MQo2GtfgvG7Ec-oICjzNQCgIERbWQyvdsXRXD-iZt3kfrZQeD3gAPc
James Galbraith, meanwhile, joins the partnership with more than a dozen years of experience and has been known to credit renowned French Chefs Jacques Pepin and Paul Bocuse for his techniques and inspiration, while also having worked for international award-winning Chef Tim Foley from Bread+Bar in Benton Harbor.
The new Houndstooth Restaurant, while steeped in mystique, will anchor the ground floor of the historic building being restored by Arts District champion Ken Ankli, the Sheffield at City Center which is already an award-winning project which he characterizes as: "The rebirth of the historic Sheffield building! New home to four fantastic loft apartments and the latest addition to the BH Arts District!"
Ankli has worked diligently on the restoration of that great building and gives us a peek behind the scenes at the history, the restoration and the future of the project in this brief two-and-a-half-minute video:
https://www.facebook.com/thesheffield/videos/319975608770604/
That remarkable project was awarded a 2018 Historic Preservation Award from the Morton House Museum, the home of Benton Harbor history this fall.
So…stay tuned for the newest culinary venture in Michigan's Great Southwest coming in 2019. If you'd like to stay apprised of the restaurant's progress and be among the first to see the menu plans, learn about timelines and more, be sure to "like" the Facebook fan page for the Houndstooth Restaurant by clicking the link below:
https://www.facebook.com/eathoundstooth/