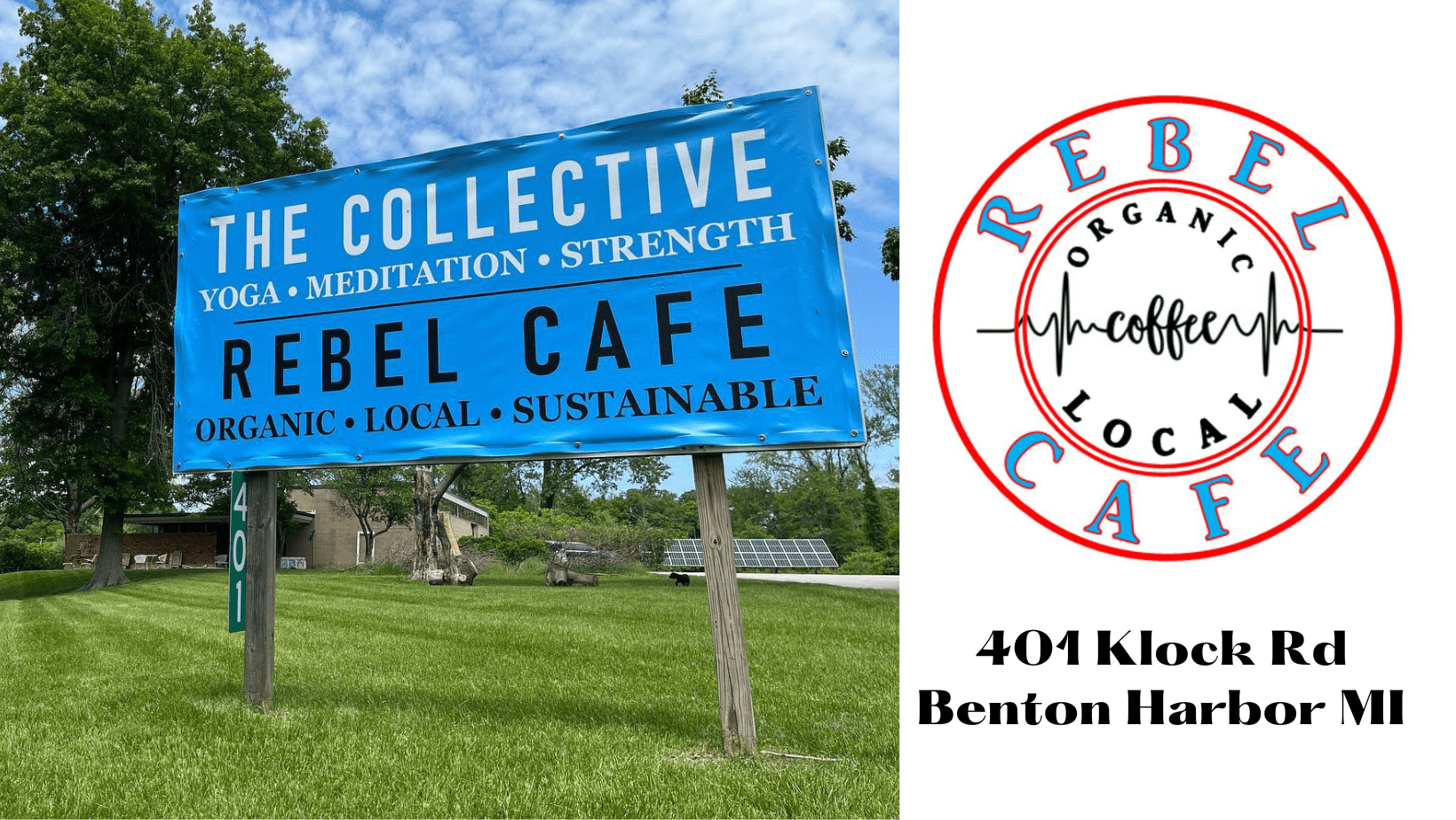 "Right on the banks of the Paw Paw River, with plenty of parking and a beautiful space to drink, work, and relax, you'll find us – the Rebel Cafe!"
Inside of The Collective at 401 Klock Road in Benton Harbor, stop in and enjoy delicious coffee, treats, and mindful beverages, like elixirs and tonics, six days a week. The Rebel Cafe, formerly on Territorial Road, has excitedly reopened this month, and the customers are loving it.
"Our health elixirs really set us apart – try something that piques your interest. They're delicious, actually good for you, and completely unique!" says owner Adrienne White. "Our mission is organic and local produce turned into the most delicious juices & smoothies, and locally roasted coffee drinks, right down to our locally sourced milk."
Adrienne White and Luke Anderson relocated their Yoga & Strength Training Studio to Klock Road in December of 2019 (inside the old Electric Equipment Co. building), with plans to include the cafe within the new space. After patiently waiting out the pandemic, and renovating the former industrial space, the winter of 2022 brought news of the Rebel Cafe reopening.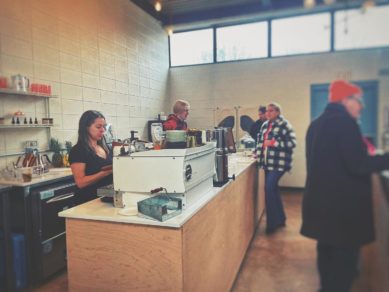 "Organic produce and healthy living has always been super important to us, as well as supporting the people in our area who grow our food," says Adrienne. "This is another opportunity for our clients and our community to learn about the importance of "let food be thy medicine", and for us to feature local farms and bakers."
Their monthly juice cleanses feature fresh produce from Sower's Purse Micro Farm, and this summer, they are proud to be a pick-up location for their CSA. Friday pop-ups from 9 a.m to 1 p.m in the cafe will showcase other small businesses and vendors, with this Friday, February 3rd featuring "Bake Effect", a gluten-free and vegan bakery and Feb. 24th, Emily Anstadt's gluten-free + vegan pop tarts and scones from "Provisions Snack Club".
The fair-trade coffee served at Rebel Cafe is from local roastery Cloud Walking Coffee out of South Bend, another small business that is just over a year old. "We finish their delicious espresso with organic ingredients that include your choice of: dark chocolate, salted maple, caramel, local honey & cinnamon, and even vanilla rose, which is made up of organic ground rose petals to infuse a delicate flavor," says Adrienne.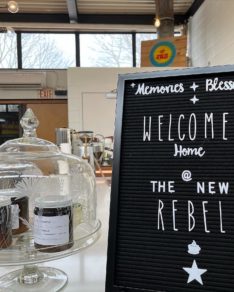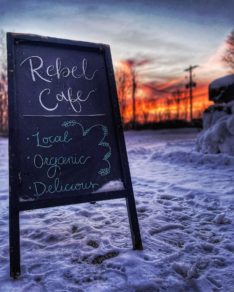 Photos by Rebel Cafe
The menu is colorful and mouthwatering, offering juices like 'Liquid Sunshine' (grapefruit, orange, carrot, turmeric), 'Moon Juice' (pineapple, cucumber, jalapeno), and intriguing smoothies like 'Peach Pie' (peaches, bananas, OG vanilla, nutmeg, and milk of your choice). Superfood boosters and CBD can be added to the already delectable beverages, enhancing your health and your experience.
With a zest for life, and a passion for 'real', Adrienne and Luke are excited to invite you to "Come by and see why we say 'Welcome home' to the Rebel Cafe!" The cafe is open Monday – Friday 7 a.m to 2 p.m, and Saturday 8 a.m to 1 p.m. More of their story can be found on their website, rebelcafe.org, and their social media pages are always bustling with specials and featuring goodies. Congrats on your new Grand Opening!
By Jocelyne Tuszynski, MOTM Contributor