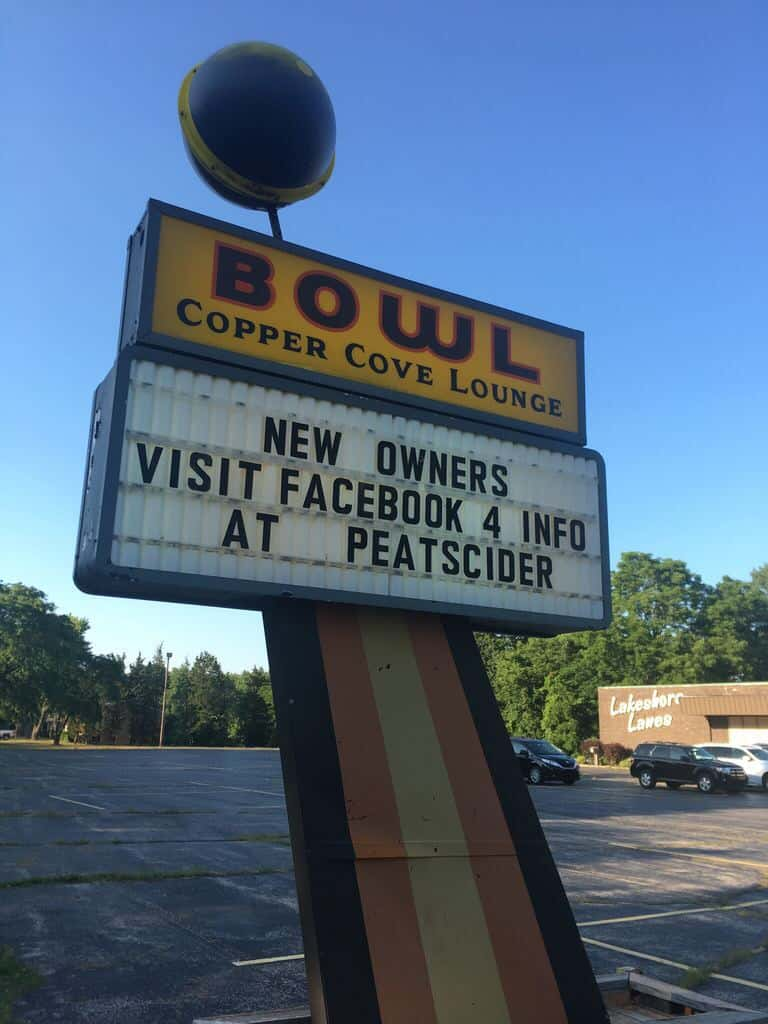 The papers are signed, the deal is done, and a new vibe and energy are coming to Lakeshore Lanes in Stevensville.  A few months ago Dan and Leah Peat and Josh and Tiffany Cosner, two husband and wife entrepreneurial teams joined forces to purchase the iconic 1960's bowling alley on Red Arrow Highway.  The idea is to bring Peat's Original Cider, which is distributed throughout Michigan, to a home base and wider audience in Michigan's Great Southwest.
Now that the foursome has taken possession, look for changes to come in phases and it will start this summer by transforming the old bar area into a cider taproom.  A small kitchen will also be built for food offerings in the taproom and for bowling customers.  While the bar area will be closed for renovations, bowling will be available for leagues only as the summer leagues finishes out the season.  Private party bowling will be available as well.
"We are thrilled to bring Peat's Original Cider products to a taproom environment," said Dan Peat.  "With our variety of hard cider offerings as well as new food options, we can't wait to bring our cider-centered entertainment venue to life.  While we undergo some changes to make our vision a reality, we appreciate our customers patience and understanding," Peat added.
The building itself is in a great shape and look for a cool mix of new and retro.  The property has tons of opportunities with a large area to the south on Red Arrow that includes four wooded acres.  Some of the ideas for the future include an outdoor garden area and both indoor and outdoor venues for weddings and special events.  The creative Cosner and Peat team will be creating something very special for a mix of family and adult fun.
Stay tuned for more details on progress of the site, new name and grand opening information.  You can check it out through Peat's Original Cider social media accounts on Instagram (@peatscider), Facebook (facebook.com/peatscider), and their website (PeatsCider.com).