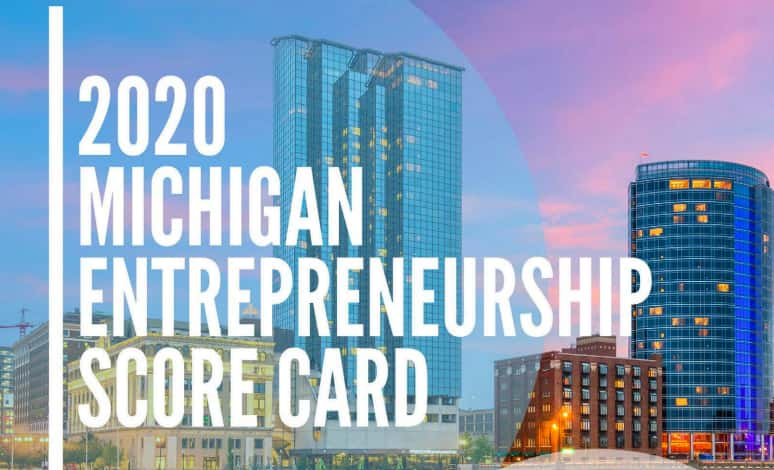 Before all of this pandemic chaos struck, Michigan's entrepreneurial economy was continuing to grow, but it was losing ground in comparison to other states according to the latest score card on that matter.
The 16th Annual Michigan Entrepreneurship Score Card released this afternoon shows Michigan is a top performer in the Midwest, but continues to fall behind on a national scale. Organizers of the data, which was compiled before the pandemic, say the numbers show that Michigan "has work to do."
The updated Score Card, released by Michigan Celebrates Small Business in collaboration with the Small Business Association of Michigan, evaluates the state's performance in the areas essential to a successful entrepreneurial economy:
The 2020 Score Card showed that Michigan remains a top performer among Midwest states, based on data showing the economy has grown at a rate exceeding its neighbors for the last six years. That data is from Michigan's Coincident Index, evaluating employment and wage/salary data on a monthly basis.
Brian Calley, SBAM President, tells us, "It's no secret that entrepreneurs drive innovation and economic activity that make our communities great places to live," but cautions, "While we have seen some progress in Michigan, we know that if you're standing still, you're falling behind and the risks of complacency have never been greater for entrepreneurs. This Score Card gives a clear and accurate view of how Michigan ranks compared to other states and must be used carefully to create a pathway forward."
The report offers insights and rankings on where Michigan stands in comparison to previous years and other states, which will help determine where changes are needed, especially given the uncertainty the global pandemic has created. The rankings show:
Entrepreneurial Climate, including factors that support the entrepreneurial economy, Michigan is ranked 22nd (down from 17th on last year's Score Card).
Entrepreneurial Change, measuring the direction and momentum of growth in the entrepreneurial economy, Michigan ranks 26th (down from 23rd last year).
Entrepreneurial Vitality, comparing the level of entrepreneurial activity compared to other states, Michigan ranks 36th (down from 35th last year).
SBAM CEO Rob Fowler suggests, "While Michigan has come a long way since this Score Card was first developed more than 15 years ago, we still have a long and difficult climb to becoming a top 10 state for entrepreneurs," and notes, "Our economy certainly has taken a hit as a result of the COVID-19 pandemic, but this scorecard gives us insights we can work on to make a difference for entrepreneurs in our state."
This year's Score Card also analyzed the top 10 performing entrepreneurial states to determine what Michigan can learn from them as it works to rebuild its economy in a post-COVID world. Evaluation revealed that in most states, workforce, education and productivity were the major drivers of entrepreneurial success.
The Score Card also showed areas where Michigan is currently among the Top 10 states include:
Physical science and engineering workers
Workers' compensation premiums
Business tax burden
Homeownership rate
Foreign business employment growth
Patents per innovation worker
Industry research and development
High tech manufacturing employment
ACT Scores
Four-year technical credentials
Business liability costs
University research and development
US News top graduate programs
Export intensity growth
Lack of health insurance
Voter turnout
Michigan ranks among the Bottom 10 for:
Malpractice costs
Law enforcement employees
Bridge quality
University spinout businesses
Hate crimes
Public high school graduation rates
Cultural institutions
Next generation internet
Increase in high performance firms
Prime working age residents
Manufacturing capital investment growth
Unemployment insurance costs
Unemployment insurance tax structure
The Score Card is released annually by Michigan Celebrates Small Business, a nonprofit serving Michigan's entrepreneurial community. Analytics and methodology for the analysis was developed by Dr. Graham Toft of Growth Economics, Inc. The Score Card is sponsored by the Small Business Association of Michigan, Blue Cross Blue Shield of Michigan, DTE Energy, MiBiz, Michigan Association of State Universities, Michigan Municipal League and the Michigan State Housing Development Authority. For a complete copy of the 160 page 2020 edition- click the link below:
The Small Business Association of Michigan focuses solely on serving the needs of Michigan's small business community through advocacy, collaboration and buying power. Today they serve over 28,000 members in all 83 counties of Michigan. SBAM is located in Lansing, just one block from the state Capitol building.