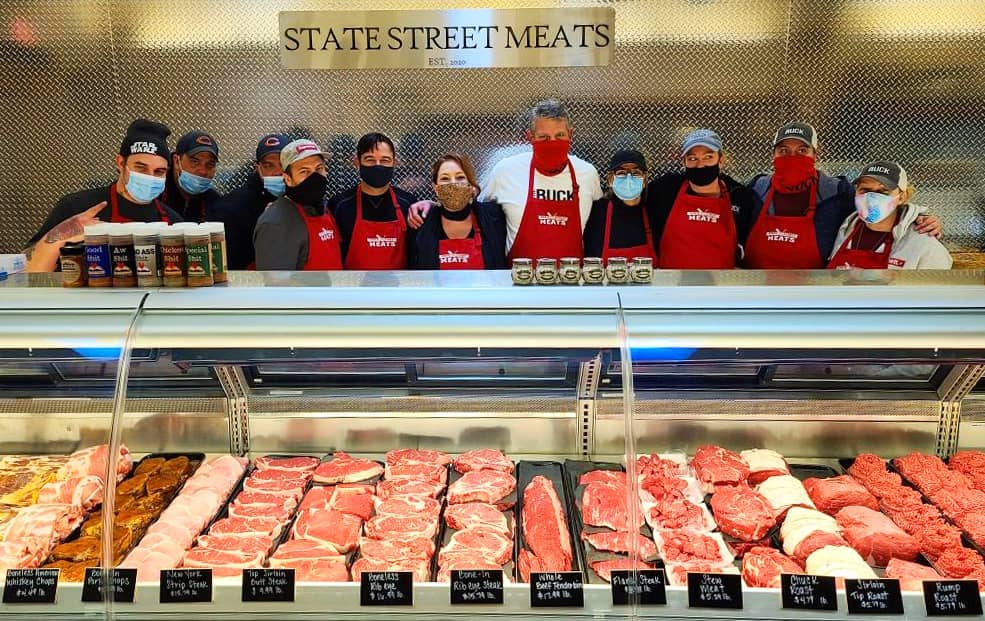 Less than four months ago, Ken Kozminski and I stood inside 416 State Street in downtown St. Joseph where he regaled me with ambitious plans for his new adventure called State Street Meats.
He shared with me a hand-sketched floorplan showing exactly how he would carve out portions of the long and narrow store front in order to showcase a full-on Gourmet Butcher Shop, Deli & Market just two doors away from his beloved Buck Burgers & Brew.
The sparkle in his eye and the excitement in his voice foretold the truly special plans that he was crafting on that scrap of paper and in his mind of a truly remarkable emporium unlike any other in the region.
That was in mid-September. Fast forward to last night, Friday, January 8th, and Ken was mixing and mingling with dozens of family members and friends for a private sneak preview to not only see that the dream had become reality, but to fill the bright red cloth shopping bags with items from every corner of the store and the impressive 24-foot long, custom-built, brightly lit, refrigerated meat case where his team had assembled an impressive array of steaks, chickens, homemade sausages, pork chops, and tons of gourmet options. The case was filled to capacity to the degree that he wasn't even able to show some of the other things that will be in that case when opening day arrives next Thursday, January 14th.
I caught up with Ken again this morning after joining last nights invitation list to get caught up with his plans for opening in the week ahead. He tells me, "Our hours of operation as we open will be Thursday through Monday from 11 am until 6 pm, and we'll adjust those hours accordingly to match what our customers are looking for. Our plan right now is to be closed on Tuesday and Wednesday during the winter months, but once we get into the late spring and early summer we'll be open seven days a week. We'll adjust our hours according to what the downtown worker is looking for."
Addressing his sneak preview, Ken says, "We had a really good turnout of about 125 people who came yesterday. I think our systems, our products, showed in an awesome way. One of the big questions that people ask all the time is about the different types of beef and chicken we have. All of our beef is aged a minimum of 30 days, which is significant because there's very few places that will have that type of aging, but that's where the tenderness comes from is through that aging process. All of our grades of beef are going to be upper-level Mid-Choice and all the way up through Prime. So we're really in the upper tier in terms of the quality of the types of products that were we're providing."
It is truly amazing how closely the shop resembles the detailed dream space that he shared with me when we were looking at four bare walls last fall. His dream has come to fruition and he'll continue to fine tune it going forward, but his plan is readily evident: "What we want to really emphasize is that what we do best is to provide fresh high quality meats. That's our goal, that's what our passion is to be, the provider of fresh high-quality meat products. That also includes seafood."
The plan goes well beyond just a butcher shop meat case, as Ken says, "Ultimately we want to be able to be a place where we can make meal preparation easier for you so that you can come into a one-stop shop and get high quality meats, but also get all the other items that would be part of your meal preparation along with some education and information to help you make that meal planning easier." Additionally, he notes, "When we do open we'll start providing for soups, salads, sandwiches and those types of items as well as charcuterie boards and grab-and-go meals and similar things that you can take to the bluff, or take to the beach with you out of our grab-and-go case."
A wine selection and some craft beers will also eventually land on the shelves of State Street Meats, but the pandemic has slowed the pacing of license approvals, and Ken says, "Our liquor license is pending right now with the Michigan Liquor Control Commission, but we're hoping to have that secured by February 12th." He's hopeful for that date a month from now because he says, "That would then become our Grand Opening date which is right ahead of the Valentine's Day weekend because it will afford an opportunity for people to come in and get a full meal to take home for their lovely wife or husband and be able to cook that entire meal, grab a bottle of wine, and have a nice dinner together."
Regarding his meat case, Ken says, "People ask all the time about grass-fed beef. Well, first of all, all beef is grass-fed, but most beef is then finished off with greens such as corn or soybeans in the finishing process because that provides for greater marbling and flavor within the beef itself." While he won't have grass-fed beef in the showcase, Ken promises they will be available through a full line of options in the freezer case. He adds, "We also will carry wild game, some elk, duck, lamb and so forth as we continue to move forward here. We will have smoked fish as well and are working on a line of smoked meats that we'll be able to provide in the next couple of weeks."
On the poultry in the meat case, Ken says, "The chickens that we provide are free range grass fed so there will be no hormones and no antibiotics included. So, they're really unmatched quality chickens. Plus, obviously we are doing a lot of specialty items here. So, when people are looking for things like a perfect cut of steak or looking for specific cuts of beef like an eye of round we can do all that in house."
Because Ken and his crew demand perfection for you, the customer, he promises, "We cut all of our own beef here. We do not buy anything pre-cut. We grind our own burgers, and we make our own sausages. It's designed to be a complete butcher shop and market and a place that provides for fresh quality meat and products."
But wait, there's more. Ken says, "There is also a deli with salads, potato salads, and coleslaw all homemade, and different types of items like that. We have sliced deli meats, some very high quality sliced meats and cheeses, and we'll be hosting Bit of Swiss who is providing us with fresh breads and baked items including desserts, so that you can come in and get a complete meal all-in-one stop." Plus, he will offer a full line of fruits in season, and vegetables to help round out your meal planning, all at the front of the shop.
On the technical side of the house, the full-scale butcher shop features a 9×12 walk in cooler and a 9×12 walk in freezer and a full array of saws, grinders, mixers, sausage-stuffers, patty-making machines and more.
True to form, as in the finest butcher shops, Ken says, "My butchers in back will be able to pull out a full tenderloin, have it cut up to your desired size, slice it to your preferred thickness, or help you select the finest steaks from the case for your grill." He adds, "Most importantly, if you don't see what you want, or want something prepared in a different manner, the butchers will be able to produce that for you or order it if it's not in the house at the moment."
Be prepared for a full experience, because Ken has thought of pretty much everything, but if there's something he's missed and the public wants it, you can rest assured, it won't be long before it's part of the equation.
While you may see a few more private VIP events between now and then, look for State Street Meats to be fully open for business on Thursday, January 14th at 416 State Street in downtown St. Joseph.