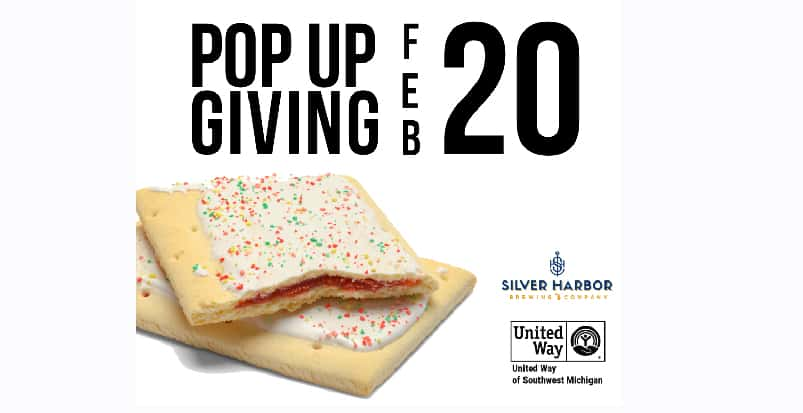 It all started with a little popcorn. Next, it was soda pop in the spotlight. Then came popped collars. What's next from United Way of Southwest Michigan as they mark another round of Pop Up Giving? How about Pop Tarts!
Tickets are now on sale for United Way of Southwest Michigan's Pop Up Giving #5, the uniquely local event that routinely provides instant impact to local nonprofit agencies and organizations in Michigan's Great Southwest.
United Way SWM is hosting its 5th "Pop Up Giving" event on Thursday, February 20th at the place it all began, Silver Harbor Brewing Company in St. Joseph. The event gives the attendees the chance to decide where the dollars go, and thanks to a donation from Kellogg's, the theme is Pop-Tarts and there will be plenty of the toasty treat to go around.
Three local United Way-funded nonprofits in the area of education will have three minutes each to pitch a project that will impact the community. Afterward, everyone in attendance will have five minutes to fill out a ballot to determine which organization delivered the winning pitch. Proceeds from ticket sales are combined to create a "donation pot." Second and third place finishers each receive consolation cash prizes of $250.
As has become tradition, this event's sponsor will kick in $1,000 to get the pot started.
United Way of SW Michigan President Anna Murphy says, "Some have compared this event to Shark Tank. It does have a game show feel to it. It is entertaining, it's fun, it's fast. But most importantly, it creates immediate impact for a local organization."
The previous four winners from the event have included:
The LOGAN Autism Learning Center
Kinexus Group
Children's Advocacy Center of Southwest Michigan
The Avenue Family Network
Individual tickets are $20 each and include one free drink and light appetizers provided by Silver Harbor Brewing Company. Doors to the event will open at 5 pm, and presentations begin at 5:45 pm.
Tickets can be purchased through UWSM's website at the link below:
https://www.uwsm.org/pop-up-giving
United Way of Southwest Michigan fights for the Health, Education, and Financial Stability of every person in every community. They have the influence and relationships to make sustainable change a reality. By harnessing resources from corporate, nonprofit, and public partners, they provide immediate assistance to the most vulnerable populations among us, while addressing the root causes of the community's longstanding challenges and changing lives for the better. To join the fight—through giving, advocacy, and volunteering—visit online at www.uwsm.org.