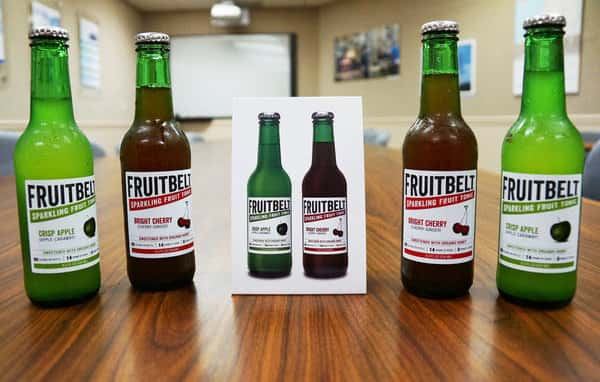 The people of Harbor Country continue to crank out innovative beverages that are absolute show-stoppers and game changers, and the tiny enclave of Sawyer is at the epicenter of this amazing goodness on multiple fronts. We've all heard about Greenbush Brewing and their meteoric rise to fame on the craft brewing scene, and right on their heels came the crew at Infusco Coffee Roasters. Now, hoping to put the Sawyer beverage scene into overdrive comes Fruitbelt, LLC — makers of Fruitbelt Sparkling Fruit Tonic, a delightful alternative to sugary soft drinks.
The brainchild of Michele Gazzolo of Harbert and Beth Denton of Galien, Fruitbelt Sparkling Fruit Tonic is emerging onto the scene on multiple fronts. It has been showcased at Farmers Markets in St. Joseph, New Buffalo and elsewhere. It's gaining traction not only as a stand-alone alternative to higher-calorie soft drinks but also as a mixer at places like Journeyman Distillery, and it's appearing on shelves and in coolers at an increasing array of retailers such as Purely Michigan in downtown St. Joseph and even in Ann Arbor, Traverse City and beyond.
Launched by the two Harbor Country entrepreneurs in 2013, Fruitbelt has garnered business plan guidance and other assistance from the Cornerstone Alliance Small Business Services team, and the help of other businesses in Michigan's Great Southwest as they battle for shelf space, product awareness, and increasing sales.
Most standard soft drinks have very high levels of sugar and even diet variations are laden with artificial flavoring. At Fruitbelt, their sparkling fruit tonics have a 25-percent juice content from real pressed fruit from American orchards, while most competing products have 2 to 12-percent at best. Instead of working with "flavorings," Michele & Beth elected to experiment with bitters to also help capture the "botany of place," native to the fruitbelt region we all call home.
Partners at places such as Treemendus Fruit Farms in Eau Claire and King Cherry Orchards outside of Traverse City helped with heirloom apple varieties and heritage cherries as the two formulated plans for their first two sparkling fruit tonics, Crisp Apple and Bright Cherry. They also use organic honey and monk fruit juice concentrate for natural sweetening agents to help keep their flagship products to 60 calories per 8.5-ounce bottle. The slightly smaller bottle is designed to be a standard "single serving," so that caloric intake and "sugar" content are immediately recognizable, versus serving sizes in larger packaging which can be deceiving if not measured properly.
One of the short-term hitches they encountered was finding facilities capable of small-batch bottling processes. They approached multiple Michigan-based carbonated juice bottlers for potential partnerships, but ended up having to resort to a Pennsylvania company who knew the protocol for cold pasteurization methods to help maintain shelf stability for the finished products.
Michele & Beth are convinced that their sparkling fruit tonics are innovative in seemingly every regard and unlike virtually any other product on the open market with the exception of one small competitor in Wisconsin. Parents who have discovered the healthier alternative to sugary soft drinks are ecstatic that their kids like them. They exhibit much better tartness than most sparkling fruit drinks.
The two are especially gratified that they have succeeded in producing something that a recent article suggests Pepsi failed at — achieving a good tasting mid-calorie soda. A Harvard University study pegs a mid-calorie target of 30 calories, but Fruitbelt's finished products have essentially achieved something that Pepsi had declared couldn't be done. Michele says, "We fell pretty triumphant about achieving that!"
They love the climate in Harbor Country, and especially Sawyer, which seems to foster a strong entrepreneurial attitude, and are hopeful of attaining the strength and popularity of both Greenbush and Infusco to become the third leg of the specialty beverage tripod in the small town.
Fruitbelt Sparkling Fruit Tonics are distributed by Carmela Foods of Fraser, Michigan…Bud Distributing in Dowagiac…and by Fortune Fish & Gourmet of Bensenville, Illinois. The tonics are available in places like Traverse City, Chicago, Ann Arbor, Indianapolis, South Bend, Detroit and in Madison, Wisconsin.
Sales have now topped the $25,000 mark and they have successfully sold a third of their inaugural inventory. They are currently working to establish avenues into the cafeterias and food service line up at both Whirlpool Corporation and Lakeland Health.
In the meantime, here are some of the places you can find Fruitbelt products:

Mason Jar Cafe in Benton Harbor
Phoenix Cafe in Benton Harbor
Larks BBQ in Benton Harbor
Purely Michigan in St. Joseph
Full Circle Cafe in Stevensville
Transient Artisan Ales in Bridgman
The Sand Piper in Bridgman
Greenbush Annex in Sawyer
Sawyer Home & Garden Center in Sawyer
Plumb's Market in Ann Arbor
The Fruitbelt team has six employees including some part time sales reps, and the long process of new product development for additional flavors continues for future options under consideration.
The crew at the Sawyer Home & Garden Center will be offering tastings of Fruitbelt tonics this weekend, August 20th and 21st, so you have that opportunity to check it out as well. Keep tabs on what's going on by following their success on Facebook by clicking the link below: