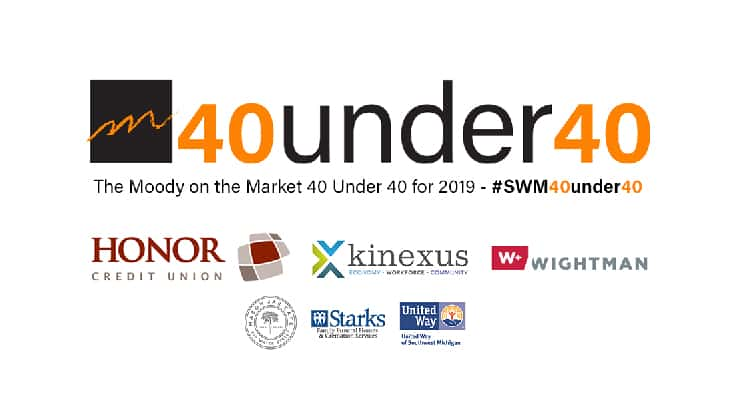 Chris Mason from Watermark Brewing Company is one. So is Ryan Ogle from the PGA of America. Jamie Quigno from Kinexus and Nicki Britten from the Berrien County Health Department are also in the club.
Perhaps you've seen and heard about the prestigious new club that broke onto the scene in Michigan's Great Southwest for the first time last year. It is an elite club for sure, and while you may or may not know the 40 amazing people who were first into that club last year, you likely know somebody who belongs in that arena next. The club isn't a physical space…it's a collection. A collection of remarkable talent that resides right here in the region. It's the collection we call the Moody on the Market 40 Under 40.
Last year we debuted the roll out of our inaugural 40 Under 40 with an invitation for you to nominate dynamic young leaders that may be working with you, for you, or even somebody from your own family, neighborhood, or other organization where you've seen their handiwork and knew they were worthy.
Now, we're searching for the next round. The Class of 2019 to join the club of the Moody on the Market 40 Under 40. Nominations are now being taken. The nomination form is now live, and you can nominate anybody that matches the criteria. Then, Dan Peat, one of the inaugural winners of the 40 Under 40 award, will chair the committee that sorts through those nominations to determine this year's winners.
Click the link below to get started on nominating somebody special for this prestigious honor: