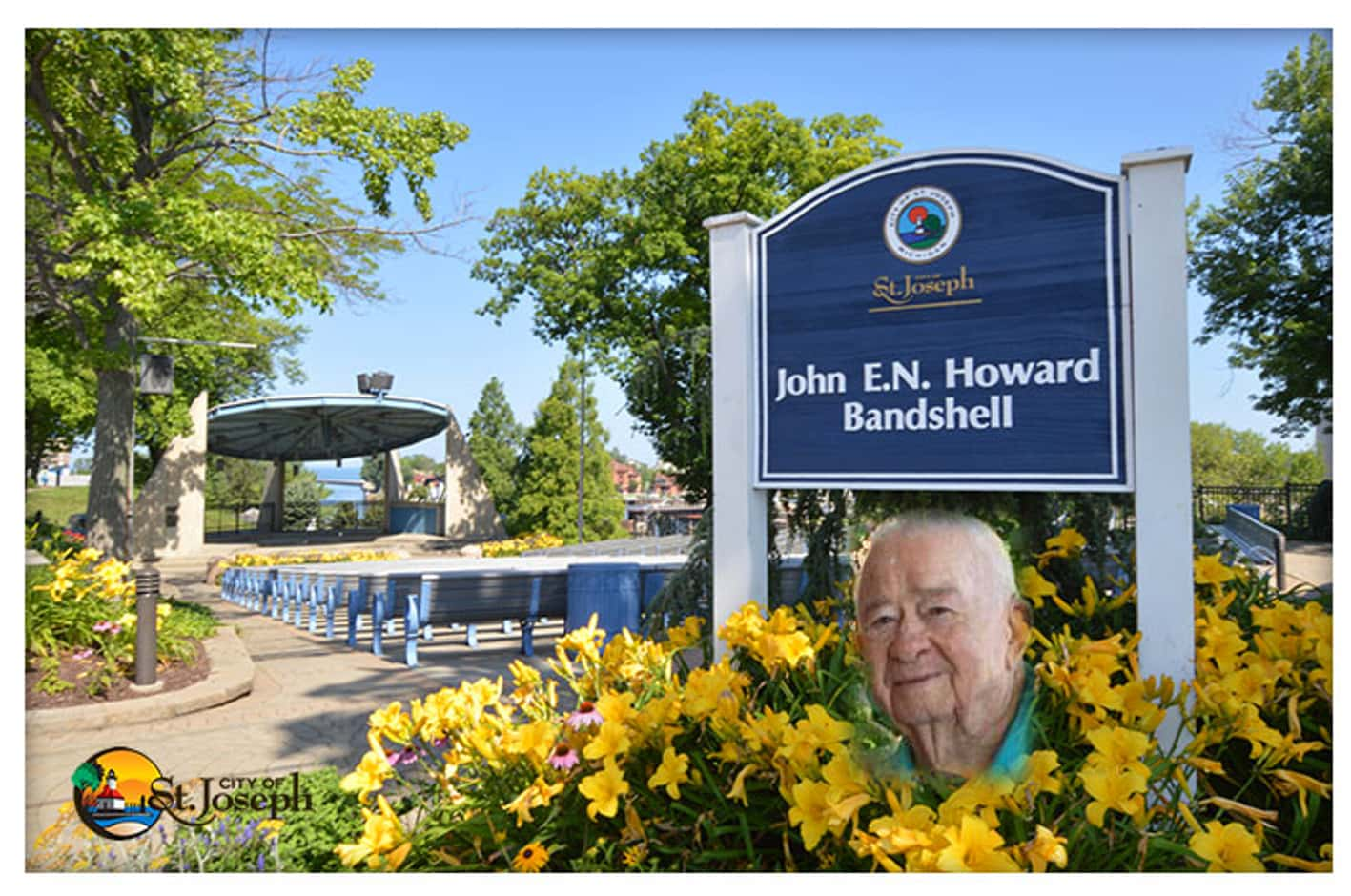 "He had a heart the size of the Grand Canyon, and bestowed his kindness in a quiet manner." That's the first reaction of former St. Joseph City Manager Frank Walsh after he learned today of the death of his dear friend John E. N. Howard, one of the most generous men in the history of Michigan's Great Southwest who has died at the age of 99.
Frank was actually working on plans for a 100th birthday celebration for the man whose name is on many of the gifts that he and his wife of nearly 35 years, Dede, have donated to the region.
Walsh says, "John Howard's legacy will go way beyond the buildings he and Dede helped provide to the community. John's legacy will be his deep compassion for those in need. He had a heart the size of the Grand Canyon and bestowed his kindness in a quiet manner." Walsh concludes, "Shar and I will always cherish John. We loved him very much."
The two were very close friends and even after the Howards moved to Holland, Frank and Shar made regular sojourns to simply enjoy lunch or dinner together and talk about old times and what the communities of the region were doing.
John Howard was born on July 8th of 1919, the son of an insurance man and preacher, and Walsh's planned 100th celebration was well into the planning stages for the Boulevard Inn and Bistro on July 8th of 2019. He says John was very much looking forward to that celebration and was fully engaged in the planning for it.
John was born and raised in Oklahoma, attended and graduated from the University of Michigan earning both a bachelors and masters degrees in music, and was a music educator who taught band at St. Joseph High School and also directed the municipal band for 40 years before retiring his baton at the band shell named in his honor in 1987.
The Howards were married on December 18th of 1983, just missing 35 years together by a month. John had two sons, Brian and Steve. Steve died in an automobile accident in the early 80s, and Brian had moved to Arizona.
The John & Dede Howard name is prominent in Michigan's Great Southwest, appearing on key buildings and projects they played a major hand in bringing to fruition including these:
The John E.N. Howard Band Shell in Lake Bluff Park in St. Joseph
The John & Dede Howard Ice Arena in St. Joseph's Southtown neighborhood
The Howard Family Walking Trail through the City of St. Joseph's waterfront neighborhoods
The Howard Family Skateboard Facility at Kiwanis Park
The Howard Center for the Performing Arts on the Campus of Andrews University in Berrien Springs
Hope University's Howard Recital Hall in Holland
The Howard Music Hall at Hillsdale College in Hillsdale, Michigan
The Howard Ice Arena's Zamboni ice conditioner
The Howards enjoyed a spectacular view of Lake Michigan for many years high atop the bluff overlooking the lake and St. Joe's Lions Park Beach, before moving to Holland and launching support of the performing arts at Hope College.
Dede was quoted by Hope College as saying, "Supporting young people is important, a positive use of our resources and allows us to leave our legacy at Hope College. We really appreciate helping and encouraging students, because even a small scholarship can make the difference of whether a student can attend college or not."
John added, "I am a musician and a teacher, so I am interested in all things educational, especially music education."
Eleven years ago, the Lest We Forget team of veterans in Michigan's Great Southwest helped facilitate a special presentation to John Howard, himself a World War II veteran. It was in November of 2007 that Howard received an award from the government of France during the Lest We Forget Veterans Day program at the Howard Performing Arts Center at Andrews University, which I had the honor of serving as master of ceremonies.  The university's then-president, Niels-Erikk Andreasen presented the award to Howard who drew a great laugh from the crowd when he replied, "Nothing nearly as nice ever happened to me during my service days." The government of France was recognizing Howard among the American soldiers who served on their soil during the war.
Howard's granddaughter Lainie Von Behren shared the sad news of her grandfather's death on Facebook this morning and drew dozens of condolence comments within minutes.
John E. N. Howard was a true man among men and an incredible philanthropist who shared his wealth extensively. He did it freely and with great joy, and summed it all up one day at Hope College when he simply, but eloquently stated: "You can't take it with you, but you can send it on ahead."
True that, my friend. True that. John Howard will be sorely missed by his friends, family and contemporaries. At Mr. Howard's request, there will be no services.