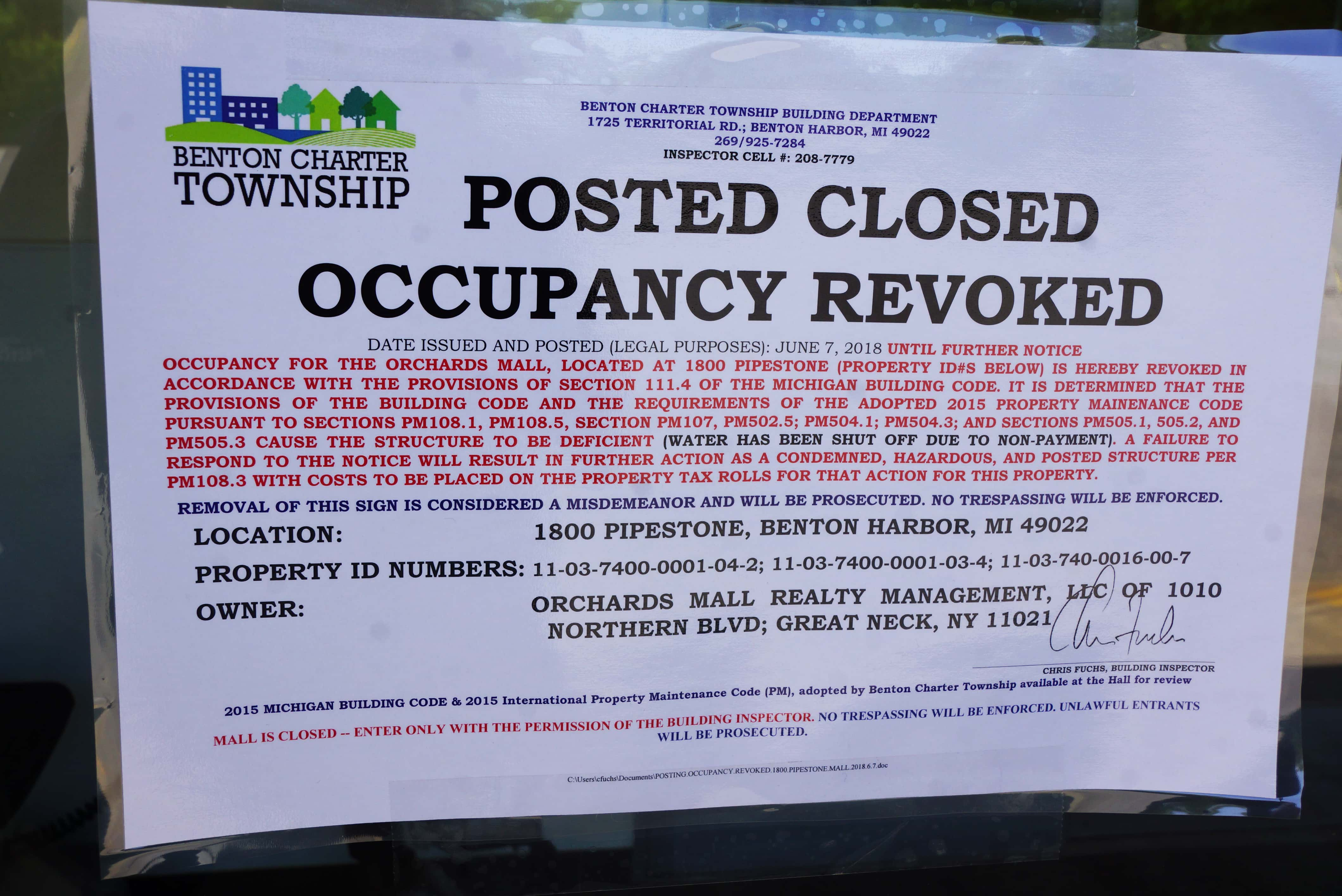 One day after the Orchards Mall was expected to have either been sold to the highest bidder or retained by its current ownership, the shopping center has been closed down completely for overdue water bills and the water has been shut off to the entire property.
The Benton Township Building Inspector has placed large placards in every door in the building making it clear that the mall has been closed down and its occupancy permit revoked by Benton Township Government because the water bills remain unpaid again.
Here is what the large posted announcement reads:
POSTED CLOSED
OCCUPANCY REVOKED
DATE ISSUED AND POSTED (legal purposes) June 7, 2018 UNTIL FURTHER NOTICE
Occupancy for the Orchards Mall, located at 1800 Pipestone Road (Property ID's below) is hereby revoked in accordance with the provisions of section 111.4 of the Michigan Building Code. It is determined that the provisions of the building code and the requirements of the adopted 2015 property maintenance code pursuant to sections PM108.1, PM108.5, Section PM 107, PM 502.5, PM 504.1, PM 504.3, and sections PM 505.1, 505.2, and PM505.3 cause the structure to be deficient (water has been shut off due to non-payment). A failure to respond to the notice will result in further action as a condemned, hazardous, and posted structure per PM 108.3 with costs to be placed on the property tax rolls for that action for this property.
Removal of this sign is considered a misdemeanor and will be prosecuted. No trespassing will be enforced.
1800 Pipestone, Benton Harbor, MI 49022
PROPERTY ID NUMBERS: 11-03-7400-04-2; 11-03-7400-0001-03-4; 11-03-740-0016-00-7
Orchards Mall Realty Management, LLC of 1010 Northern Blvd, Great Neck, NY, 11021.
Signed by Chris Fuchs, Building Inspector for Benton Charter Township.
2015 MICHIGAN BUILDING CODE & 201 INTERNATIONAL PROPERTY MAINTENANCE CODE (PM), adopted by Benton Charter Township available at the Hall for review.
MALL IS CLOSED – ENTER ONLY WITH THE PERMISSION OF THE BUILDING INSPECTOR. NO TRESPASSING WILL BE ENFORCED. UNLAWFUL ENTRANTS WILL BE PROSECUTED.
Just yesterday Steven Silverman with Friedman Integrated Real Estate Solutions, an investment advisory and brokerage service in Farmington Hills, Michigan, posted on the online bid site a notice that the auction had been postponed from its original start date of this past Monday, June 4th to next Wednesday, June 13th. The listing for the mall still shows a starting bid of $750,000.
Attempts to obtain any further clarification went unanswered. Several distraught merchants reached out this morning wondering what's next because they can't even get into their own shops without breaking the law.
Indications are that J.C. Penney IS OPEN this morning, but the rest of the mall was closed.
Post Office customers are being instructed to pick up their mail at the Riverview Office until the shutdown is resolved.
Kelli Nelson, Benton Township Superintendent, says that the mall owes $31,237.11 in unpaid water and sewer bills as of this morning.