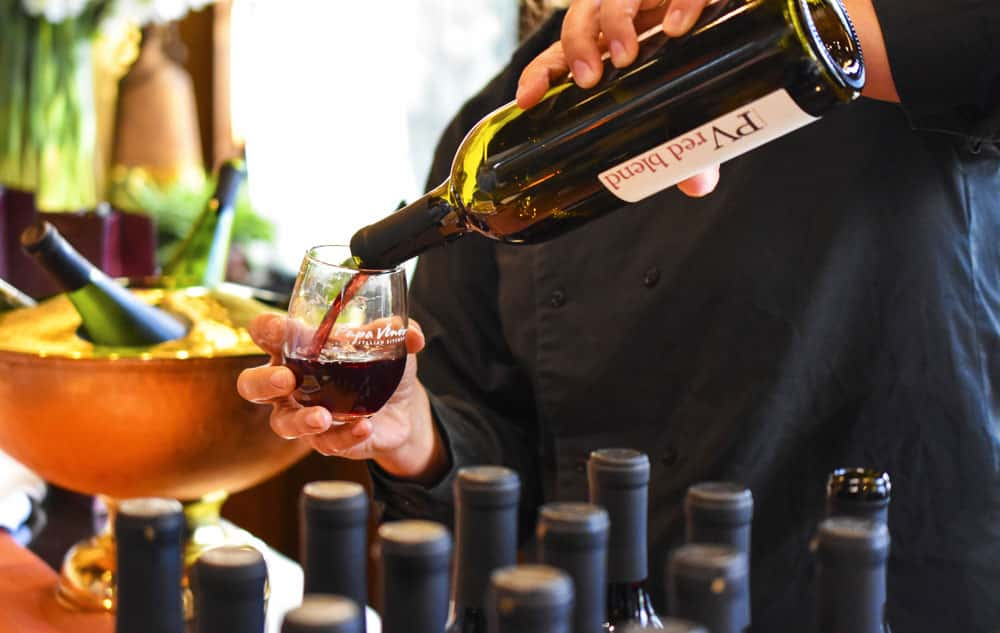 Enjoying a glass of wine from the Southwest Michigan Wine Trail with your dinner at a local restaurant isn't always an easy thing to do, and in some cases it's virtually impossible. A couple of local legends in Michigan's Great Southwest have teamed up in a big way to solve that issue through a unique collaboration that will put the issue to rest for good at Papa Vino's Italian Kitchen in St. Joseph.
Tonight, Papa Vino's at Hilltop & Washington debuted a new private label wine partnership they have crafted with Round Barn and Tabor Hill Wineries, bringing the ultimate in localization.
With a resounding cry of "Saluti!" local teams from Quality Dining Inc. of Mishawaka and the Moersch Hospitality Group of Buchanan launched their new private label wines before a select group of family, friends and Papa Vino's regulars to great reviews.
The two new wines, PV red blend and PV pinot gris, are made from grapes grown on the Lake Michigan Shore, then produced and bottled in Berrien County by the Moersch family crews.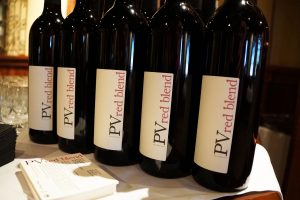 Quality Dining is a privately held company with deep roots in Southwest Michigan. In fact the very first of their more than 165 Burger King Restaurants was the one that just underwent a complete rebuild this summer on Pipestone Road just off of I-94 in Benton Township.  The company is headquartered in Mishawaka, and they are thrilled to enter into this partnership with Moersch Hospitality Group.
John Firth is President of Quality Dining. He says, "We believe in the power and importance of local collaboration and we know our guests do as well." He adds, "What better place to go for a private label wine than a family-owned business in our own backyard?"
Moersch Hospitality Group owns and operates Tabor Hill and Round Barn, and is both locally owned and privately held. Just like the team at Quality Dining, the family mirrors a great history of doing business in Michigan's Great Southwest.
Moersch Hospitality Group CEO, Matthew Moersch adds, "QDI and Moersch Hospitality Group share a passion for good food, good wine and being a positive corporate citizen while doing business in our Southwest Michigan community. Who better to partner our brands with? We are proud to do so."
Labels for the new PV red blend and PV pinot gris were designed by QDI's in-house graphic designer. In keeping with the local theme, QDI used Zeeland printing company, Artex, to print labels for both wines.
The two new wines unveiled in the private affair tonight are now available exclusively at Papa Vino's in St. Joseph and Mishawaka for $20/bottle, $7.50/quartino or $5.00/glass. As always, all wine is half-price at Papa Vino's Wine Wednesdays. Papa Vino's also sells bottles of its proprietary sweet basil vinaigrette salad dressing and jars of spicy marinara sauce to fans who like to recreate the magic in their own home.