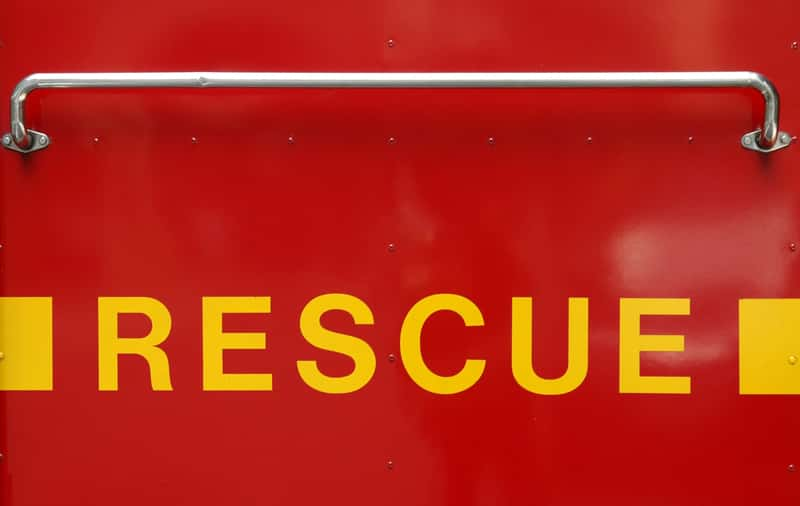 An unidentified hero is credited with saving the life of a para-sailor whose device faltered and dumped him through thin ice on a Van Buren County lake near Paw Paw Friday evening.
Van Buren County Sheriff Daniel Abbott says that the aircraft accident, which occurred in the area of 33rd Street and Frederick Street in Antwerp Township around 6:17pm, left one man in critical condition this morning.
Abbott says fortunately, a citizen in the area saw the man flying nearby in what is often described as a "Paramotor" used in the sport of Powered Parasailing. He says the unit was basically a backpack with a motor and prop worn by a person to give flight to their parachute.
The witness reported seeing the man at an altitude of about 100-to-200 feet in the air. However, a short while later the witness also heard the motor on the parasail struggling, followed by the sounds of a crash, so he got into his car to go and investigate what had happened.
He found the parasailor had crashed through the ice on the east end of Ackley Lake in Antwerp Township, north of Paw Paw. The witness jumped onto the lake, causing the thin ice to break, and found the parasailor submerged and says he suspects the man had been under water for perhaps five or ten minutes.
Shortly after he lifted the victim's head above water, the pilot gasped for breath. The citizen hero, found that the parasailor was too heavy, inasmuch as he was still strapped into his gear, and all of his winter clothing was soaked with water, however the rescuer was able to call 911 for assistance and held the crash victim's head above water until emergency personnel arrived and assisted in cutting him from the parasail contraption.
Abbott says the weather at the time of the crash was reported to be only between 15 and 18 degrees.
The crashed pilot was transported priority 1 to Bronson Lakeview where he was stabilized and transferred priority 1 to Bronson Methodist Hospital in Kalamazoo. Shortly after 1am this morning, Saturday, February 15th, the family indicated that the parasailor was in critical condition, but was stable and breathing on his own.
Van Buren County Sheriff's Deputies were assisted by Van Buren Emergency Services and Paw Paw Quick Response, as well as Michigan State Police from the Paw Paw Post.