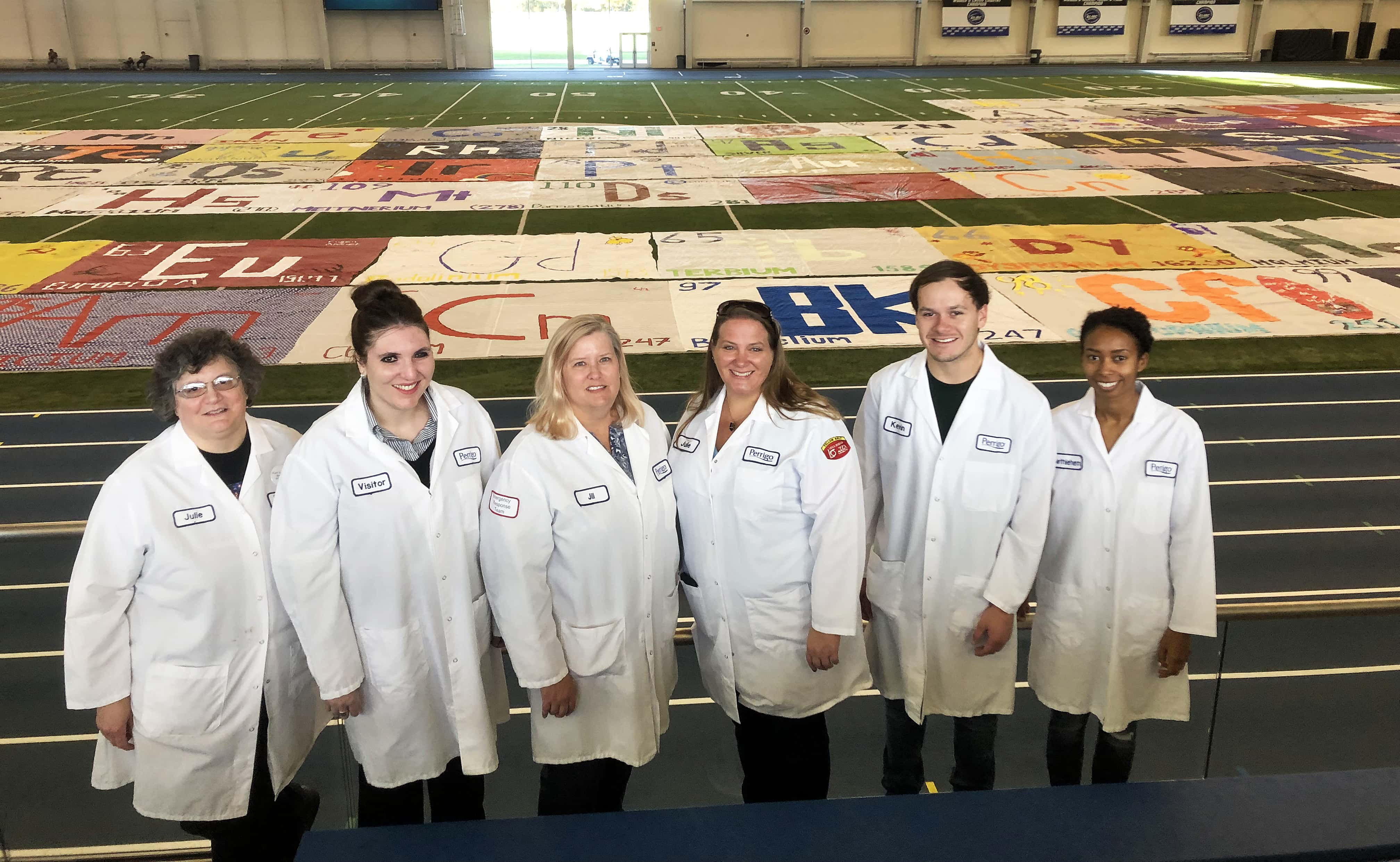 Ostensibly the world's largest version of the scientific periodic table was successfully installed in West Michigan on Saturday, now organizers from Perrigo simply have to wait for official word from authorities at the Guinness Book of World Records who were on hand to witness the spectacle.
Perrigo scientists gave a 'big' science lesson to West Michigan families when they unveiled what they hope will be officially logged as the world's largest periodic table on Saturday. Officials from Guinness were present to judge the feat.
The Perrigo version of the periodic table spread 108 yards across the indoor football field at Grand Valley State University's Kelly Family Sports Center. Perrigo scientists helped build part of the periodic table in their spare time to inspire kids and the community to consider careers in science, technology, engineering, and math, or simply STEM. The 118 elements, each measuring 18 by 14 feet, were made out of tarps. Perrigo's scientists collaborated with other area scientists and organizations to put the entire table together. The hope was to inspire kids and families about the fields of science.
Julie Samora, a scientist in Perrigo's Analytical Lab, says, "We want to encourage kids to think about science at an early age and have them engage with it in a fun family friendly way. The more they engage with it the more likely they are to have it as a lifelong passion."
The event coincides with the 150th anniversary of the periodic table and was free to the public. The Guinness Book of World Record officials measured the periodic table and will make their final determination within the next several months. The last record holder for the title was India.
Perrigo is dedicated to making lives better by bringing "Quality, Affordable Self-care Products" that consumers trust everywhere they are sold. The company is a leading provider of over-the-counter health and wellness solutions that enhance individual well-being by empowering consumers to proactively prevent or treat conditions that can be self-managed. You can visit Perrigo online at http://www.perrigo.com.