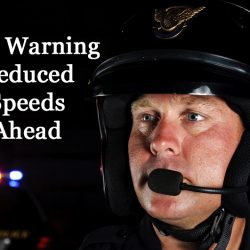 You can look at this story either of two ways — it's either fair warning regarding stepped up law enforcement next week in Berrien Springs…or it's a "Fair warning" regarding traffic speeds near the Berrien County Youth Fair. Either way, you'll do well to recognize that authorities are lowering the speed limit on M-139 during Fair Week next week, and if you're smart you'll let all family members know about it as well by sharing this story with them.
The Michigan Department of Transportation (MDOT), working in partnership with local law enforcement and the Michigan State Police, has decided to reduce the speed limit on M-139 between Lemon Creek Road and George Street during the week of the Berrien County Youth Fair next week from August 14th through the 19th.
The speed limit will be reduced from 45 mph to 35 mph due to a substantial increase in both vehicular and pedestrian traffic in the area during the Youth Fair.
Signs and speed control devices will be posted in the area notifying motorists of this change.  Police officers will be actively enforcing traffic laws in that area.
The safety of motorists and pedestrians during fair week is a primary concern for the community.  Authorities are asking everyone to please slow down and remain alert at all times when traveling in the area near the Berrien County Youth Fair all next week. You have been warned. Fairly.