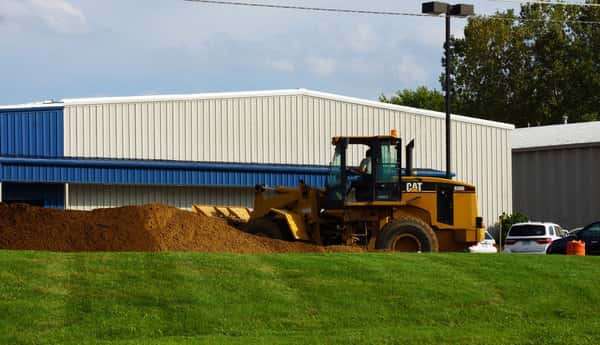 Frazzled parents moving at breakneck speed to get gymnastic students to class on time will soon be delighted to find roughly 50 new parking spots to choose from at Power in Motion Gymnastics, thanks to yet another expansion project at the wildly popular facility on M-139 in Royalton Township.
Those bulldozers you saw last week moving dirt around and sculpting the earth were prepping the side lot for an upcoming paving session for the gym which grew late last year to more than 17,000 square feet in size. The 50 new parking spaces added into the 70 already on site will bring capacity to around 120 total vehicles, according to owner and operator Amber Williams.
Some passersby had been wondering if the gym itself was growing again, but for the moment this is simply the addition of much needed parking slots at the busy gym. Power in Motion has grown dramatically since first bursting onto the scene in 2008. She originally rented space to be able to handle to roughly twenty students she had amassed thanks to her expertise and training.
Barely a year later, Amber and her colleagues were growing rapidly with enrollment increasing seemingly every day. In November of 2009 she cut the ribbon on a brand new 12,400 square foot facility just yards away. Five years later she broke ground again on her expansion plan to add another 4,650 square feet to the facility, surpassing the 17,000 square foot mark in the process.
She had wisely designed the building for relatively easy expansion on the north side of the property at 3889 M-139 in Royalton Township, in anticipation of future growth. In her latest expansion she renovated the current viewing area, office space and bathrooms into another pre-school area for classes. In the addition are a new office and staff room, a viewing area for parents, a birthday party & event room, locker rooms, and some additional gym space.
The expansion also resulted in relocation of the entrance to the building and provided a more appealing facade at the front of the building. At the time of her expansion, she had surpassed the 700 student level and has continued to grow since then. The plan all along was to provide additional parking at the booming gym and that will happen very soon when the paving project is complete.