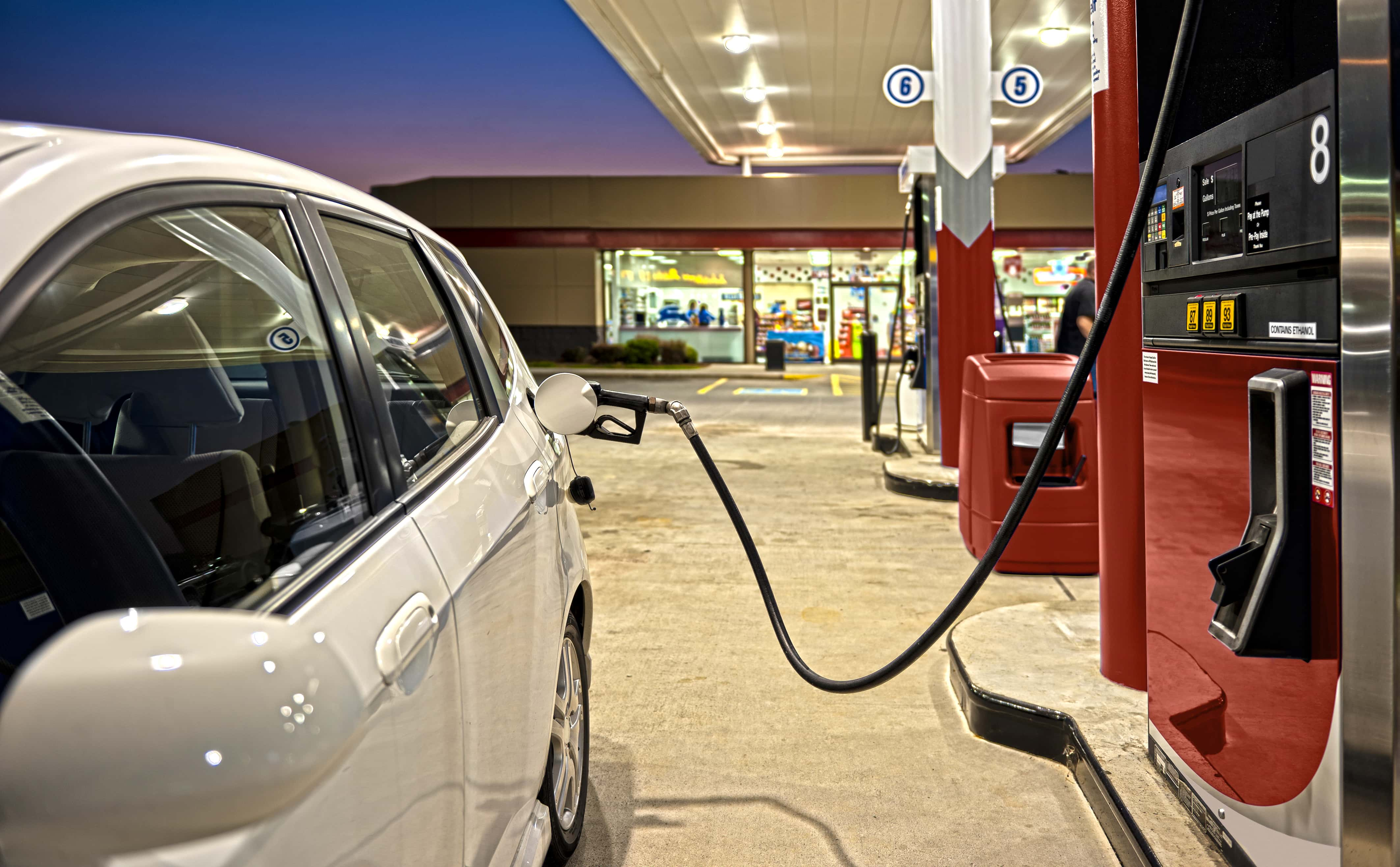 If Michigan is going to "Fix the damn roads," it's time to face the facts — and the costs to do so, as well. Two former Michigan Legislative leaders are out with a plan that would take the current 26.3-cents per gallon gasoline tax in Michigan and employ annual increases that would have that same tax reach 73.3-cents per gallon by the year 2028 — a cumulative 47-cent hike.
The two former leaders are co-chairing a new project to make consensus recommendations on thorny public policy issues confronting the state, like the road repair issue. Their first proposal is for an increase in both the gas and diesel tax of seven cents in the first year, to be followed by annual increases of five cents each year for eight years. The proposal would yield an estimated $2.7-billion a year once fully implemented, approximating the $2.6 billion annual cost recently estimated by the 21st Century Infrastructure Commission.
The project will be co-chaired by former Republican Senator Ken Sikkema and Democratic Senator Bob Emerson. The two said today, "We recognize the challenge faced by any tax increase. But a major issue in last fall's campaign was, 'Fix the damn roads,' and if we're going to do that, we'd better face facts about how much it's going to cost and not nibble around the edges with politically palatable half measures."
Sikkema says, "The logic and fairness behind using a tax on gasoline to pay for road repair is that it's roughly proportionate to the amount of road use of each driver in Michigan."
Here's what the gas tax would look like each year of the project plan: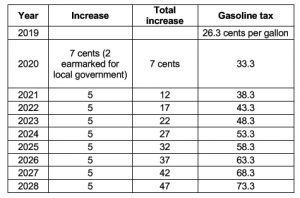 One of the goals of the Michigan Consensus Project is to demonstrate that partisan affiliation and allegiance is not a barrier to far-reaching consensus solutions to issues facing Michigan.
Sikkema, who will serve as Project Director, is a former Majority Leader of the Michigan State Senate. Emerson is a former Budget Director in the Granholm administration and former Democratic Leader of the Michigan State Senate. Both Emerson and Sikkema also served in the Michigan House of Representatives. They will be assisted by a small Steering Committee of about a dozen Democratic and Republican political leaders, including former Lt. Governor John Cherry and former House Speaker Paul Hillegonds.
The organization is being launched in collaboration with the Center for Michigan, a nonpartisan 501(c)3 "think and do tank" chaired by former newspaper publisher Phil Power, who says, "The Project is entirely separate and independent from Bridge Magazine," and adds, "In its regular news coverage, Bridge may report on the Project's work but will not endorse or favor that work."
Power goes on to say, "Our political system is, by its very nature, a partisan one, but that does not mean that consensus can't be reached on critical issues facing the state. We've got to build a practical, realistic, tough-minded program to make Michigan a better place."
According to Sikkema and Emerson, the primary work product of the Project will be "issue initiatives" that make recommendations on policy areas that need to be addressed in Michigan. A Steering Committee will assist the co-chairs in identifying a few important areas that need to be addressed—often stubbornly difficult and contentious ones, such as financing repair of Michigan roads. Through a process of research and vigorous internal debate about potential solutions—led by the Project Director and involving Democrats and Republicans—a consensus recommendation will be offered for public discussion and among policy makers in Lansing.
Emerson noted that he and Sikkema, together with former Lt. Governor Cherry and former Speaker Hillegonds have been meeting and discussing the transportation funding issue since June, saying, "We decided to focus on this issue initially because it is one of the most important issues facing the state, but it is difficult to solve. Any proposal to fix the roads is bound to be expensive, given how they continue to deteriorate."
Sikkema adds, "While it's tempting to fool around with half measures, it's just a waste of time and money to propose something on the cheap that doesn't fully solve the problem."
Phil Power suggests that the timing is right for "The Project," arguing, "With a newly elected Democratic governor and newly elected Republican majorities holding office in the Michigan legislature, the need for consensus solutions across a range of issues clearly exists."
You can see the Project's full scope by clicking the following link: