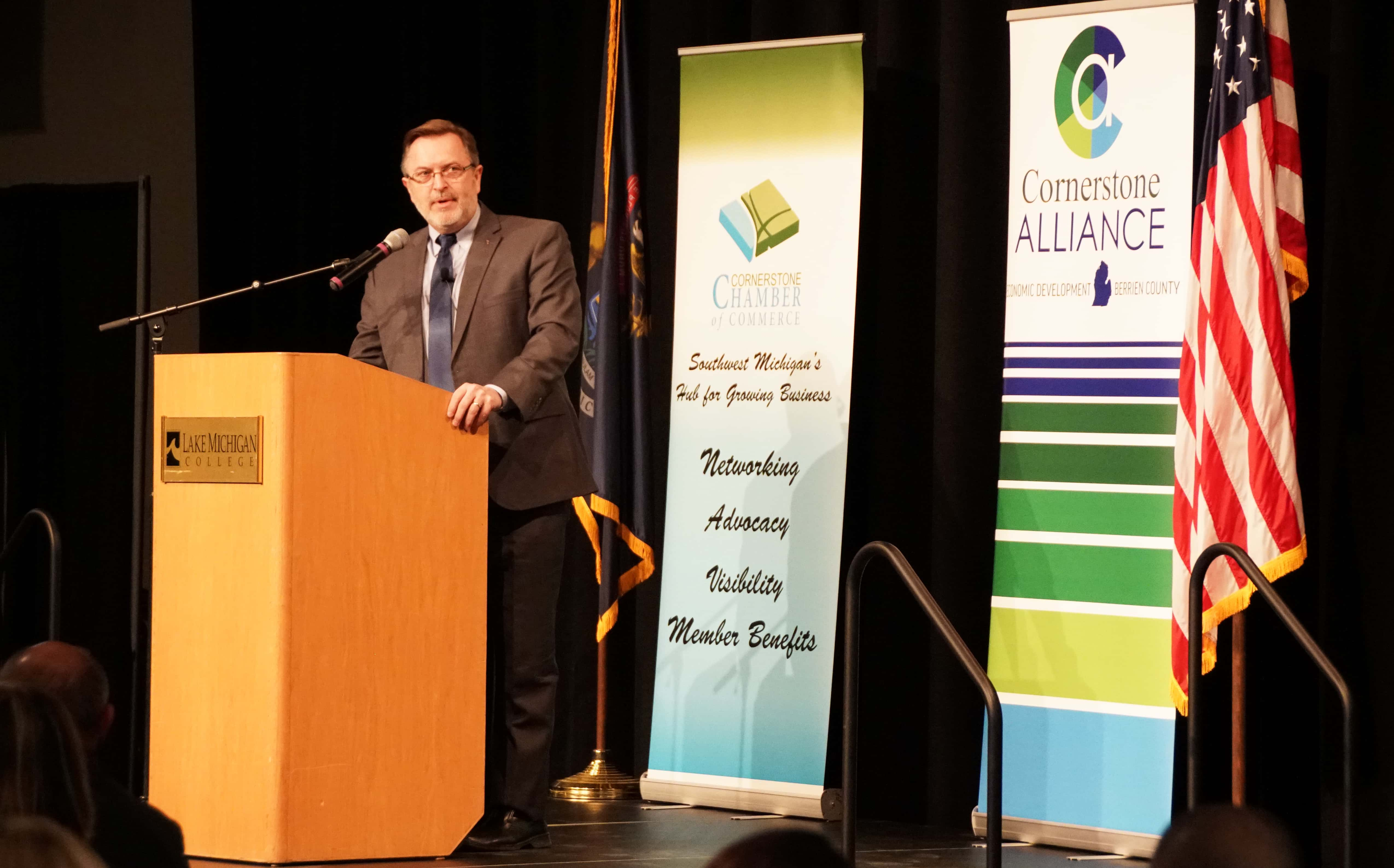 The man responsible for the award-winning Pure Michigan marketing campaign began by expressing his love for the fields and orchards of Michigan's Great Southwest because his wife is a Berrien Springs native and ended by issuing a challenge to the more than 450 on hand for his speech to "Thing bigger, act bolder, and change our part of this world together in a bid to make Michigan the number one four season destination in America." In between, Travel Michigan Chief Dave Lorenz shared a lot of interesting data on the evolution of the campaign.
Lorenz was the keynote speaker for the Combined Annual Business Recognition Breakfast from Cornerstone Alliance and Cornerstone Chamber of Commerce Thursday morning. He reminded everyone in attendance that "Everybody has their thing that they like to do, and that's why we like to offer up the myriad things that people have available to them here in Pure Michigan."
He pointed out that Travel Michigan and the Southwestern Michigan Tourist Council and St. Joseph Today, the West Michigan Tourist Council and the Cornerstone Chamber of Commerce are all working together, saying, "We're all bringing people together. We're all trying to encourage people to come together and work together, because if ever there was a time, this is it."
Lorenz commented that "One of the things that we recently did, is to help people realize is that despite all the talk about security of our borders and the mistaken belief that to some degree this country is not welcoming to all, the truth is we are welcoming to all, and that's the message we're working to get out."
The Pure Michigan boss says they put an ad together essentially saying, "We wish you were here and we welcome you." Tim Allen, as always, speaks the message: "Wish you were here. Words that we often see on postcards and letters from friends and family. Luckily, there's an entire state that whispers wish you were here. Climbing my dunes, sailing on my breezes, walking along my beaches, and getting lost and then found in my forests. This is a postcard from Michigan. Where wishing you where here is the heart of Pure Michigan."
Lorenz says, "At Travel Michigan, we're doing a couple of things. We're trying to get across this message that Michigan is a place of natural beauty, unique experiences, and friendly people, and you are welcome to come here and have a great time and maybe even spend a little money along the way. That would be okay."
He cited the "three-legged stool of manufacturing, agriculture and tourism," reflecting how important tourism really is. As a state we invest heavily in tourism and we expect that to continue in the future."
Lorenz moved into sharing some of the recently concluded research which they use to determine what's working in their marketing, what's not and so on, saying "We know that Michigan is a brand and marketing is about changing perceptions of people. The good news is that most people are very familiar and accepting of Michigan regionally, and while nationally we still have a way to go, we're just getting started on that front."
Lorenz says they work to find out what people are interested in when they travel and visit, noting, "People do three major things when they travel: sightseeing, dine at restaurants, and they're going to shop. Those are the three top things. So if we're not perceived as a place that offers those experiences, we don't gain the business as often."
He shared a graphic showing how effective the state's communications are through their advertising for Pure Michigan. Key elements are scored on such things as:
Clarity and understandability
Makes the state look like a relaxing place
Makes the state appear to be an appealing place to visit
Shows diverse scenery
Makes Michigan seem welcoming and friendly to all
Makes Michigan look like a fun place to visit
Shows a wide variety of attractions and activities, and more
All of those scorecard measurements ranked in the "excellent" range at the top of the scale.
Lorenz reports that Travel Michigan — in the most recently complete data year of 2017 — spent $16.4-million on advertising for the summer campaign, saying, "That's what we measure. We've done pretty well with that campaign. We know it motivated more than 2-million trips, by 5.6-million travelers, generating $2.1-billion in traveler spending and generated $147-million in state taxes, meaning for every dollar we invested, we brought in $8.99 to the Michigan treasury." He admits, "That's good, but it's never good enough so we will continue to adjust and do our best to figure all of that stuff out as we move forward."
The likable marketing pro offered some key takeaways from the recent research, noting, "There are some real interesting findings here, things that changed what I expected. We always figured the 55+ traveler to be the core traveler – the sentimental traveler looking for sightseeing and fall colors, and things like that. What we're actually finding is Michigan is starting to become accepted by a number of people."
Lorenz was surprised to find that, as he put it, "The so-called millennials are putting their money into enjoying experiences because they're not as interested in 'things' like baby boomers who want bigger TV sets and a two car garage and things like that." He has learned that, "Millennials are interested in experiences, so they're looking to explore new places and find new things. So when you look at the demographics, you get the picture that baby boomers are looking for interesting things, Gen X'ers are all over the place, and the pattern has changed. We're attracting more millennials than ever before."
The graphic that Lorenz share suggests they "Found that what visitors do varies significantly by their stage in life:"
Baby Boomers are most likely to visit lighthouses and enjoy a slow pace vacation
Gen X'ers are more likely to go fishing and visit a spa…
Millennials are more likely to visit museums, wineries, breweries, and look for parks and camping…
Ironically, 44-percent of Michigan's visitors are between the ages of 18 and 34 – the Millennials.
Looking at country of origin, Lorenz reports, "One of the other things that has changed in recent years — and this is something we all want to promote — is the shifting international clientele. We've been working in Germany, Austria, Switzerland, the UK, Ireland, and Canada for new money to come here, but recently we started working in China thanks to Gov. Snyder's hard push to work there. It's really paying off! Asia is increasingly important to us. It is now our number one overseas market, and we're thrilled!"
Lorenz and his team expect that to continue to grow, noting, "You're going to see more people coming into this state than ever before and we need to continue to be a warm and welcoming place. Germans especially have reported being welcomed while at restaurants by people curious after hearing their accents about where they're from. It's really that simple."
Domestically, Lorenz' team has been working on several areas, to draw people here. He admits, "We used to say come to this city or that region. Now, we're working to find out what people are truly passionate about and then match them up with messages about golf or winter sports, or of just being on the beach." Agriculture touring is also a big thing and what he calls "Urban DNA" which has changed dramatically as Detroit climbs out of a 40 year decline and makes tremendous rebounds in the center of the city.
Lorenz says, "A combination of entrepreneurial experiences and tremendous investments by people like Dan Gilbert and many others fostered a grass roots movement in Detroit for a new and better city and it's been a remarkable turnaround." He suggests going to a Tiger game and checking things out, noting, "It's happening. Detroit is coming back like no city maybe in the history of America. It's not only one of the biggest economic development stories in the nation but certainly the biggest travel story in the state, and at the same time other cities are getting healthy." He even cited the improvements locally in Benton Harbor as well.
Reminding everyone, "We have 11,000 lakes in the state and the easiest thing to promote is beaches, and you're never more than 5 miles away from a lake or stream, and we're a people of the water." He then showed a campaign called "Long Live Summer", a high impact, rapidly-paced, multi-image compendium created for social media, because, "Mobile devices are changing the way to learn about and communicate regarding places to visit, and we're working to get their attention at the same time."
He also tells us Pinterest is a huge tool for them, saying, "People are always posting pictures of where they are and what they're doing noting we're here, doing this, and you're not! Especially the Chinese. It works!"
His organization's Michigan.org website has various landing pages based on key interest lines, and is the most viewed state travel website in the country, however, saying, "We constantly make adjustments to it and that led to a 20-percent increase in traffic in January alone. Things are moving." They have also used some billboards as a last shot for travelers, and in Chicago the tour buses are wrapped with "Your Trip  Begins at Michigan.org." messaging.
Michigan has seen a 4.1-percent increase in international visits from 2011 to 2016, and is projected to witness 21.2-percent increase from 2016 to 2021.
The vision for the future includes:
Brand management and promotion
Destination product development
Industry strategic planning
Industry advocacy
Meetings, conferences and major events strategies
Research resources
Lorenz says, "We constantly work with media to get our content and our stories out there, and like testimonials that works well because its not advertising as such. Tim Allen has done more than 100 radio and TV ads for us, and he loves working for us and we love working with him. He's truly as funny as you would think and a lot smarter than you would ever expect. A very sharp guy."
Travel Michigan is increasingly using social and digital marketing to get to younger crowds, admitting that with so much media to choose from, it makes it hard to break through. They even had the Ford F-150 Pure Michigan special edition which sold very well.
Congressman Fred Upton helped get Michigan into the mix with Brand USA to gain inclusion in things like a National Parks Video where global ice climbers declared upper peninsula ice climbing to be "the most beautiful place they had ever seen in their lives."
Lorenz concluded his speech by suggesting, "We can make a difference and get to the next level in our industry and sustain it. We have to think bigger…act bolder…and change our part of this world. We all have to do it together. Our goal is that Michigan be the number one four season destination in the nation."
He ended his presentation with the overpoweringly emotional music from the Pure Michigan campaign intermixed with an amazing array of beautiful imagery from across the state, in a moving finale. There was considerable pride among many a Michigander in the chamber audience who provided loud and sustained applause for a great message.