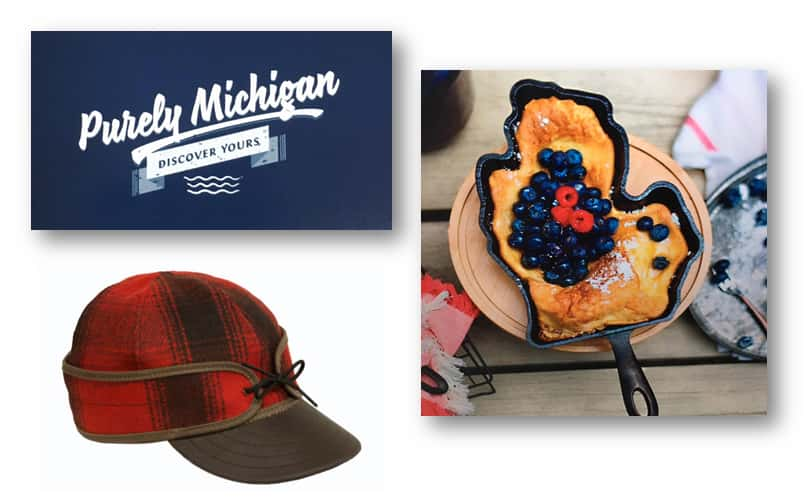 There's a living tableau in downtown St. Joseph that portrays the old saw that implies that "Time flies when you're having fun." It lives and breathes in the space known as Purely Michigan, where owners and operators Erik and Demrhy Youngquist are living the dream by sharing the best that Michigan can bring to the table, including last year's official "Coolest Thing Made in Michigan," the Stormy Kromer Cap.
It might be hard to believe, but the Youngquists have been in charge at 406 State Street for nearly four years now, after taking the reins from previous owner Lynne Christiano in last 2015, and they've been having a blast ever since.
Erik says, "I love St. Joe, as my family has called it home for over 80 years," and adds, "I am honored when people stop in to share a story, a picture or a memory about Michigan."
Those who know Erik's story know that he came in off the road after more than 30-years as a road warrior engaged largely in the retail business, after arriving at the conclusion that he wanted to actually be a retailer instead of simply serving them. He wanted to own his own shop, just like he had seen for years on The Andy Griffith Show.
Fast forward to today, and as they celebrate their fourth year in business, Erik says they are most excited to now offer the opportunity for those who no longer live here or extended family members who would like some great nostalgic gifts as well as new offerings coming into play, to purchase things online through e-commerce.
They have rolled out a brand new website that brings the chance to shop from your kitchen table, your deer camp, your grandmother's backyard, your boat, the beach or anywhere else on the globe you may be, through online sales.
The Youngquists have been actively engaged in continuous quality and selection improvement since day one. Shortly after taking over the shop in the heart of the central business district downtown they moved the back wall further back to allow for a larger sales floor, making room for lots of additional product offerings, including their collection of local wines, craft beers and beyond. They also installed a new floor, became an official Stormy Kromer Outfitter site featuring the "Coolest Thing Made in Michigan," and have participated in many of the St. Joseph Today promotional events and campaigns attracting tons of people to downtown St. Joe.
They also added a lot of retro look Michigan memorabilia alongside craft beers and Michigan wines, as well as gifts, specialty foods, clothing and housewares to the merchandise that Christiano had carried. 
In celebration of their 4th Anniversary, all Stormy Kromer product will be 10-percent off, and they will also be conducting a drawing to win a free cap priced at $49.99 or lower on November 29th & 30th.
If you'd like to shop in person at the unique store in downtown St. Joe, head for the 400 block of State Street and find 406 State. If you'd like to try out the new website and see what's on the block, you can click this link: http://www.purelymi.com.
Erik is geeked about the new website, and admits, "Having been in brick and mortar retail for over 30 years I was thrilled when we got our first online sale!"