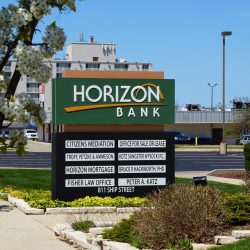 Record quarterly earnings for Horizon Bancorp, Inc. have surpassed Wall Streets expectations for both earnings per share and revenues as the Michigan City-based bank holding company for Horizon Bank achieves another performance benchmark topping the 145 year history of the bank.
Horizon, which features multiple branches in Michigan's Great Southwest, announced unaudited financial results for the three- and six-month periods ended June 30, 2018 on the heels of the bank's recent three-for-two stock split which took effect on June 15th.
Craig Dwight, Chairman and CEO of Horizon, says: "I am very pleased to announce record quarterly and year-to-date earnings for Horizon. Net income for the second quarter of 2018 increased $5.0 million, or 55.6-percent, to $14.1 million when compared to the prior year. Diluted earnings per share for the quarter increased to $0.37 per share compared to $0.27 per share during the same quarter last year." Wall Street had expected 35-cents per share for Horizon's earnings.
Dwight boasts, "For the first time in our 145-year history, Horizon surpassed $4.0 billion in total assets." He adds, "We continue to experience modest loan growth during 2018 as total loans increased at an annualized rate of 6.6-percent during the first six months of the year. Loan growth was led by consumer and mortgage loan annualized growth of 20.5-percent and 9.3percent, respectively." Additionally, commercial loan payoffs totaling approximately $97.8 million during 2018 have tempered commercial loan growth. The majority of those payoffs were the result of business and/or real estate assets being sold. The bank did originate approximately $141.0 million in commercial loans during the first six months of 2018; however, only 59.6-percent, or $84.0 million, of those loan originations had been funded as of June 30, 2018. Horizon's growth markets are still producing solid results as Fort Wayne, Grand Rapids, Indianapolis and the Kalamazoo markets grew loan balances by $34.3 million, for an annualized rate of 13.7-percent, during the first six months of 2018.
Horizon continues in expansion mode, as Dwight reports, "During the second quarter, we continued to expand our footprint with the opening of two loan production offices, one in Holland, Michigan and the other in Noblesville, Indiana. The Noblesville office will be converted to a full-service branch location in the third quarter of 2018." Noblesville, by the way, is the county seat for Hamilton County, one of the fastest growing counties in the State of Indiana and contiguous to Indianapolis.
Horizon's net income for the second quarter of 2018 was $14.1 million, or $0.37 diluted earnings per share, compared $9.1 million, or $0.27 diluted earnings per share, for the second quarter of 2017.
The increase in net income and diluted earnings per share from the second quarter of 2017 to the same 2018 period reflects an increase in net interest income of $6.4 million, an increase in non-interest income of $720,000 and a decrease in income tax expense of $730,000, partially offset by increases in non-interest expense of $2.5 million and provision for loan losses of $305,000.
Horizon's tangible book value per share increased to $8.84 at June 30, 2018 compared to $8.48 and $8.13 at December 31, 2017 and June 30, 2017, respectively. That represents the highest tangible book value per share in the company's 145-year history.