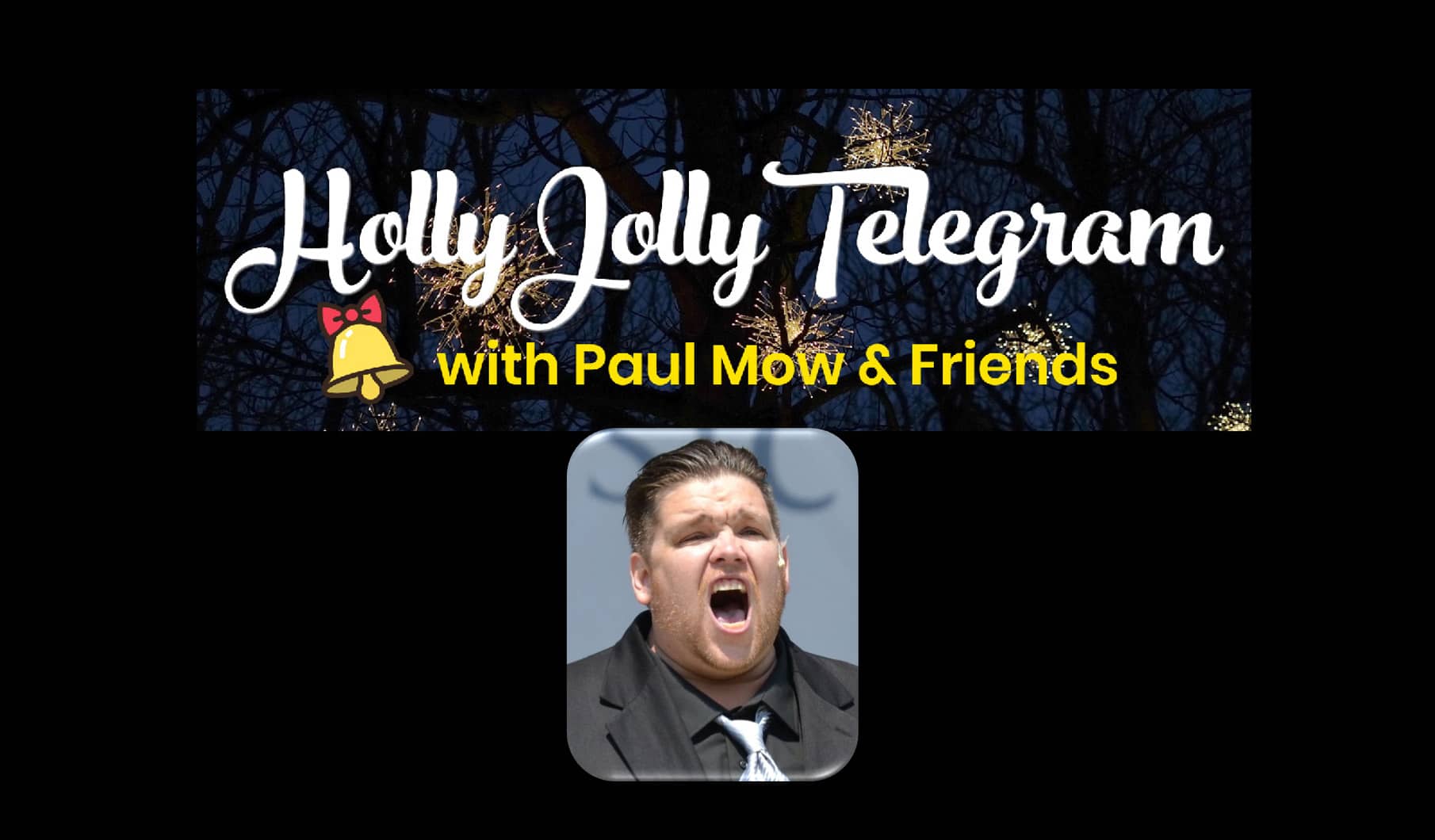 Imagine having award-winning, accomplished American Tenor Paul Mow and his talented musical friends send a singing telegram to your own family and friends. Better yet, don't just imagine it…put in your order to have it done just days before Christmas this year right here in Michigan's Great Southwest.
The amazingly talented artist who calls Benton Harbor his home is launching a renewed drive to better promote his professional voice lessons and stage direction talents through creation of a new website at PaulMow.com and in a bid to showcase that talent is offering a new singing telegram service called the "Holly Jolly Telegram" in the six days leading up to Christmas this year from December 19th through the 24th.
In addition to being an accomplished stage & creative director, Mow has been offering voice lessons (both virtual and in-person) to adults and kids in Southwest Michigan since 2006 and is especially proud to have witnessed countless young people grow and transition from school and local theatre to professional stage careers. Mow says, "It's a unique joy to help others improve their techniques and abilities and to see so many of them go on to even greater heights at the collegiate level and beyond really encompasses so much of what I love about the art form of singing."
This year, Mow is also bringing that excitement to Berrien County residents by presenting the chance to send his socially-distanced "Holly Jolly Telegram." From December 19th through the 24th, Mow has coordinated a caroling caravan of talented vocalists to visit homes and spread the joy of the season by singing holiday carols. You can learn more by ringing the yellow bell on his website at this link: http://paulmow.com.
The Holly Jolly Telegrams are sponsored by Mow's neighboring businesses in the Benton Harbor Arts District including Forte Coffee, The Livery, ARS Gallery, The Mason Jar Cafe, Houndstooth Restaurant, Waterstreet Glassworks, 3 Pillars Music, and The Cheese Lady. A portion of the proceeds will go to The GhostLight Theatre's Capital Campaign.
Currently Mow is both the Artistic Director at The GhostLight Theatre in Benton Harbor as well as the Theatre Coordinator at Lake Michigan College. He is an accomplished operatic tenor who performed at the New York City Opera for five years, as well as several engagements at both Carnegie Hall and the Lincoln Center.
To learn more about Mow's voice lesson opportunities, or to send a holiday telegram to friends and family, simply visit his new website at http://paulmow.com.