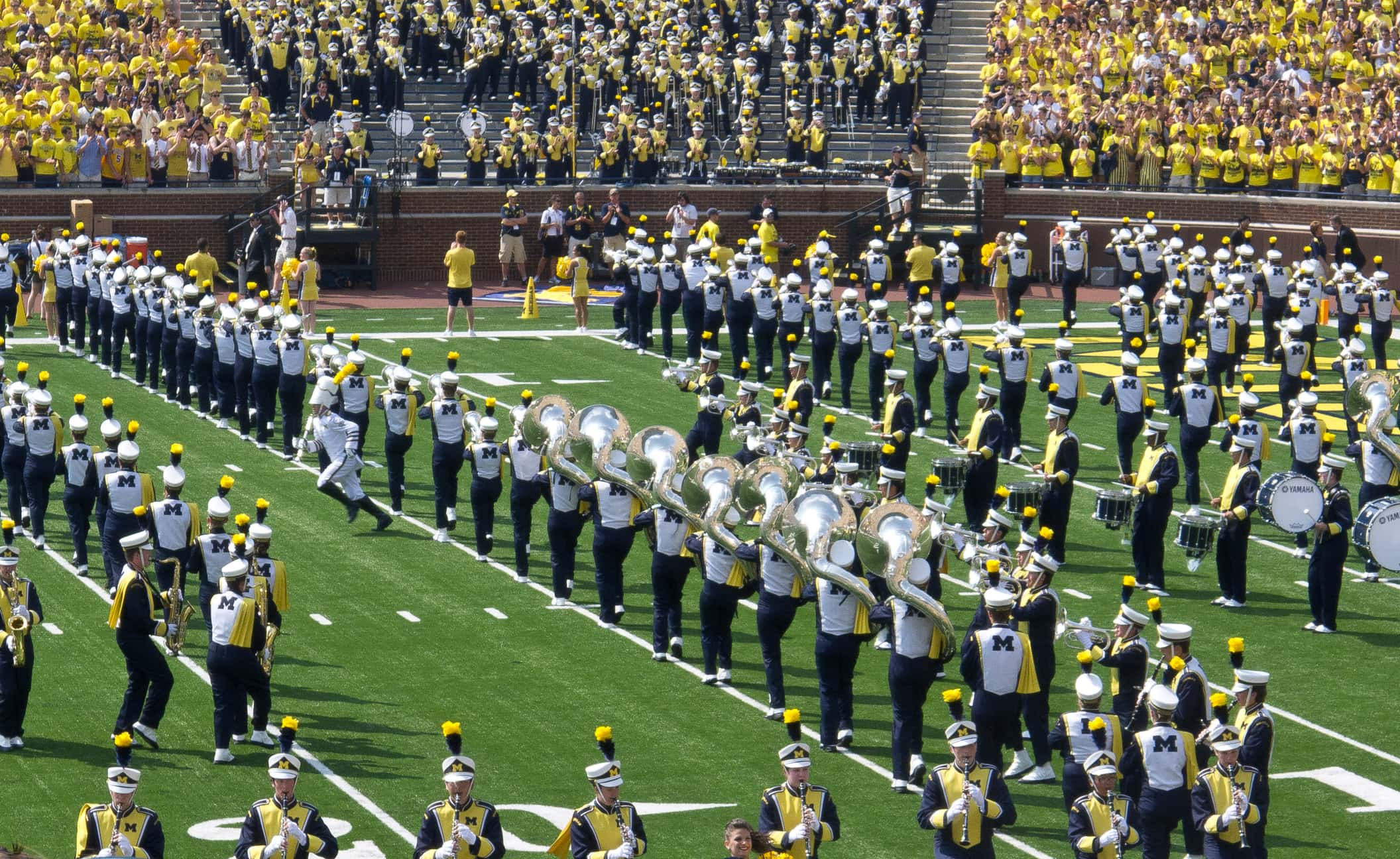 Nothing gets the heart racing and the pulse pounding like a spirited marching band and the community of Michigan's Great Southwest will get a unique opportunity rarely found in the region early next month when the University of Michigan marching band will make a stop in the Lancer Nation on their way to the University of Notre Dame.
For the second time in two years, Lakeshore High School will play host to one of the finest collegiate bands in the land. On Saturday, September 1st, the University of Michigan marching band will play at Al Stockman Stadium before continuing on to play at the University of Notre Dame in South Bend as the Wolverines take on the Fighting Irish that day.
The public is invited to get a glimpse of the band's pregame and halftime performances, free of charge, at 12:30pm at Al Stockman Stadium on Cleveland Avenue immediately adjacent to Lakeshore High School in Stevensville. Donations will be accepted, with all proceeds benefiting the United Way of Southwest Michigan.
While maize and blue typically represent the prime colors of crosstown rivals at St. Joseph High School, those same colors will be welcomed by marching band lovers everywhere in the region on that Saturday afternoon.
The special Labor Day weekend event is sponsored by the Lakeshore Excellence Foundation. Lakeshore High School Principal Brad Brunner believes that performing arts competitions like Lakeshore's back-to-back Marching Band State Championship wins cause schools like the University of Michigan to take notice.
Brunner says, "It means a great deal to the district, community, and our students to host bands of such a high caliber." He adds, "One of the primary reasons these premier Big Ten schools take time to visit Lakeshore is to recruit our students. In our efforts to strive to be a world-class school district, it is events like this that reassure us that we're moving in the right direction."
Just last year, a similar event happened when the Michigan State University marching band stopped off at Lakeshore on the way to their own performances at Notre Dame.
The mission of the Lakeshore Excellence Foundation is to acquire and distribute resources that support various Lakeshore Public School programs and projects aimed at enhancing, enriching, or supplementing learning opportunities for students, staff, and community. Additional information about the Foundation can be found online at lefonline.org or you can connect with them through their Facebook fan page.
NOTE: Please note that this is an updated version of this story. An earlier timeline showed a later afternoon performance. The time has been adjusted to a 12:30pm performance. Thank you.