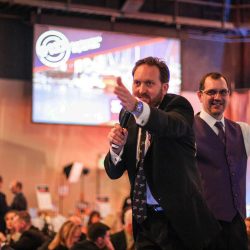 You likely know Dan McCrery, even if you don't know his name. First of all, he is the affable General Manager at Tosi's Restaurant in Stevensville. However, even if you've never been there, you may well have raised a high sign to get his attention in his role as volunteer auctioneer. One that has, coincidentally, helped raise millions of dollars for local non-profit organizations of many stripes, and he'll be back at it again this weekend when Lake Michigan College hosts its annual Winners Circle Scholarship Auction in the Grand Upton Hall at the Mendel Center on the Napier Campus.
McCrery began volunteering as an auctioneer in 2009, and since then he's worked some of the community's largest fundraisers including the Curious Kids' Museum event, the Humane Society's Bids for Barks Charity Auction, the Lake Michigan College Winner's Circle Scholarship Auction, Southwest Michigan Symphony Orchestra's "Dancing with the Stars", and the Little Black Dress fund raiser for breast cancer.
McCrery began his hospitality career as a teenager washing dishes at Tosi's, but he says he has always been fascinated by auctioneering.
As Dan tells it, "Auctioneers talk at this speed that gives an audience a sense of urgency to bid on items." He adds, "They have an ability to get people to bid on items they had no intention of buying. I'm a fast talker already – so I taught myself to be an auctioneer."
The cost to hire an auctioneer can be as much as $5,000, but because McCrery believes in the work of the non-profits he supports, he provides his services for free.
Since 2014, McCrery has helped raise $375,000 for student scholarships as LMC's Winner's Circle Auctioneer. He is volunteering again at this year's event this Saturday, March 3rd.
Mary Klemm is Executive Director of the Lake Michigan College Foundation. She has long admired Dan's work, noting, "An auction fundraiser has to be fast-paced, high-energy and fun – and Dan definitely delivers." Mary adds, "Sure, we save money by not having to hire someone, but it's Dan's passion for using his skill and talent to give back to our community that inspires people and adds more meaning to the whole experience."
Since 1988, Lake Michigan College's Winner's Circle Benefit Auction has raised more than $4 million for student scholarships. To learn more, you can visit the link below, because even if you're not at the auction, you can bid online on items being showcased there. You can also call for further details at (269) 927-6849. Here's the link: