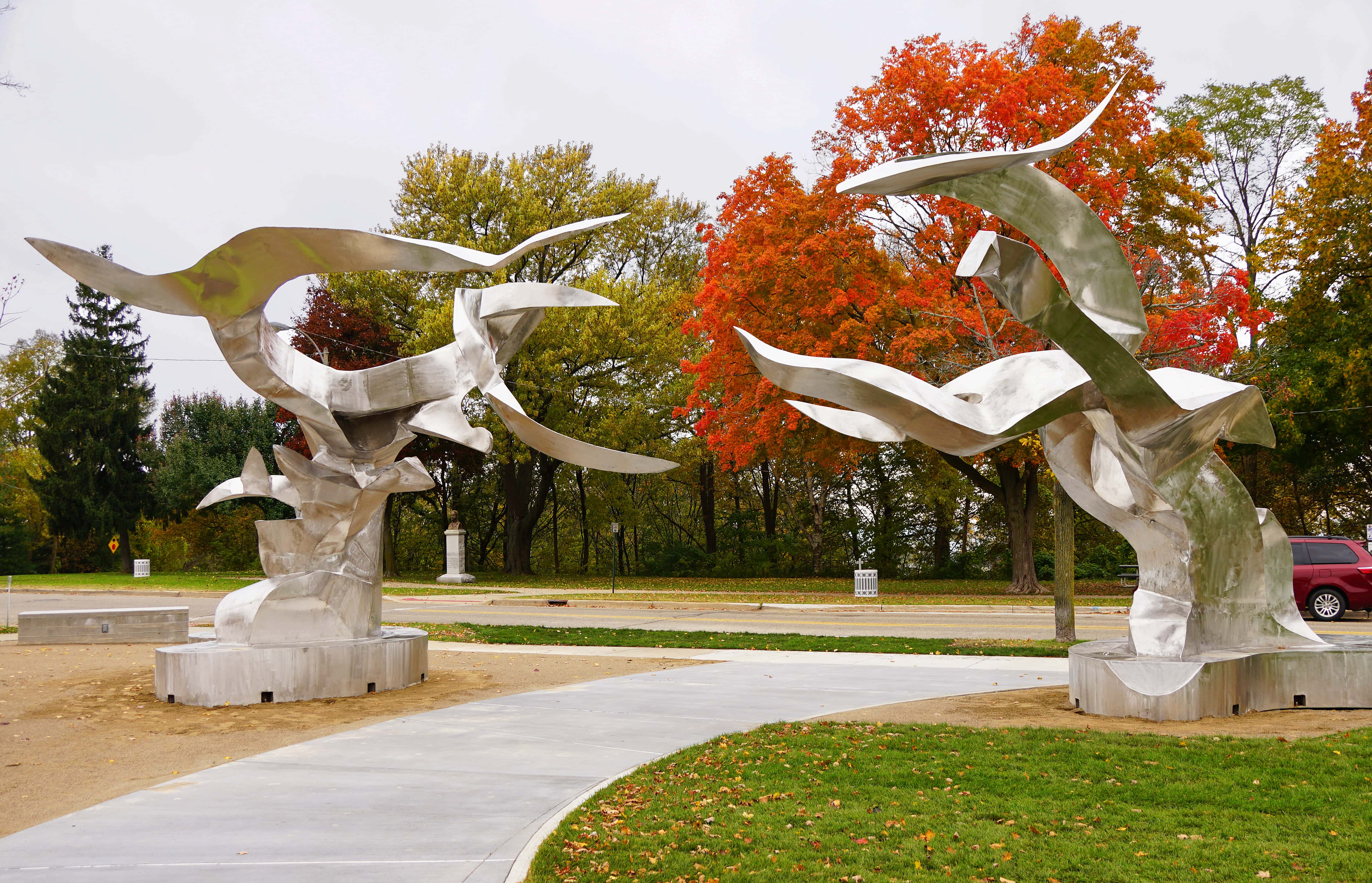 That magnificent, gleaming stainless steel sculpture which has become a stellar gateway to the Krasl Art Center's Sculpting Community now officially has a name. World renowned Sculptor Richard Hunt has named the striking piece Rising Crossing Tides, and it is wowing the community at large.
Several dozen people gathered on the Krasl's upper plaza overlooking the newly refurbished grounds and the soaring new art piece that has been installed over the last several weeks, as the formal ribbon cutting ceremonies took place today under the watchful guidance of the Cornerstone Chamber of Commerce.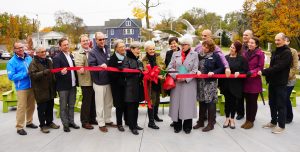 Julia Gourley, Executive Director the the Krasl Art Center was effervescent in her welcome to the happy crowd, and says, "It's really exciting to come together with friends and family and business partners to celebrate the completion of this project." Gourley says Richard Hunt himself was delighted with the outcome, noting, "We had a huge party on the Krasl Art Center's grounds on Saturday and many of our members and donors were here, but today it's really another opportunity to celebrate with our business partners, and our board of directors and staff."
Two massive arching sculpture pieces create the new gateway, inviting visitors to enter the grounds and enjoy the space. The work by Hunt is actually considerably larger than the original concept according to Gourley who tells me, "You know, we had this little idea that we could make this space a more compelling place for people to gather and to be…and it started with the idea of just simply commissioning a relatively modest sculpture for our grounds, and it grew into the observation that in order for a sculpture to be engaging and compelling to be around, you had to have the right space. So, what started as a small idea grew into a $1.7-million project, including a comprehensive re-development of the grounds, specifically designed as a place for people to connect and gather. Of course it's centered around this magnificent sculpture by Richard Hunt, which is just a beautiful centerpiece of this project."
Richard named the sculpture Rising Crossing Tides, and Gourley wants everyone to know they are welcome to enjoy the space created there for the community, noting, "It is certainly usable for everyone to come and wander through, to have picnics, to visit, to bring their lunch onto the property under our shaded plaza in the summer time when it's a little warmer." For brisk days like today Gourley notes, "We have a fire feature (a contemporary glass fireplace table) so during business hours people can come and hang out on the upper level plaza close to the building, and of course we're interested in people coming and connecting for their own formal events and they can contact the staff to talk more about that."
The new Sculpting Community grounds are available for private and corporate events, community gatherings and the like, but Gourley cautions, "You probably shouldn't just show up and have a big huge party with hundreds of people without talking to us in advance. We certainly invite people to join us on the grounds, and have their pictures taken under the sculpture and enjoy the space, but formal gatherings need advance coordination through the staff."
There are dozens of people, organizations, businesses and other entities that made the project possible, but the major underwriter making Rising Crossing Tides possible was 1st Source Bank.
Gourley wants everyone to know that it is still possible to join the underwriting and fundraising and be recognized in the permanent record of donors of $500 or more which will be put into place next spring. You can contact the Krasl to join the extended community helping make that happen.
The twin spires of Rising Crossing Tides reach as high as 22-feet into the air and weigh a combined total of 24,000 pounds. Based on Hunt's original design, the pieces were crafted and welded at K&M Machine-Fabricating of Cassopolis.
Richard Hunt was declared by the Smithsonian Institution to be the preeminent metal sculptor on the globe and is considered to be one of the most important sculptors of our time. He was born in Chicago in 1935 and has created 130 public sculptures including the soaring And You, Seas overlooking the St. Joseph River Channel at Silver Beach County Park in St. Joseph. He has received the Lifetime Achievement Award in sculpture.
Hunt opened his satellite studio in the Benton Harbor Arts District as part of the Cornerstone Alliance Community Renewal Through the Arts program.
Two years ago, Hunt installed Swing Low at the National Museum of African American History & Culture in Washington, D.C.