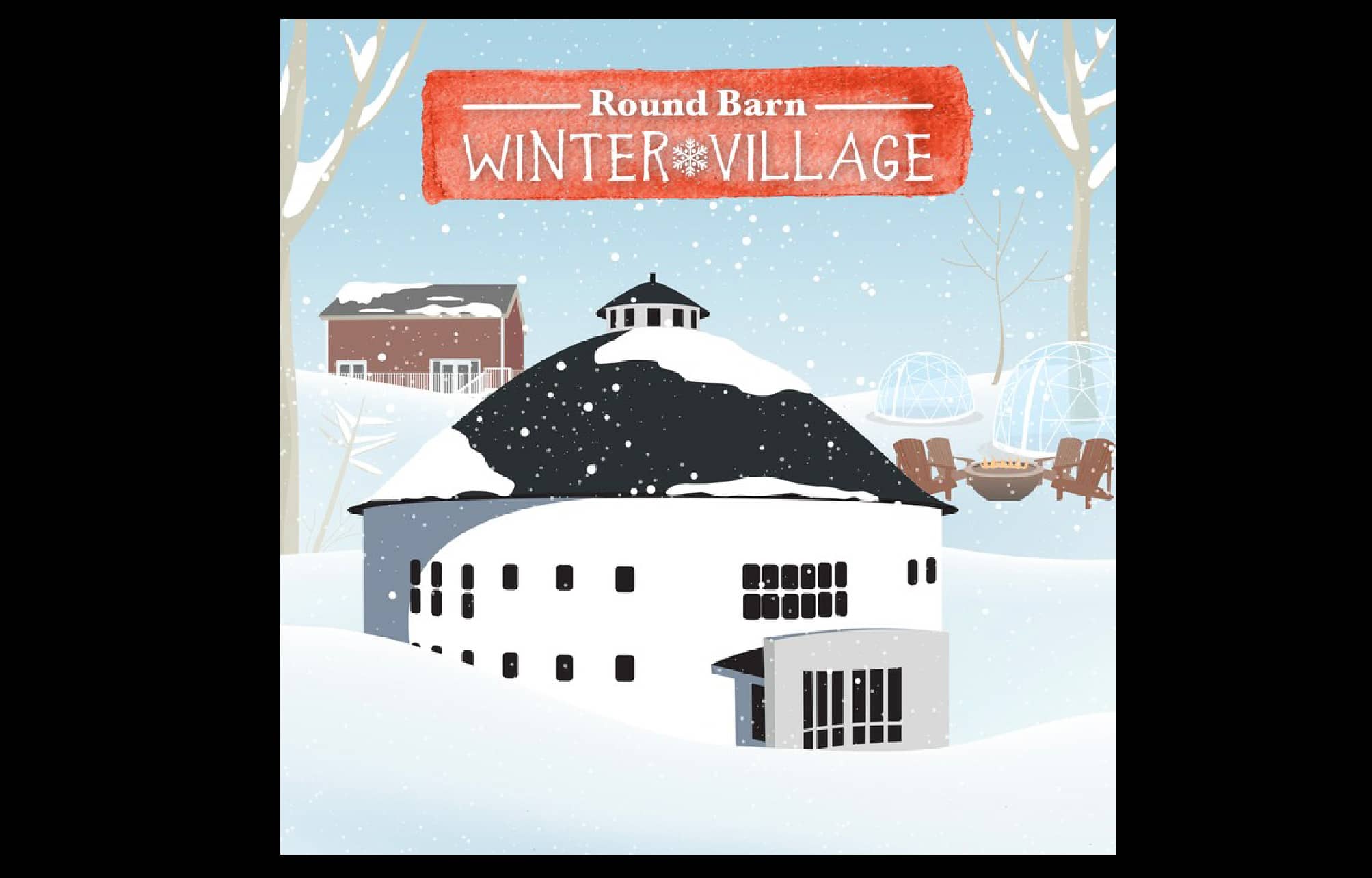 Halloween may be at hand, but the crew at Round Barn is in full blown preparatory mode to make sure all of us in Michigan's Great Southwest and visitors from near and far have multiple opportunities to capitalize on the good things that winter brings to the region, as they gear up for the introduction of their new Round Barn Winter Village on the original Round Barn Estate property in Baroda.
Round Barn recognizes that Winter is almost here, and invites everyone to bundle up and head to the Round Barn Winter Village to enjoy mulled wine or hot cocoa, cream wines, or sip on any other their famous libations.
They have transformed the Round Barn Estate into a perfect Southwest Michigan winter destination by creating the Round Barn Winter Village, an ideal place to stay cozy (while still social distancing).
There are many options at the Winter Village, including:
Winter Igloo Reservations – Bundle up and head to the Round Barn Estate to truly experience a "Michigan winter" in one of their igloos within the new Igloo Village. These heated igloos seat up to 8 guests and come with a private server. Igloos may be reserved Friday through Sunday, in 2-hour increments beginning Friday, November 6th.
Fire Pits at the Village – The weather outside may become frightful, but the fire will be so delightful, when you grab your cozy blankets, bundle up, and enjoy the great outdoors around the new fire pits at Round Barn's Winter Village. No reservation is needed. The fire pits are first-come, first-served, and can accommodate up to 8 people max.
Guided Tasting Experience – Cozy up inside the Round Barn for their Guided Tasting Experience with a group of up to 8 people. The tasting suites are available on Saturday and Sundays, by reservation only.
The Chalet – Come, stay warm, sit back with your favorite drink and relax in the new Round Barn Winter Village Chalet, a private group rental. The rustic vibe of the Chalet is the perfect setting for small groups of 8 or less, celebrating the holidays or the simple joys of life.
Mt Tabor Trails – Explore the amazing Round Barn and Tabor Hill property in Southwest Michigan in a whole different way this winter. With a little over 3.5 miles of beautiful trails meandering through the woods and vineyards, Mt Tabor Trails will connect guests from Round Barn Estate and Tabor Hill Winery & Restaurant. The trails are perfect for snowshoeing or cross-country skiing.
Shake and Stir Workshop – Round Barn's popular Shake & Stir Workshop is back for the winter. You can learn the art of crafting cocktails at the Round Barn Estate. You'll shake and stir three different craft cocktails made with Round Barn Spirits and leave with the knowledge to make your own cocktails at home.
To learn more about the great winter ahead at Round Barn's Winter Village, click this link:
https://roundbarn.com/locations/round-barn-estate/wintervillage